Gluten-free and low-carb, this classic Pad See Ew Thai dish is made Paleo-friendly with sliced zucchini noodles.
If you enjoy the rich flavors of Thai food, then you're going to love this super simple recipe that is deliciously light! With marinated chicken strips, creamy scrambled eggs and crunchy Chinese broccoli, this protein-rich and fiber-filled dish is full of texture and flavor!
Pad See Ew, which translates to "fried with soy sauce", traditionally uses flat rice noodles as the base. We'll be making a Paleo version that replaces the rice noodles with zucchini noodles and swaps soy sauce for coconut aminos.
Add power-packed superfood veggies to every meal with these easy cauliflower recipes.
Click here to get your FREE copy of our Cauliflower Recipe Guide!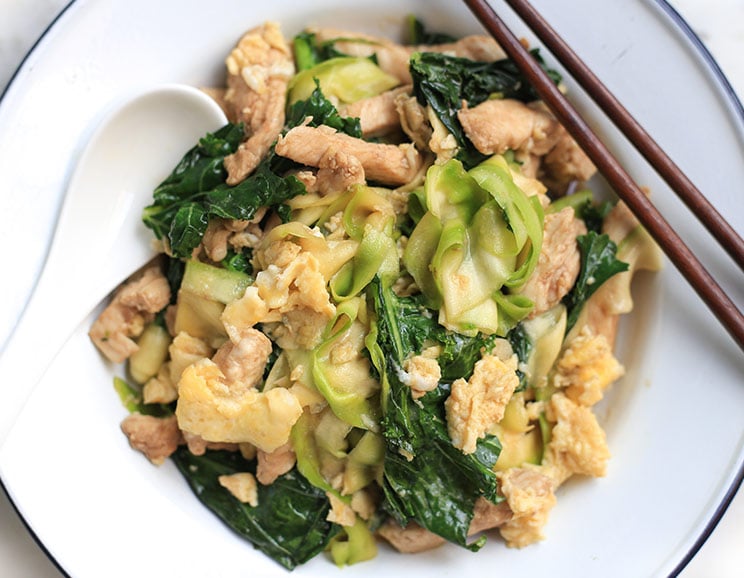 Begin by marinating the chicken strips to let it soak up the flavors. Don't skip this step – the marinating ensures that the chicken remains juicy even after cooking. Next, scramble the eggs and sauté the veggies. Everything comes together quickly after that – return the chicken to the skillet along with the zucchini ribbons, pour in the stir-fry sauce, stir well and serve!
Tips:
If you can't find Chinese broccoli, use chopped kale instead.
You can switch out the chicken for pork or beef, or you can omit the meat for a vegetarian option.
Felicia Lim
Pad See Ew with Light Zucchini Noodles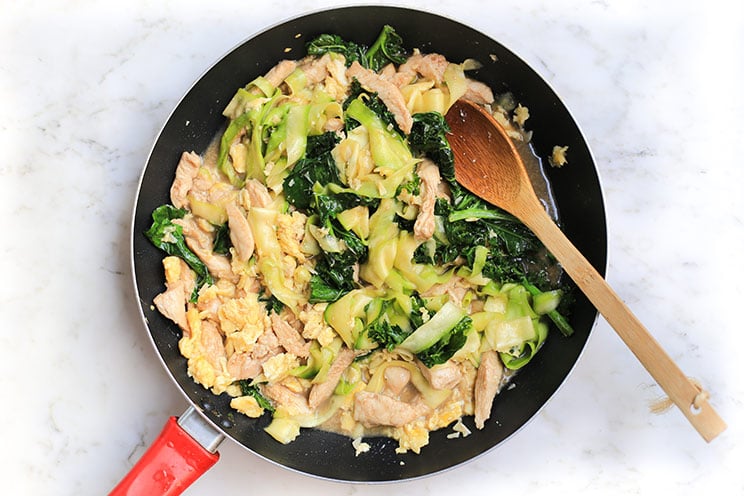 Cook Time:
15 mins
15 minutes
Prep Time:
45 mins
45 minutes
Pad See Ew with Light Zucchini Noodles
Gluten-free and low-carb, this classic Thai dish is made Paleo-friendly with sliced zucchini noodles.
Tools
Small bowl

Vegetable peeler

Large skillet
Ingredients
For the Pad See Ew:
1 ½ lb chicken breast, sliced into 1-inch thick strips

2 T coconut oil

¼ cup fish sauce

4 garlic cloves, minced

3 medium zucchini

½ lb Chinese broccoli

2 large eggs, beaten

3 garlic cloves, minced
For the Stir-fry Sauce:
¼ cup coconut aminos

2 T fish sauce

3 T water
Instructions
Whisk together the coconut oil, fish sauce and minced garlic. Marinade the chicken in the mixture for at least 30 minutes.

While the chicken is marinating, use a vegetable peeler to slice the zucchini into thin, wide ribbons.

Wash and cut the Chinese broccoli into small pieces, removing the stem.

To make the stir-fry sauce, mix the coconut aminos, fish sauce, and water in a small bowl. Set aside.

Heat up a large skillet over medium heat and cook the marinated chicken strips until they are cooked through, then set aside.

In the same skillet, pour in the beaten eggs and scramble them slightly until just cooked. Set aside.

Add a bit of coconut oil to the skillet and cook the garlic and Chinese broccoli until the vegetables are just wilted.

Return the scrambled eggs and chicken strips to the skillet. Add the zucchini ribbons and stir-fry sauce. Use a wooden spoon to stir for one minute. Transfer to a plate and serve!
(You'll Also Love: Pasta Carbonara Recipe with Light Zucchini Noodles)