We've all been there, scouring the fridge for a treat between meals. The next time a craving hits, reach for one of these Paleo-friendly snacks.
Usually, the snacks we crave are less than healthy, but we can't seem to stop eating them.
Luckily, there are several ways you can sate cravings and keep Paleo. Keep reading to learn what foods to eat to reduce cravings, what foods to avoid that make cravings worse, plus other tips to control your cravings once and for all.
Want to snack smarter and curb cravings? Get your FREE 25 Healthy Paleo Snacks Cookbook here.
Click here to get your FREE copy of our Snack Recipes Cookbook!
What Causes Cravings?
Cravings are encouraged by the endorphin rush we get from eating certain foods. For example, when we eat carbohydrates and/or sugars, our brains are flooded with serotonin and other feel-good hormones that give us an addictive "high". (1)
Hormone fluctuations can also influence cravings. This may be due to a condition, or even an aftereffect of consuming certain foods. For instance, carbohydrates (or lack thereof) have a huge influence on thyroid function, which regulates your metabolism. (2) If you consume too many or too few carbs, you could start experiencing cravings for certain foods to help balance your hormones.
Once your hormones and the chemicals in your brain are stimulated by a taste or macronutrient (like carbs), it's easy to get trapped in a cycle of dependency. This will trigger cravings for those foods.
---
6 Paleo Snacks That Fight Cravings
Fortunately, there are better-for-you foods you can swap in for trigger foods, like sweets and chips. These healthy substitutes will help fight cravings rather than continue the cycle of dependency.
1. Nuts and Seeds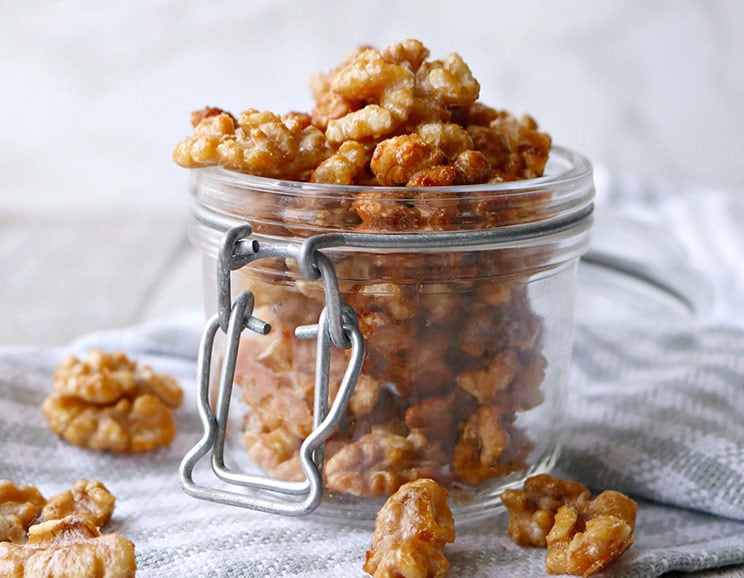 Nuts and seeds are rich in protein – that all-star nutrient that has been proven to help you feel satiated, so you're less likely to binge on unhealthy foods due to lingering hunger. (3)
Research shows that walnuts, in particular, can activate the area of the brain that regulates appetite and craving control. One study found that participants eating walnuts daily experienced less hunger than a control group and also exhibited more self-control when presented with photos of unhealthy foods. (4)
Snack on a few handfuls of nuts like walnuts and almonds, or try adding pumpkin and sunflower seeds to salads.
2. Beef Jerky
Beef jerky – provided it's free from preservatives and made with grass-fed meat – is a fantastic, satiating snack that can help quell cravings. One study found that participants who had a high-protein breakfast like beef jerky experienced fewer cravings throughout the day compared to those who had a lower-protein breakfast. (5)
Grab a few slices of Paleo-friendly beef jerky the next time a salty craving strikes.
3. Raw Veggies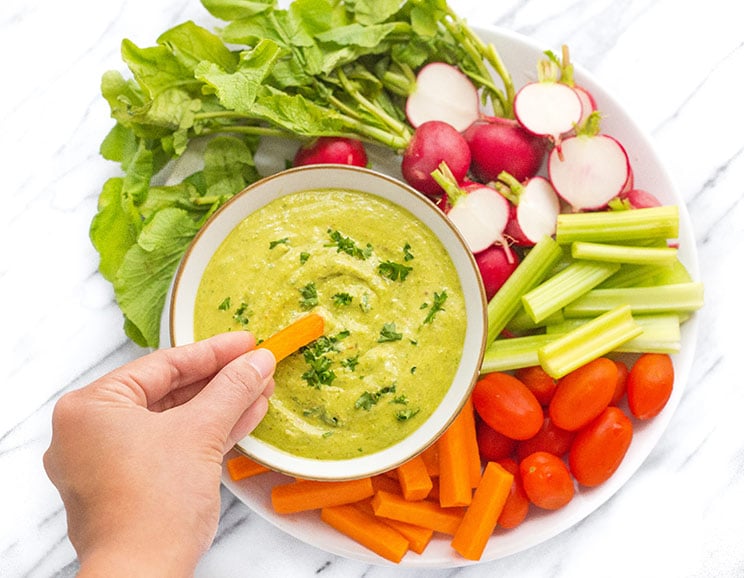 Raw veggies contain ample amounts of fiber, a nutrient that has been proven to help increase feelings of fullness and reduce cravings for sweets. One study found that a diet high in fiber, fat, and protein, with a reduced amount of carbs, led to significantly fewer cravings in participants. (6)
Veggies provide a satisfying crunch, making raw carrots or celery a great replacement to snacks like potato chips. Try dipping them in homemade guacamole, bean-free hummus, or fresh salsa.
4. Fresh Fruit
Sometimes nothing can stand in for sugar or carbs other than, well, sugar and carbs. In this instance, it would be best to reach for a healthier source of sugar and carbs like fruit to satisfy your cravings.
Your best option would be to have a bowl of low-sugar berries like blueberries, blackberries, and strawberries, which are loaded with anti-aging and disease-fighting antioxidants. (7)
5. Extra-Dark Chocolate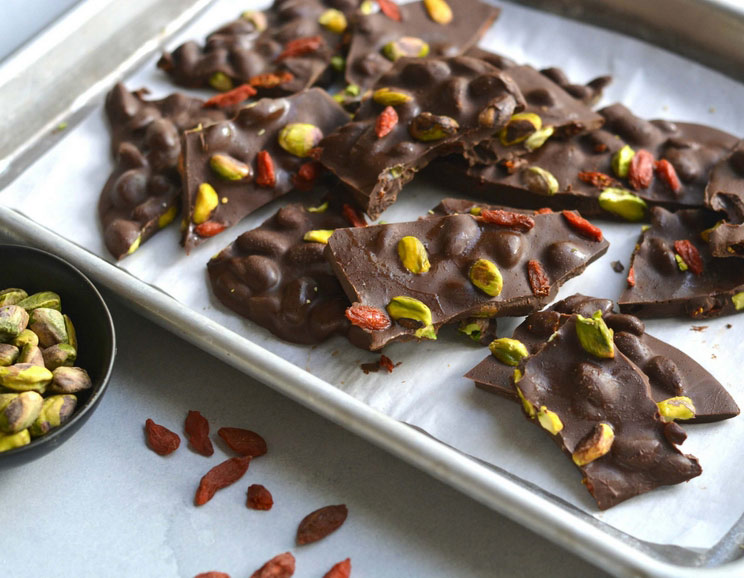 It may seem counterintuitive, but chocolate should be on the menu if you're looking to control your cravings. Studies show that consuming dark chocolate leads to fewer cravings for sweet and fatty foods and also reduces hunger. (8)
We highly recommend a daily square of dark chocolate. Just make sure it's sugar-free, with a 75 percent cacao content or higher.
6. Avocados
Avocados are rich in healthy fats that help increase feelings of fullness and reduce cravings for carbs. One study found that participants who consumed a low-carb diet with unlimited protein and fat experienced significantly less hunger and cravings for sweet foods and sugar. (9)
Eat half an avocado for a quick snack, or mash up homemade guacamole for a veggie dip.
---
Avoid Foods That Just Make You Hungrier
Now that you know which snacks help decrease cravings, here are foods to avoid – they'll just trigger your sweet or salty tooth.
Sugar
Sugary foods tend to produce a huge rush of serotonin, the neurochemical that creates in us a sense of bliss and satisfaction. Because of this, we can easily become addicted to the rush, much like a drug addict. (10)
However, this just feeds the cycle of sugar addiction. Try to avoid cakes, cookies, candy, and any other junk food as often as possible.
Fried Foods
Fried foods tend to be salty, carb-rich, and fatty (and we're not talking about healthy fats) – a combo that has been proven to trigger reward pathways in your brain that pushes you to seek out more. (11)
Avoid anything that's been deep fried, including French fries, fried doughnuts, and fried chicken.
Processed Carbs
Both pure sugar and carbohydrates are broken down into the same molecule in your body: glucose. That means processed carbohydrates act just like sugar once you've broken them down. You'll get an endorphin rush, which will have you craving more once you come down from the serotonin "high". (12)
Avoid pasta, breads, cupcakes, crackers, and any other starchy food that is highly processed.
---
5 Other Tips to Fight Cravings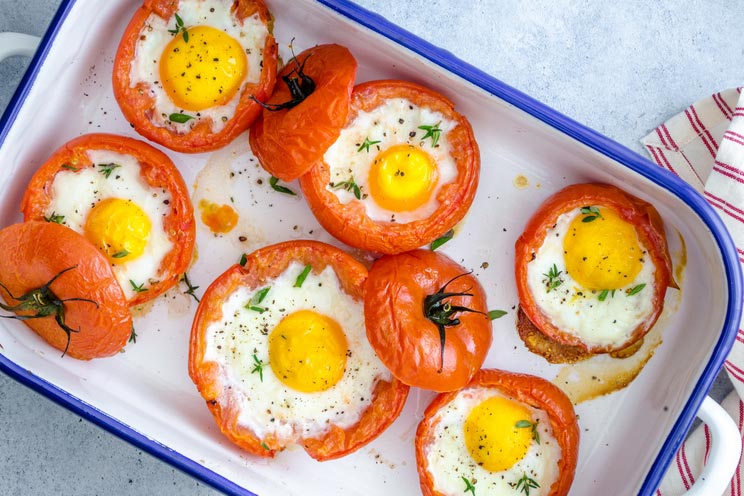 In addition to eating and avoiding certain foods, you can also try these tips below to help reduce your cravings.
1. Eat More Protein
Protein-rich foods not only keep you full but also reduce cravings for sweet and savory snacks. Studies show this is especially true if you consume more protein at breakfast. (13)
Add more protein to your daily diet, perhaps starting your morning with scrambled eggs and avocado rather than granola, bread, or other starchy carbs.
2. Get Enough Sleep
Studies show that not getting enough zzz's can lead to poor appetite regulation and cravings. (14) Studies show sleep-deprived people are up to 55 percent more likely to become obese compared to those who get enough sleep. (15)
The bottom line? Get your eight hours.
3. Avoid Sugar
As we've mentioned, it's essential that you avoid sugar to reduce cravings for sweet foods. If you really need a sweet taste, reach for a bowl of berries and/or a square or two of 75 percent dark chocolate.
4. Drink More Water
Aside from helping you feel fuller, water has also been shown to play a role in regulating ghrelin, a hormone that helps regulate appetite. One study showed that drinking a lot of water can actually help reduce alcohol cravings due to its effect on ghrelin. (16)
5. Reduce Stress
Stress incites food cravings, which makes sense when you consider the feel-good hormone rush you get by indulging in sweets or junk food. (17) Studies show that people under stress – women especially – tend to eat more calories and experience more cravings. (18)
Get that stress under control by engaging in yoga, meditation, walking, or any other activity you find calming.
---
More Paleo Snack Ideas To Nix your Cravings
---
The Bottom Line
Cravings are something we've all experienced at some point in our lives. However, if you find you're having consistent cravings for not-so-healthy snacks, you may need to take steps to help get them under control.
Try out some of the tips and snacks above to experience relief from constant cravings.
For more tips, check out The 10 Best Snacks to Curb Cravings, According to Health and Wellness Leaders