You don't have to travel far for fresh island flavor. Thick pieces of mahi mahi are coated in a smoky rub and topped with a juicy tropical salsa. Kick back and enjoy this recipe with your favorite frozen drink.
Mahi-mahi is a popular fish on seafood menus around the globe, but especially in Hawaii. Its thin skin and firm texture makes for a delicious grilled protein source. Mahi mahi is readily available in most supermarkets year-round and is quite affordable. I bought four filets for under twelve dollars!
If you purchase frozen, once the fish is thawed, blot it with a paper towel to absorb any extra moisture. This helps the seasonings stick better and create a nice, crispy coating. Many light fish often fall apart on the grill and can't hold up to the heat, leaving most of dinner stuck to the grill or falling beneath the grill grate. But not mahi mahi; this trustworthy fish comes through again and again throughout the grilling season.
Love slow cooker recipes?
Click here to get your FREE copy of our delicious Slow-Cooker Recipes!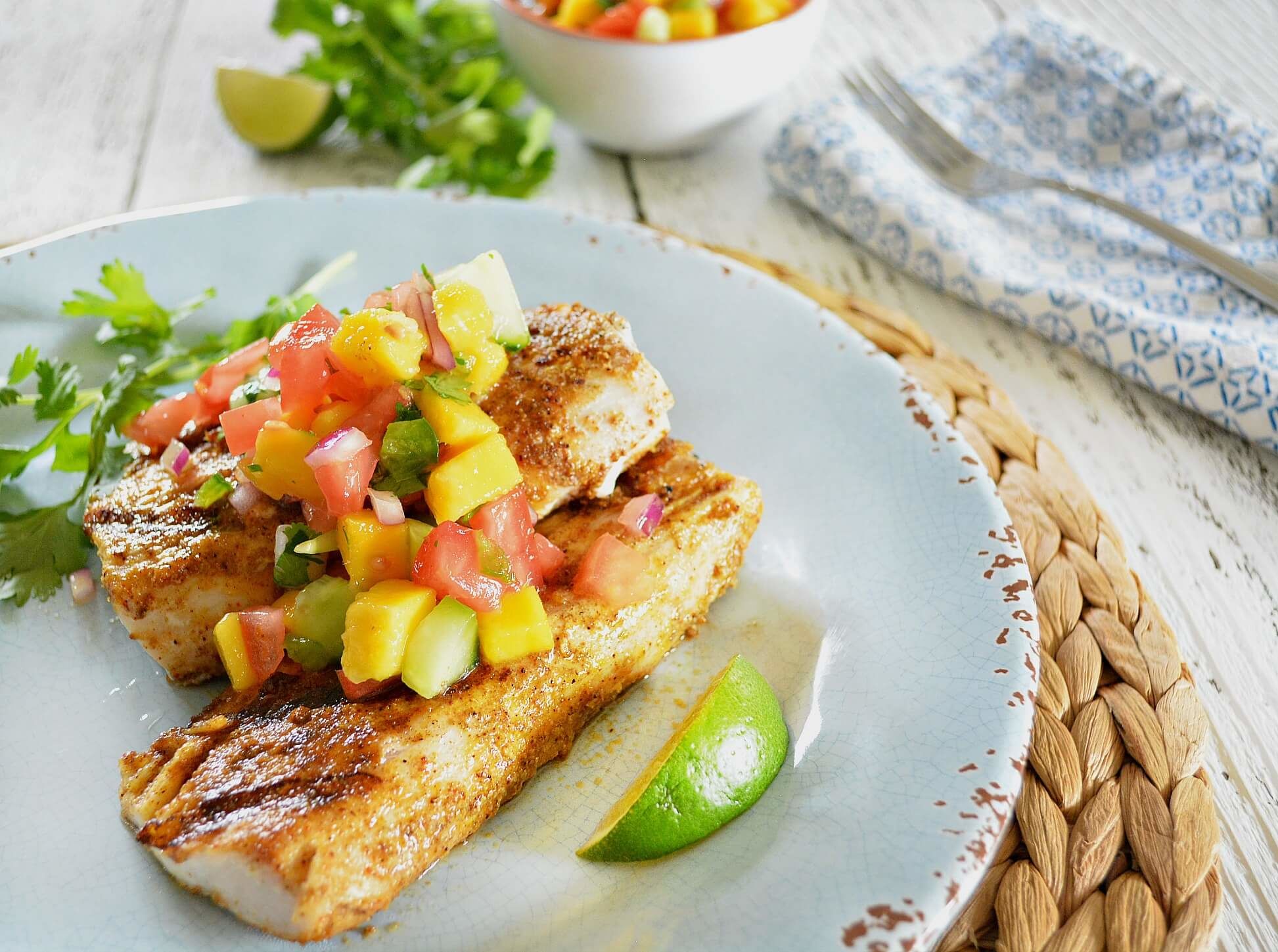 Smoky seasonings like cumin and chili powder amplify the taste of the mahi mahi once grilled. I like to use a dry rub instead of a wet marinade for fish because it helps to add another dimension of texture and crispiness to the fish. The rub is gently patted onto each side of the filet to help seal in the flavors. This is a particularly versatile fish because it does not have a fishy smell or taste in the least. In fact, mahi mahi is very mild and almost sweet in flavor. Unlike other grilled meat, the fish cooks up super quick and must be watched closely to prevent overcooking. In just 8 minutes, the fish is cooked and ready for serving.
Nothing complements grilled fish during the summertime quite like a tropical salsa. Full of fresh mango and cucumber, this juicy salsa makes the perfect salty, sweet combo. After all, a good piece of fish doesn't need an overpowering sauce in order to taste amazing. Once you toss together this colorful salsa and plate it over the mahi mahi, it instantly rivals any restaurant fish for a fraction of the cost.
Jennafer Ashley
Mahi Mahi with Mango Jalapeño Salsa Recipe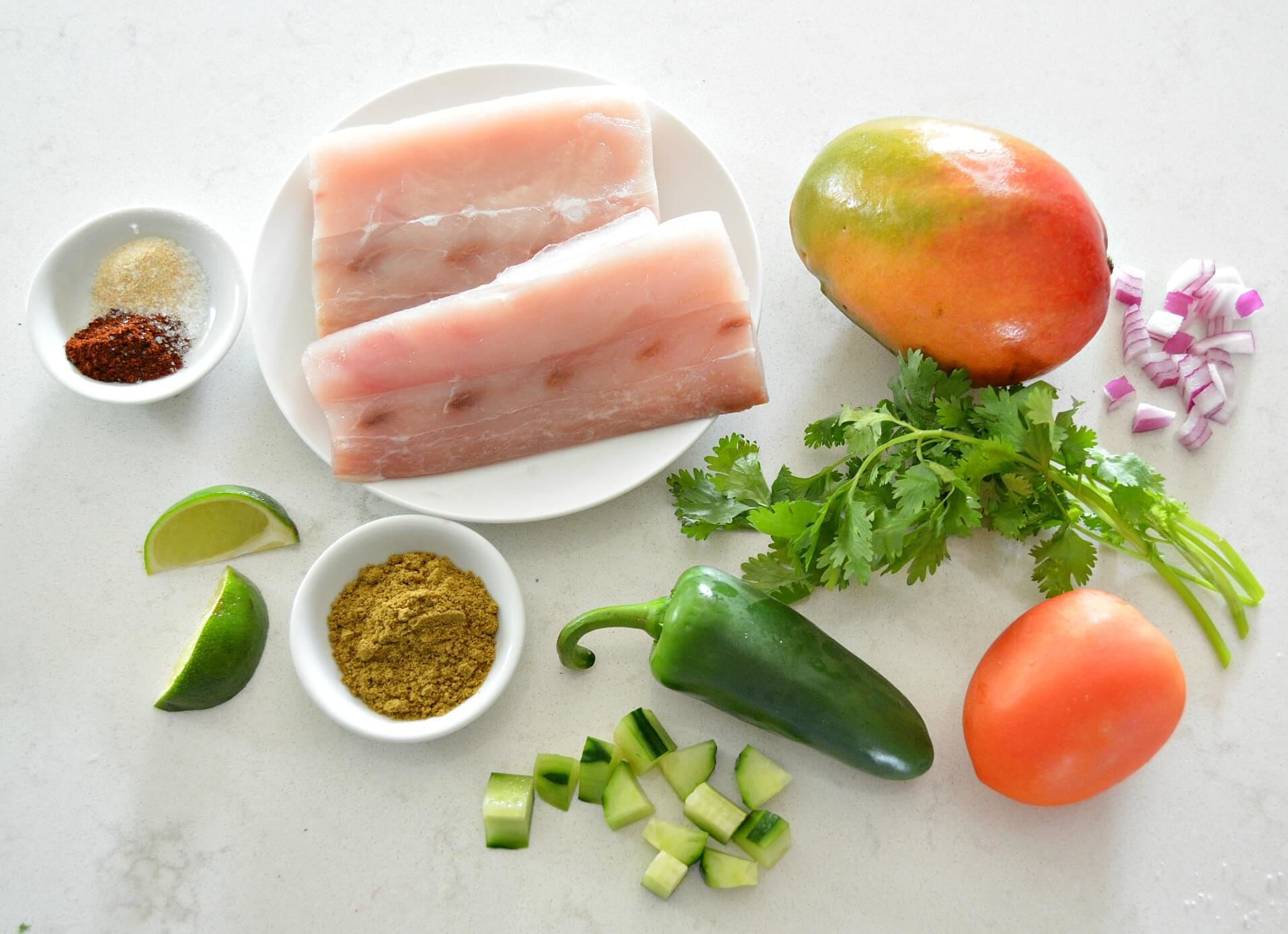 Cook Time:
8 mins
8 minutes
Prep Time:
15 mins
15 minutes
Mahi Mahi with Mango Jalapeño Salsa Recipe
Thick pieces of mahi-mahi are coated in a smoky rub and topped with a juicy tropical salsa.
Ingredients
FOR FISH

4 mahi-mahi filets

2 T extra virgin olive oil

1 T cumin

1/2 t onion powder

1 t chili powder

1/4 t sea salt

FOR SALSA

1/2 cup mango, diced

1/3 cup Roma tomato, diced

1/4 cup red onion, finely chopped

1/4 cup cucumber, peeled and diced

2 T cilantro, finely chopped

1 T lime juice

1 t jalapeño, minced

Sea salt, to taste
Instructions
Preheat grill to medium heat. Set mahi-mahi filets on a plate and drizzle with olive oil. Rub to coat.

Mix together cumin, chili powder, onion powder and sea salt. Rub seasonings over each filet.

Combine ingredients for salsa in a small bowl. Stir. Refrigerate until serving.

Place mahi-mahi on grill. Cook 3-4 minutes, then gently turn over and cook 3-4 minutes longer.

Serve mahi-mahi with salsa.
Watch the Recipe Video Below!

(You'll Also Love: Tropical Turkey Chili)