It's time to toss out your Slim Jims and eat the real, good stuff: Chomps Grass-Fed Beef Jerky.
When you first "go Paleo," it can be tough to find healthy, portable sources of protein. Those beef jerky sticks you see next to the grocery store cashier? They're packed with salt, sugars, and preservatives that are doing no favors for your health. So, when we got word that the folks over at Chomps create grass-fed beef jerky, we were more than eager to put them to the test.
Trying to figure out exactly what to eat on Paleo?
Look no further than our FREE 21 Day Paleo Meal Plan
All Chomps Snack Sticks are made with high-quality protein, healthy fats, vegetables, and fruit. There are no questionable nitrates, gluten or MSG in these lean treats. Best of all, they taste amazing. Juicy, savory and spicy. They're packed with healthy energy-boosting fats and are a satisfying way to get your meat fix without sacrificing your diet.
 The verdict: Chomps Beef Jerky is a must-have for any arsenal of go-Paleo snacks.
While we found ourselves crushing the box we ordered within a week – it's so easy to throw in a gym bag or grab a few on the way to work – we also started experimenting with Chomps in the kitchen. Their perfect blend of spices are a great way to add a kick and a source of protein to your favorite dishes. Below, we shared our top recipes you can easily make for breakfast, lunch or dinner!
---
1. Grated Over a Fresh Salad
Erin Druga
Beef Jerky Cucumber Salad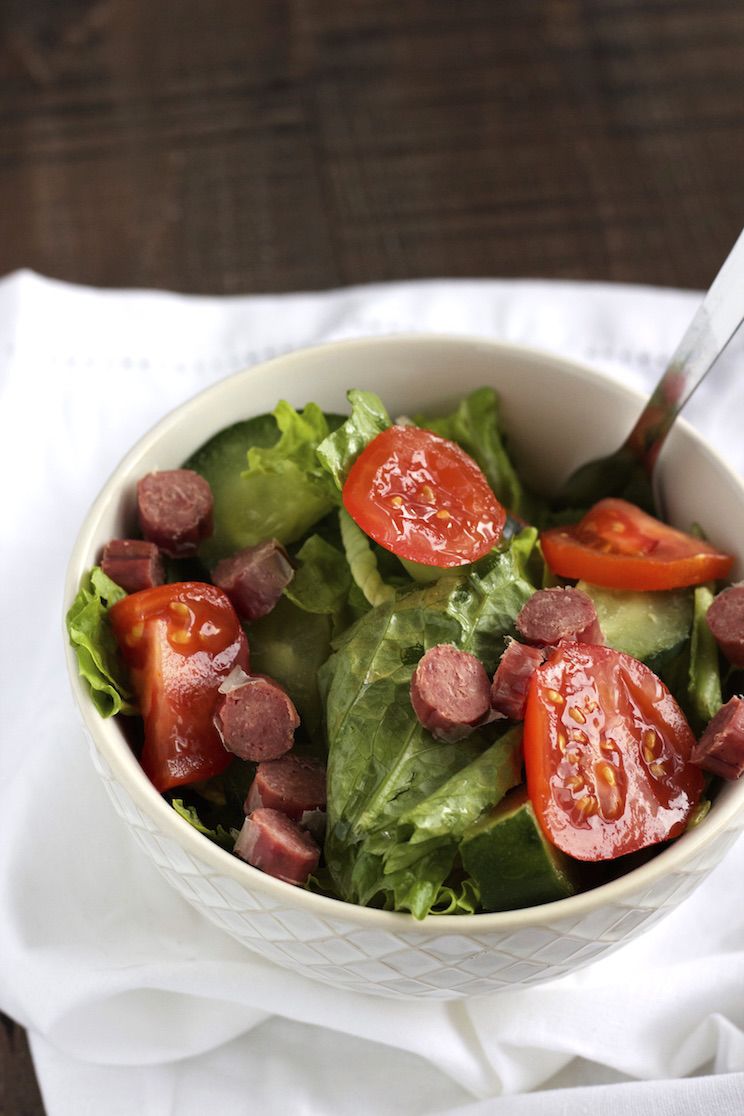 Beef Jerky Cucumber Salad
Ingredients
1 cup lettuce

1 plum tomato (or medium-sized tomato)

¼ cup cucumber, sliced

2 T Chomps Beef Jerky, chopped

1-2 T olive oil
How to Make It
Chop tomato and cucumber. Place lettuce on a plate or in a bowl and top with tomato, cucumber, beef jerky, and olive oil. Enjoy!
2. Add to Pemmican as a Portable Hiking Meal
Erin Druga
Pemmican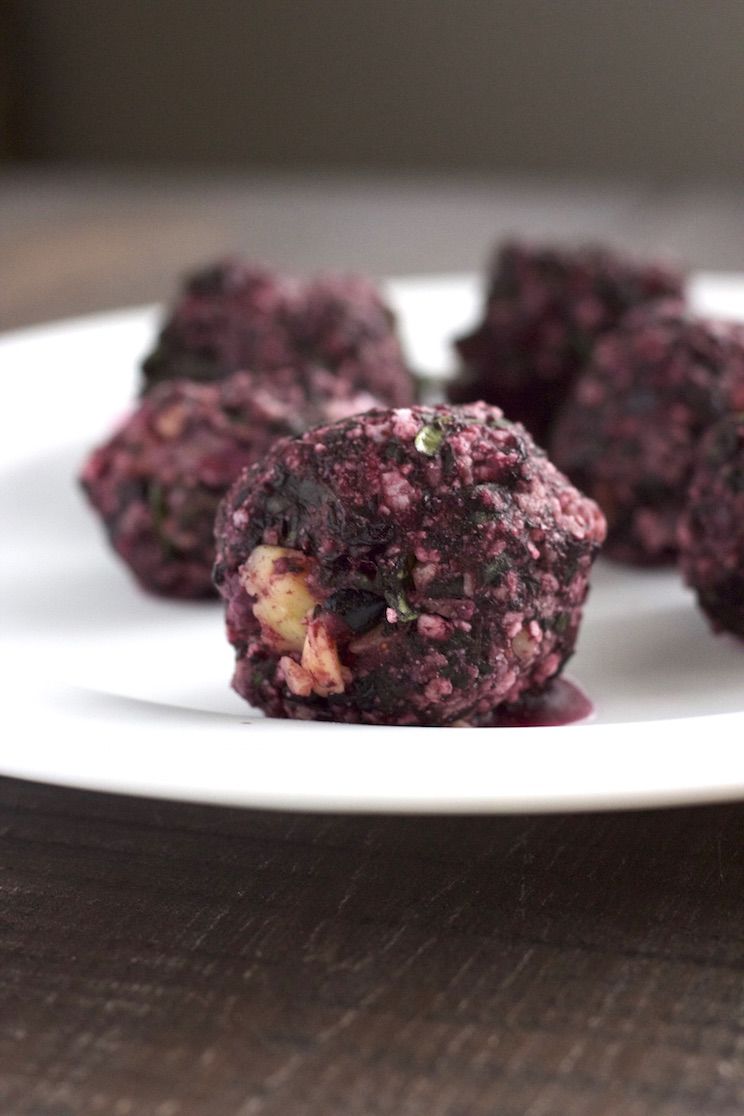 Pemmican
Ingredients
2 packages Chomps Beef Jerky

2 cups spinach

1 cup frozen blueberries

2 T rendered animal fat

¼ cup coconut oil
How to Make It
Lay the berries out on a baking sheet and place them in the oven at 150° for at least 12 hours, or until they have dehydrated. Place Chomps Jerky, blueberries and spinach in a food processor, pulse, and then pour into a bowl. Next, you'll want to render animal fat, using your meat of choice. Use a strainer to strain out any remaining meat chunks, as to just get the animal fat. Pour the animal fat and coconut oil in with the beef jerky and berries and stir. If mixture is too liquidy, add a bit of almond flour. From there, form the mixture into balls and enjoy!
3. Use to Thicken Tomato Sauce
Erin Druga
Homemade Tomato Sauce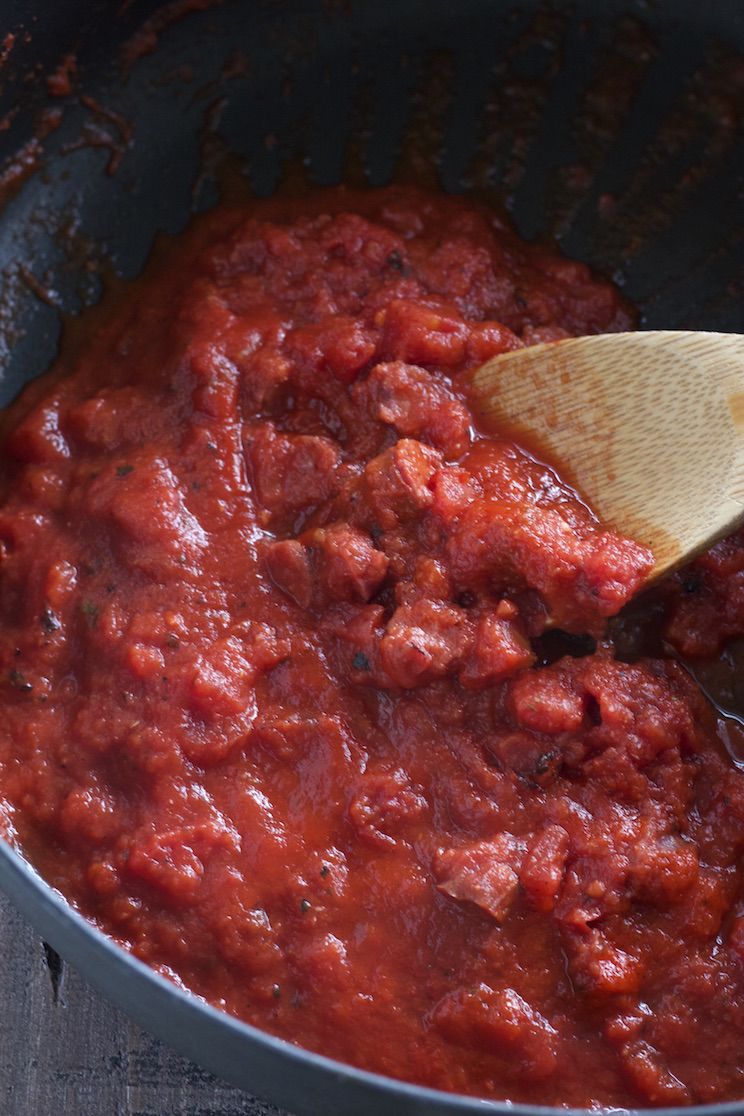 Homemade Tomato Sauce
Ingredients
1 can diced tomatoes

1 yellow onion, diced

3 garlic cloves, minced

2 T olive oil

2 basil leaves, more to taste

¼ cup Chomps Beef Jerky, chopped

Salt and pepper to taste
How to Make It
Heat olive oil in a skillet over medium heat and add onions and garlic and stir. Add in tomatoes and bring everything to a low simmer. Lastly, add in basil; remove everything from heat and place in a blender or food processor and pulse. Return sauce back to skillet and stir in Chomps Jerky.
4. Roasted with Brussels Sprouts
Erin Druga
Roasted Brussels Sprouts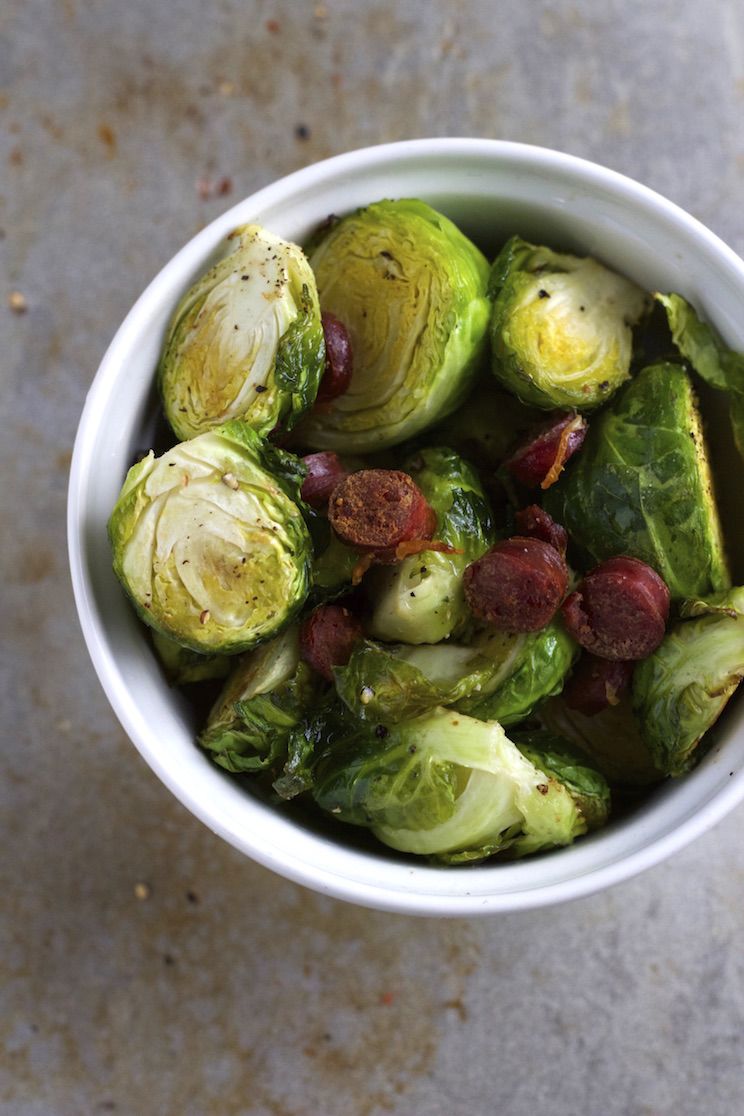 Roasted Brussels Sprouts
Ingredients
2 cups brussels sprouts, sliced

2-4 T Chomps Beef Jerky, chopped

2 T olive oil

Salt and pepper
How to Make It
Preheat oven to 400°F. Add sliced sprouts to baking sheet, drizzle olive oil, salt and pepper overtop. Place baking sheet in oven and roast sprouts for 15-20 minutes. Add beef jerky to the baking sheet after about 10 minutes and flip brussels sprouts at this point as well. Once sprouts are golden brown on each side, remove from oven. Enjoy!
5. Spruce Up an Omelette
Erin Druga
Simple Omelette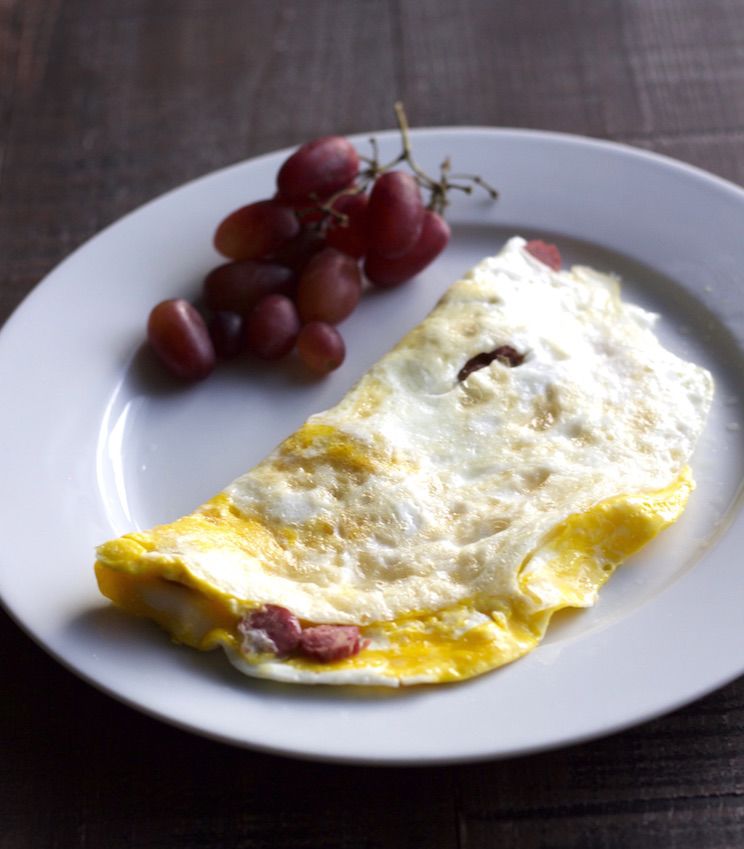 Simple Omelette
Ingredients
2 T coconut oil

3 eggs

2 T Chomps Beef Jerky, chopped

Salt and pepper

Any additional vegetables you wish
How to Make It
Heat coconut oil in a skillet over medium-high heat.  Crack eggs in a mixing bowl and whisk, add to skillet and spread evenly. Once edges start setting, add Chomps Jerky and any additional vegetables. Use spatula to fold omelette in half, then flip to cook the other side.
6. Garnish a Paleo Bloody Mary
Erin Druga
Paleo Bloody Mary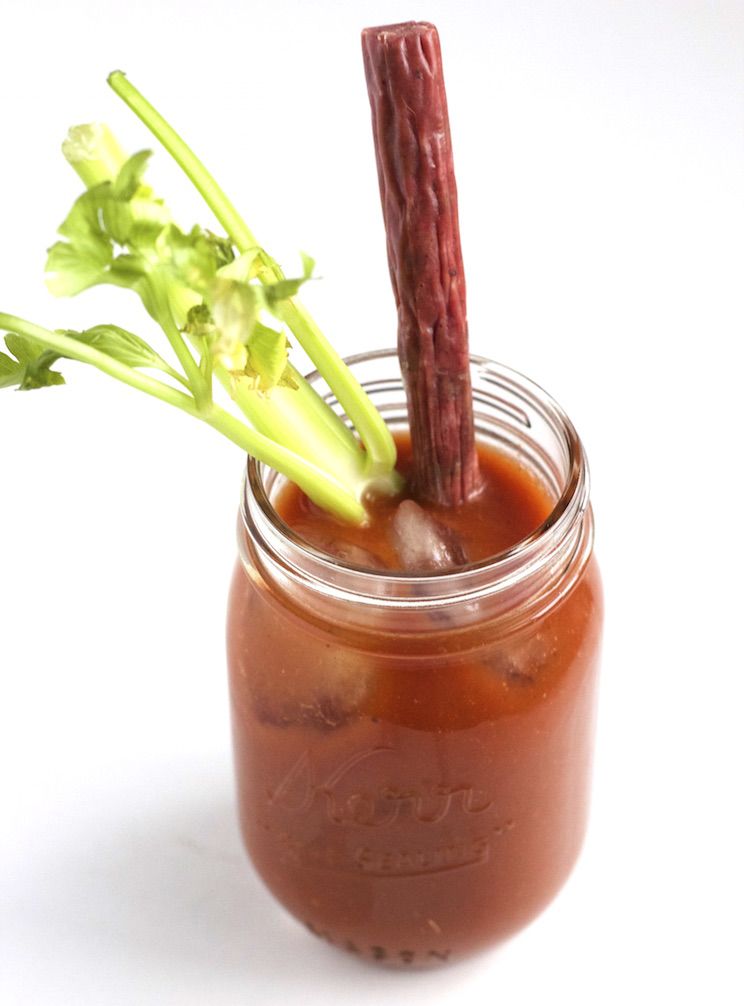 Paleo Bloody Mary
Ingredients
2 cups tomato juice

Pinch cayenne and paprika

¼ t garlic powder

1 t horseradish

½ t Paleo-friendly worcestershire sauce

¼ t tabasco sauce, more or less to taste

Salt and pepper

Celery stalk and 1 Chomps Beef Jerky stick for garnish
How to Make It
Pour all ingredients into a glass and stir. Pour mixture overtop ice in a separate glass, garnish with Chomps Jerky and celery. Enjoy!
Note: For a Paleo-friendly worcestershire sauce, check out this homemade recipe here.
7. Savory Oatmeal Topping
Erin Druga
Savory Oatmeal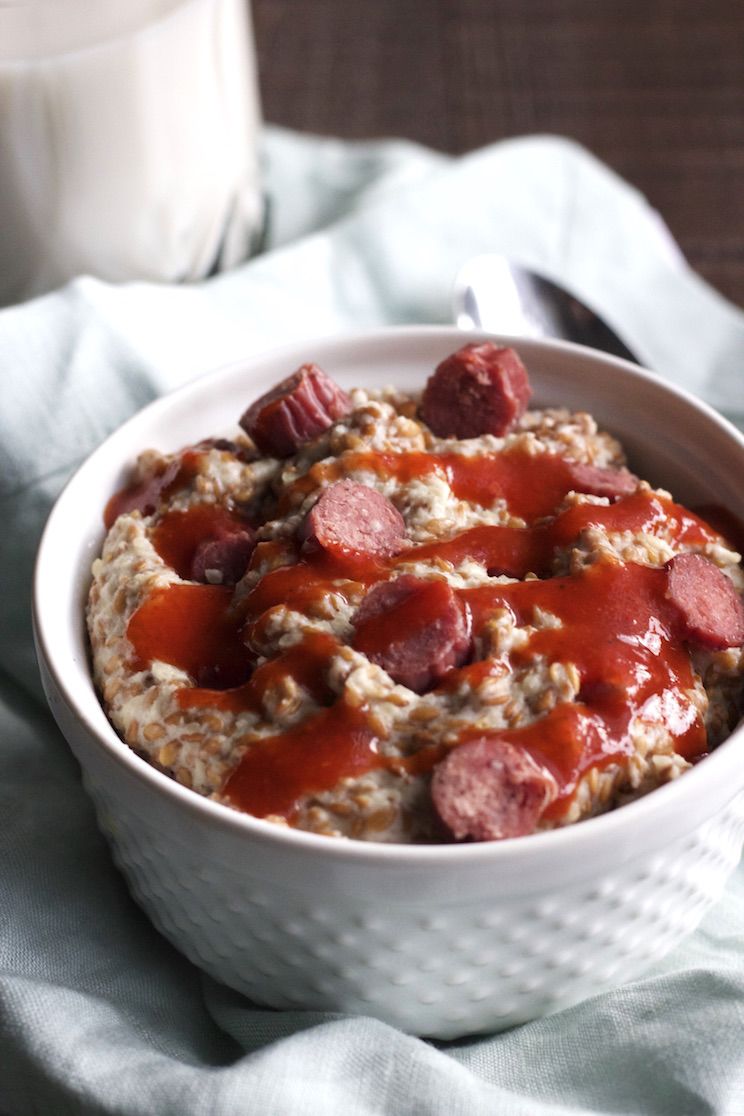 Savory Oatmeal
Ingredients
1 cup almond or coconut milk

½ cup almond meal

¼ cup flaxseed

3 T Chomps Beef Jerky, chopped

1 T Paleo-friendly Sriracha
How to Make It
Heat milk in a saucepan over stovetop and bring to a boil. Once boiling, remove from heat and stir in almond meal and flaxseed. Pour mixture into bowl and stir in beef jerky. Drizzle with Paleo-friendly Sriracha and enjoy!
8. Add as a Protein for Any Soup
Erin Druga
Garden Soup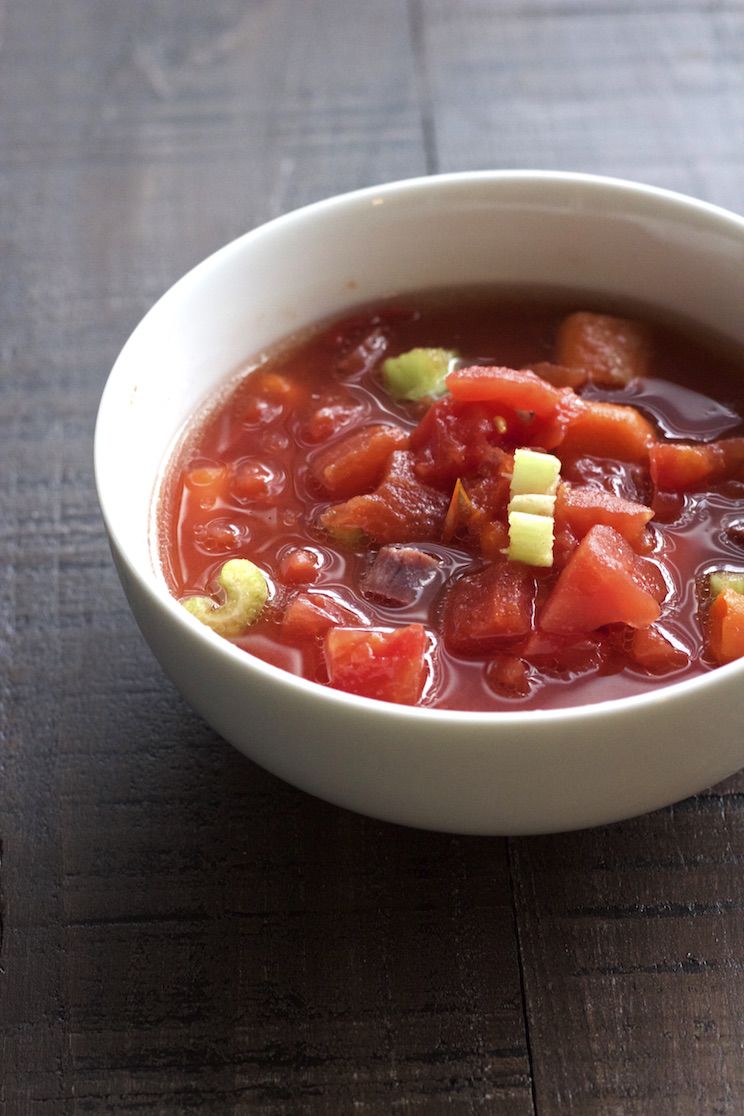 Garden Soup
Ingredients
1 tbsp olive oil

1 can diced tomatoes

1 yellow onion, diced

1 T garlic, minced

¼ cup carrot, chopped

¼ cup celery, chopped

2 T fresh basil

½ cup Chomps Beef Jerky, chopped

1 cup chicken or vegetable broth
How to Make It
Heat carrots, celery, onion, and garlic in skillet with olive oil. Add in diced tomatoes and stir. After 2 minutes, add in beef jerky, broth and basil and simmer on low for at least 20 minutes or until carrots have softened. Enjoy!
9. Pack in for Lunch Instead of Chips for a Healthy Snack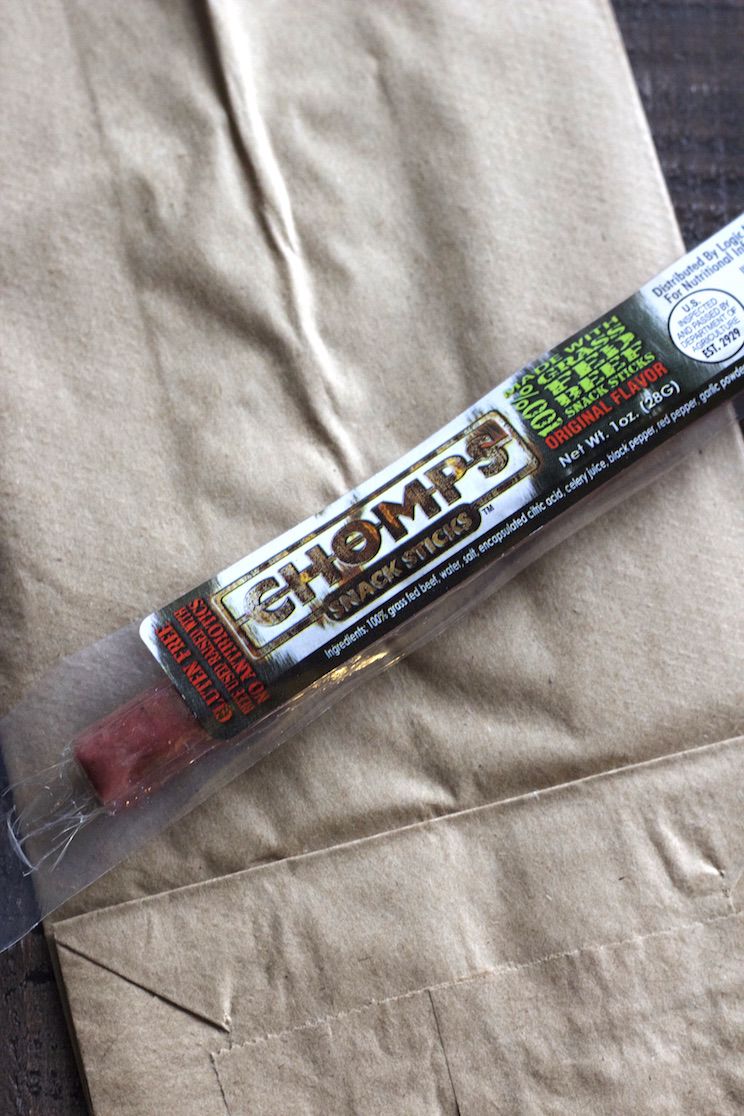 Rather than making a recipe, simply sub out your child's usual "salty" snack for some Chomps Beef Jerky. It's also a great snack to pack during family road trips!
10. Sprinkled Over Deviled Eggs
Erin Druga
Deviled Eggs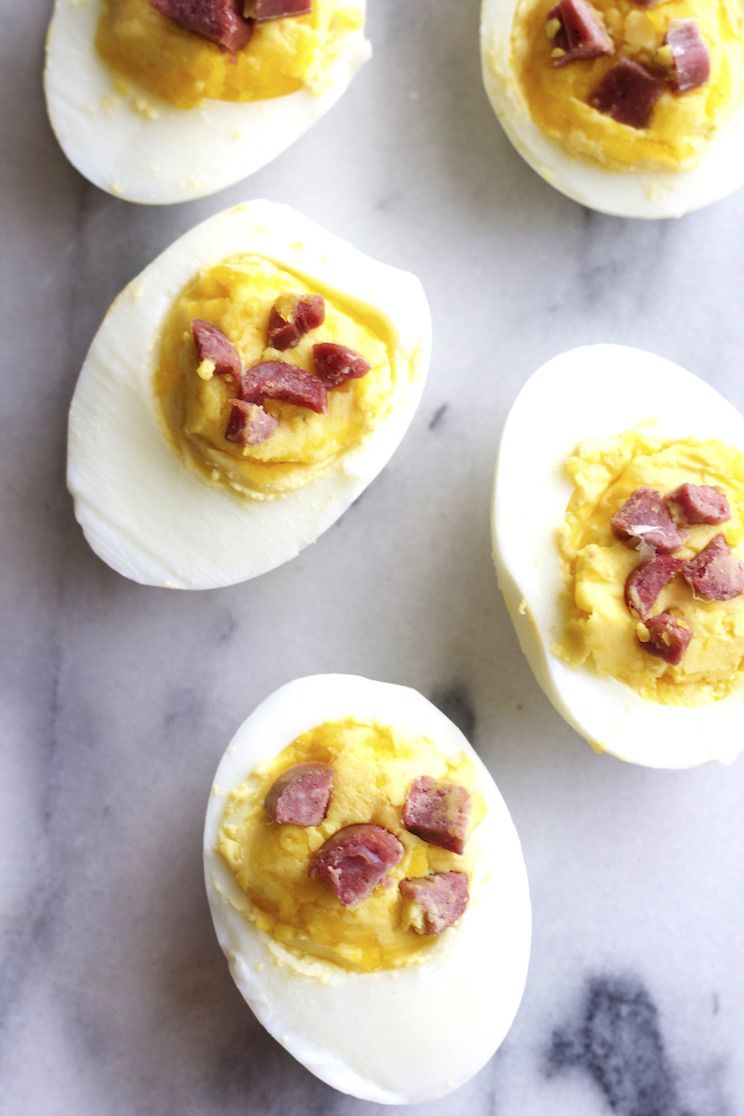 Deviled Eggs
Ingredients
6 eggs

¼ cup Paleo mayonnaise

1 t dijon mustard

3 T Chomps Beef Jerky, diced
How to Make It
Boil eggs in a saucepan for at least 5 minutes. Remove from heat and allow a few minutes for them to cool. Place eggs in a bowl and run cold water over them while peeling she eggshells off. Slice eggs in half and, using a spoon, scoop out the yolk and place yolk in a bowl. Add mayonnaise and mustard to the yolk and stir together; spoon yolk mixture back into the egg whites, top with diced up Chomps Jerky and enjoy!
To make these recipes, head over to Chomps and order your 100% grass-fed beef jerky now.
PS: For more tips and to watch how to make these recipes, check out this helpful video from Gigi below!
This post is sponsored by our friends at Chomps. Our goal is to always bring you healthy, Paleo-friendly articles that we know you'll love. We only feature trusted brands approved by the PaleoHacks team.