Dip and nibble your way through these crave-worthy snack boards filled with simple, wholesome ingredients.
Snack boards are the perfect munchie for  any occasion, whether it's movie night, an elegant party, or a date night in. Plus, they take minutes to prep and won't tie you down with over-the-top ingredients.
In this guide, we've narrowed it down to three categories: sweet, savory, and spicy. Each option offers a blend that'll appeal to everyone and comes with their own tasty twist. PS: Feel free to pair salty with sweet or savory with spicy for a different snack board every time.
Want to snack smarter and curb cravings? Get your FREE 25 Healthy Paleo Snacks Cookbook here.
Click here to get your FREE copy of our Snack Recipes Cookbook!
Mix Things Up!
When assembling your snack board, it's important to keep in mind the different combinations that pair well and keep the board interesting – especially when it comes to textures. For example, velvety chocolate dip has a creamy texture that is super satisfying when enjoyed with crunchy tart apple slices.
Sweet Board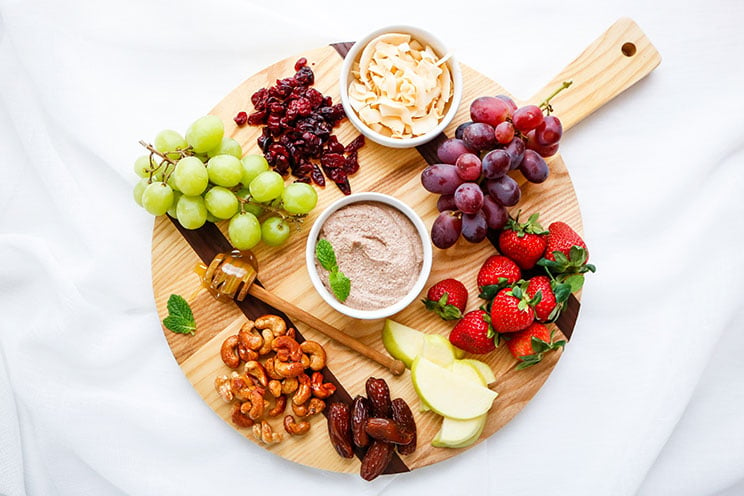 Think dessert. This board is great for anyone with a sweet tooth. Here you'll find toasty coconut, rich cacao, and natural fruit flavors.
Fresh and Dried Fruit: This combination offers fresh tart flavors from apples, grapes, and strawberries with the condensed sweetness of dried fruit like dates and cranberries. It's the perfect level of sweetness for any indulgence!
Maple Cinnamon Cashews: These roasted cashews have a deep toasty flavor that pairs well with a handful of dried fruit. Together, they offer an irresistible chewy, crunchy blend. To add even more sweetness, we sprinkle on a bit of maple and cinnamon for extra oomph.
Toasted Coconut: The coconut chips are the perfect craving-buster with a sprinkle of sea salt on top. Along with adding a Paleo touch to the board, they're a heart-healthy treat that's full of warm aroma and salty-sweet flavoring.
Chocolate Dip: A smooth and creamy chocolate dip ties the sweet board together, just like a traditional dessert fondue.
Savory Board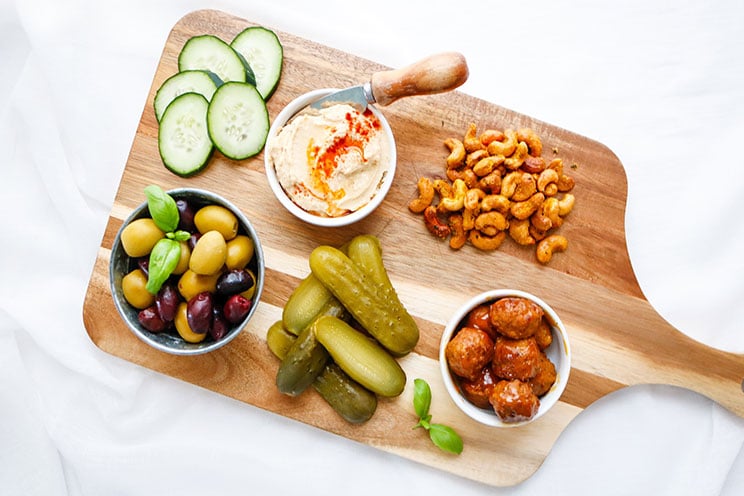 This board offers briny pickled vegetables and olives alongside savory meatballs. To balance it out, creamy cauliflower hummus pairs with fresh sliced cucumbers for dipping.
Fresh and Pickled Vegetables: Briny pickled veggies (like olives and pickles) add salty goodness while cucumbers bring out a refreshing, mellow flavor. Note: Pickling veggies takes up to 24 hours to prep, so make sure to make these a day in advance for easy access.
Cheesy Cashews: For this board, we went with a cheesy cashew recipe to play off the pickled veggies. To keep it dairy-free, we coated the cashews in nutritional yeast along with basil and garlic for a flavor that's similar to Parmesan.
Meatballs: These chicken meatballs, the perfect stand-in for deli meat, come loaded with hidden veggies like zucchini! Be sure to shape them into bite-sized balls for plenty to go around.
Cauliflower Dip: A Paleo-friendly hummus is the perfect dip with plenty of nutty, tahini flavor. This recipe only takes 10 minutes to make and comes loaded with zesty herbs and spices.
Spicy Board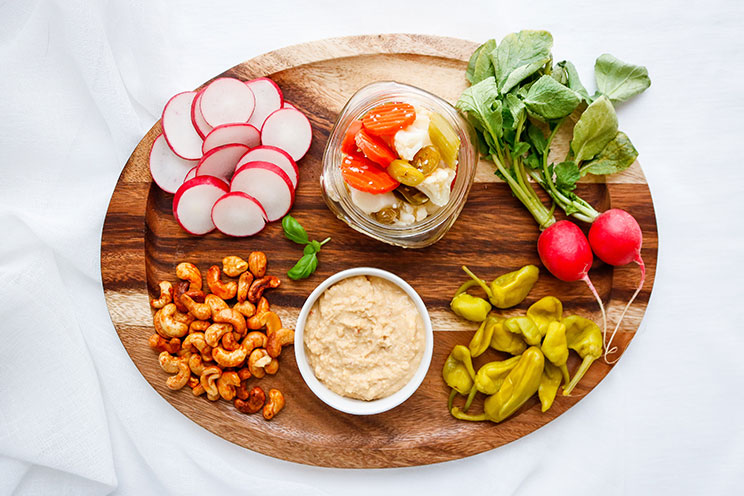 A heat lover's dream, the spicy board is a combination of savory flavors with the heat turned up!
Buffalo Wing Cashews: Adding wing-style spices and herbs to these cashews seals in spicy flavor before roasting. You may want to double up the batch, since these tend to go quickly!
Spicy Pickled Veggies: Cauliflower, carrots, and jalapeños add a tangy-spicy kick to the board with a vinegar zip that balances everything out. Since banana peppers come pre-pickled at the store, you can add them to the mix when ready to serve.
Sliced Radishes: Radishes have a slight peppery flavor and crispness that's refreshing and perfect for dipping!
Cashew Cheese Dip: Cashews blend into a creamy dip that tempers the spicy flavors on the board and tone down the heat when necessary.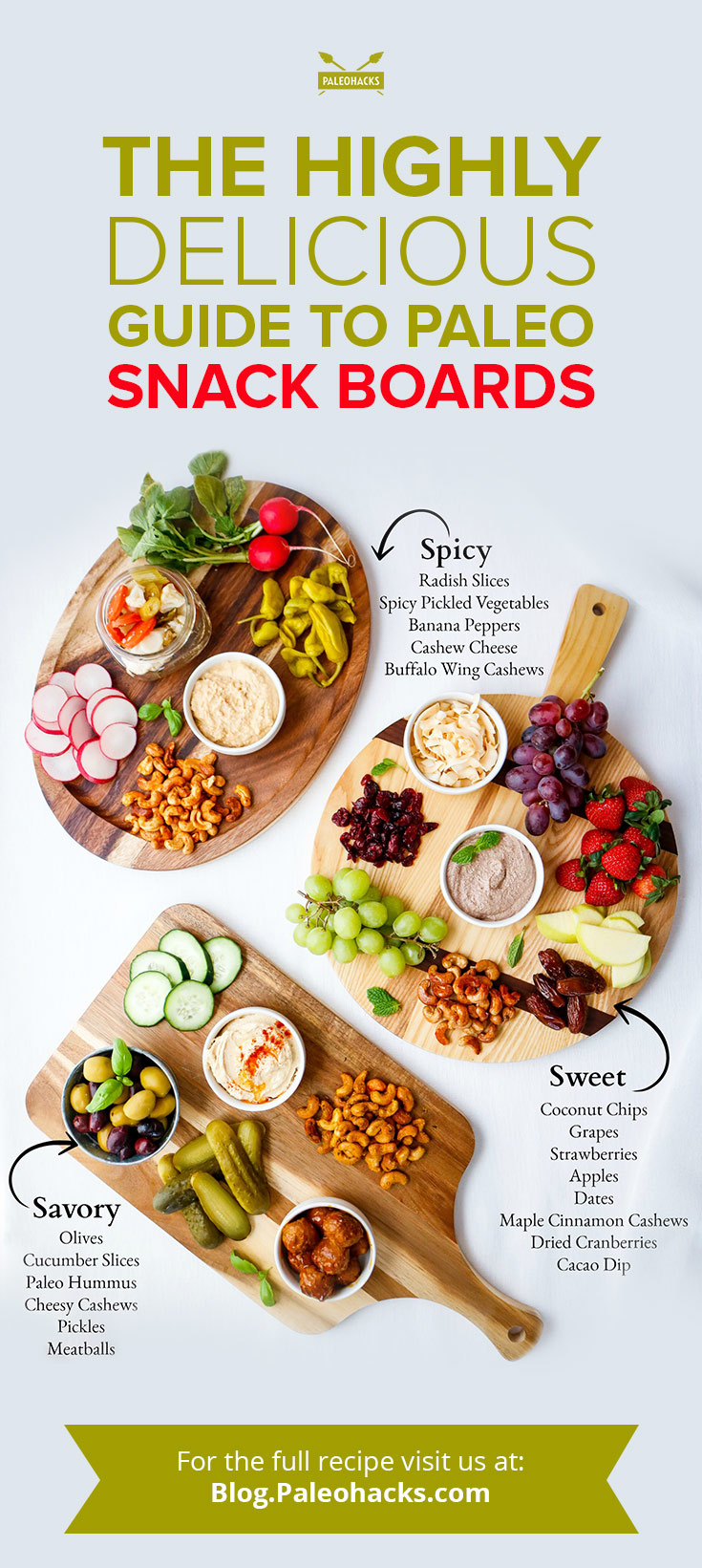 Want More Snack Ideas? Here Are 41 Delicious Low-Carb Snacks To Curb Your Cravings