Satisfy a snack craving with these sweet, 3-ingredient honey roasted maca walnuts!
Nuts are the ultimate hunger-busting snack. Portable, crunchy and filling, they're perfect for busy people on the go. This recipe is easy to make in large batches ahead of time, so you can satisfy those cravings all week long.
Roasting nuts brings out their aroma and intensifies their flavor. The right level of heat gently toasts these walnuts while locking in the honey and maca flavor. You can use almonds or cashews if you prefer, but I love how honey nestles in between the nooks and crannies of a walnut!
Want to snack smarter and curb cravings? Get your FREE 25 Healthy Paleo Snacks Cookbook here.
Click here to get your FREE copy of our Snack Recipes Cookbook!
The 3 ingredients in this recipe are powerful on their own, but even more so when combined.
Walnuts are naturally high in omega-3 fatty acids, which boost brain function and protect the heart.
Raw honey is full of enzymes and minerals with antibacterial properties, which are especially beneficial during cold and flu season.
Maca (not to be confused with Matcha, which is a form of green tea) is a root that resembles a beige beet or rutabaga. Mild tasting and slightly bitter, this superfood is hailed for its ability to balance hormones, improve menopause symptoms, reduce depression and relieve anxiety.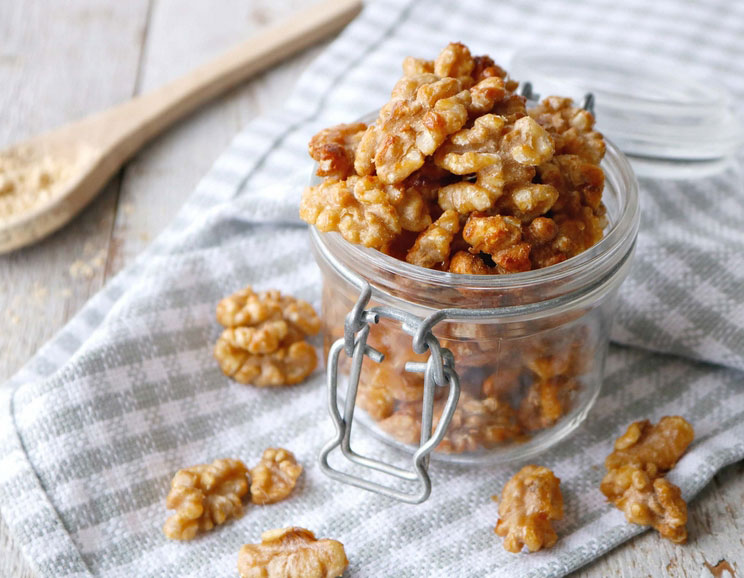 To make these honey and maca glazed walnuts, combine ingredients in a large mixing bowl and stir well to coat. Pour onto a parchment paper-lined baking sheet and evenly spread. It's okay if some of the nuts get stuck together – they'll create yummy nut clusters! Bake at 325°F for 15 minutes. Use a spatula to carefully toss nuts and bake for 5 minutes longer. Set in a cool dry spot for 20 minutes to allow honey mixture to set.
Other ways to use maca:
Add a teaspoon to smoothies
Mix a teaspoon into pancake batter
Stir half a teaspoon into chia pudding
Jennafer Ashley
Hormone Balancing Maca + Honey Walnuts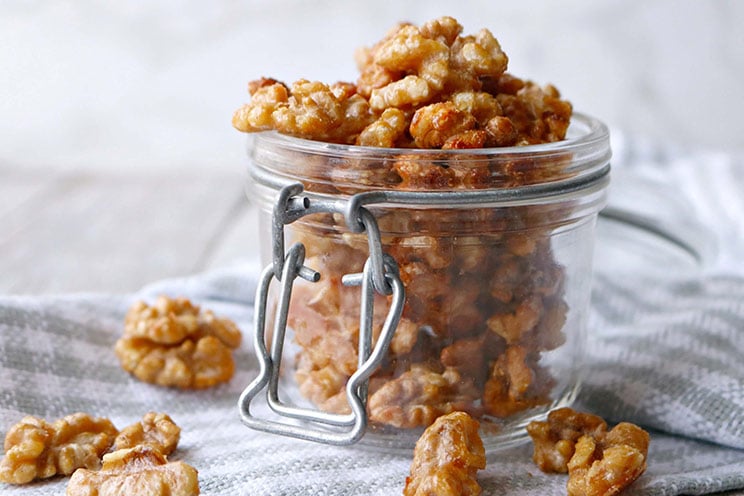 Cook Time:
20 mins
20 minutes
Prep Time:
5 mins
5 minutes
Hormone Balancing Maca + Honey Walnuts
Satisfy a snack craving with these sweet, 3-ingredient honey roasted maca walnuts.
Tools
Parchment paper

Baking sheet

Mixing bowl

Spatula
Ingredients
2 cups raw unsalted walnut halves

2 T raw honey, melted

1 t maca powder
Instructions
Preheat oven to 325°F and line a baking sheet with parchment paper.

In a medium mixing bowl, combine walnuts, raw honey and maca. Stir well to coat walnuts.

Pour onto prepared baking sheet and spread evenly. Bake 15 minutes.

Use a spatula to toss walnuts and bake an additional 5 minutes. Cool 20 minutes before enjoying.
Tip: Nuts are a high calorie food and easy to overeat without realizing. Portion the recipe into small jars or bags to avoid overindulging.
Looking for Paleo ingredients? Here are a few we'd recommend:
Raw honey (Bee Farms)
Maca powder (Healthworks)

(You'll Also Love: Dark Chocolate Mint Maca Coconut Butter Cups)