Grill up Balsamic Garlic Mushroom Skewers soaked in a delicious balsamic marinade!
Fire up the grill and serve up these savory mushroom skewers as an easy appetizer or snack. Satisfy veggie lovers and meat-eaters alike with wholesome gut-friendly ingredients everyone can enjoy!
The secret to these skewers is a seasoned marinade made with balsamic vinegar and coconut aminos. This duo adds a sweet and savory flavor that's healthier than soy sauce or brown sugar.
Want to snack smarter and curb cravings? Get your FREE 25 Healthy Paleo Snacks Cookbook here.
Click here to get your FREE copy of our Snack Recipes Cookbook!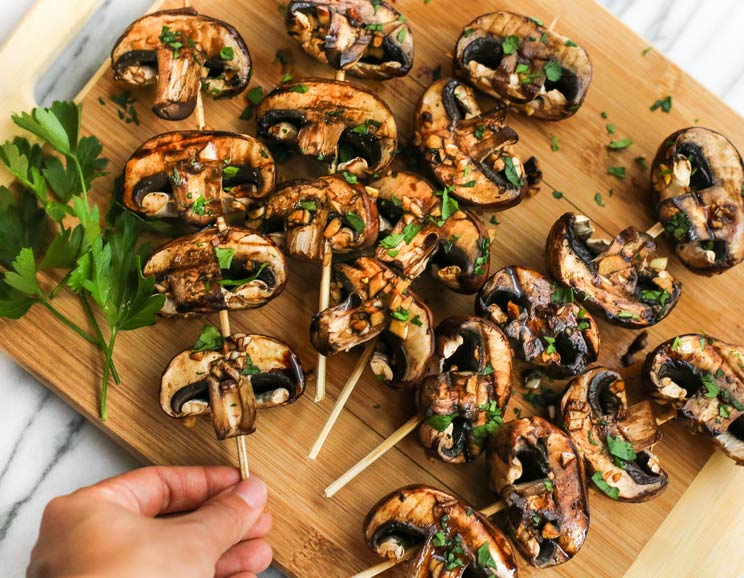 To get started, cut the cremini mushrooms into ¼-inch slices. In a medium bowl, mix the balsamic vinegar, coconut aminos, and minced garlic together. Add the mushroom slices to the mixture and let them marinade for 30 minutes. Soak the skewers in water while the mushrooms marinate. This will prevent the skewers from getting too hot and catching fire on the grill.
Next, thread the mushrooms onto the skewers and grill over medium heat until tender on both sides. Tip: If you don't have an outdoor grill, you can use a stovetop grill instead. Then, transfer the skewers onto a serving dish and drizzle extra marinade on top. Sprinkle with fresh chopped parsley and serve immediately!
Felicia Lim
Grilled Balsamic Garlic Mushroom Skewers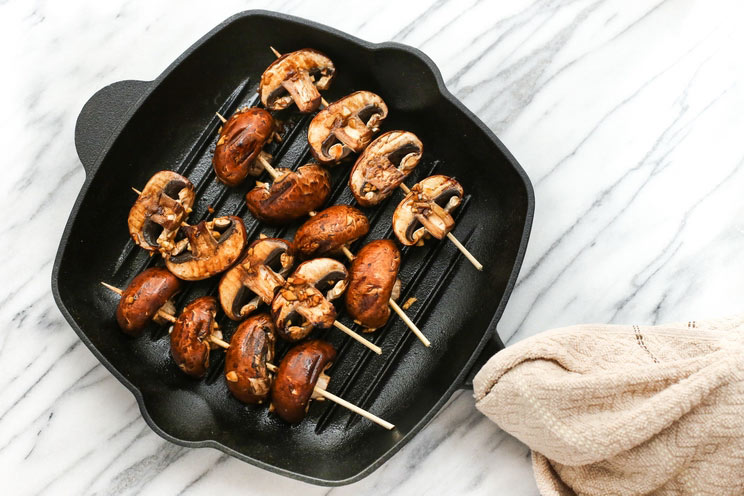 Cook Time:
10 mins
10 minutes
Prep Time:
40 mins
40 minutes
Grilled Balsamic Garlic Mushroom Skewers
Grill up Garlic Balsamic Mushrooms Skewers soaked in a delicious balsamic marinade.
Tools
Grill (either indoor or outdoor)

Wooden skewers

1 Medium Mixing Bowl
Ingredients
2 lbs cremini mushrooms, sliced ¼-inch thick

2 T balsamic vinegar

1 T coconut aminos

2 garlic cloves, minced

Salt to taste

1 T fresh parsley, chopped
Instructions
In a medium bowl, combine the balsamic vinegar, coconut aminos, minced garlic, and salt. Mix well.

Add the sliced mushrooms in with the marinade and let them soak for at least 30 minutes.

While the mushrooms are marinating, soak the wooden skewers in water.

When ready, heat the grill to medium heat and thread the marinated mushrooms onto the skewers. Place them in a single layer onto the grill and cook until tender (approximately 2-3 minutes per side). Set aside leftover marinade.

Place the cooked mushroom skewers onto a serving platter, drizzle with reserved marinade, and sprinkle with fresh chopped parsley.

Serve and enjoy!
Looking for Paleo ingredients? Here's what we recommend:
Coconut aminos (Coconut Secret)

(You'll Also Love: Balsamic Steak and Mushroom Kebobs
)