As most people probably know, if you feed your kids a Standard American Diet and then suddenly switch to Paleo and expect them to be happy with the change, you're going to have a problem.
On the other hand, once they start to realize how delicious real foods are, kids will learn to prefer the taste of fresh fruits and vegetables and meat. The trick is to get them to that point. Here are some healthy Paleo recipes for kids that even the pickiest of eaters will enjoy!
Tips and Tricks
First off, the main thing to do is to include lots of Paleo-friendly foods that your kids like. At the same time, cut out bread, crackers, and anything else that has gluten. This includes breakfast candy – errr – cereals. If you commonly give kids snacks in the car, stop handing over things like goldfish crackers and instead try jerky, raisins, or nuts.
Breakfast is often the most difficult meal of the day to phase for your "Paleo kids", particularly if you don't have time to cook or your kids don't like eggs. If your goal is to slowly phase over, gluten-free bread or waffles can do the trick, although the high-carb meal with no protein isn't going to fill them up for long. If you can get some eggs into them, or some meat (ham, bacon, or leftover meat), that's great. Try some French toast using gluten-free bread if that's the only thing that works.
If your child loves chicken fingers or nuggets, there's no reason you have to stop feeding him that. Just make it yourself! Breaded chicken is about one of the easiest meals to make and kids love it!
Sweet potatoes are a great Paleo food and are easy to prepare in a variety of ways. Make those raw veggies more appealing and serve them with Paleo-friendly dips, like homemade honey mustard. If your kid is a sweets hound, then whip up a batch of chocolate avocado "pudding". She'll love it!
There are lots of quick and easy Paleo recipes for kids that your little ones are sure to enjoy, but here are a few of our absolute favorites.
PaleoHacks Team
Paleo Chicken Fingers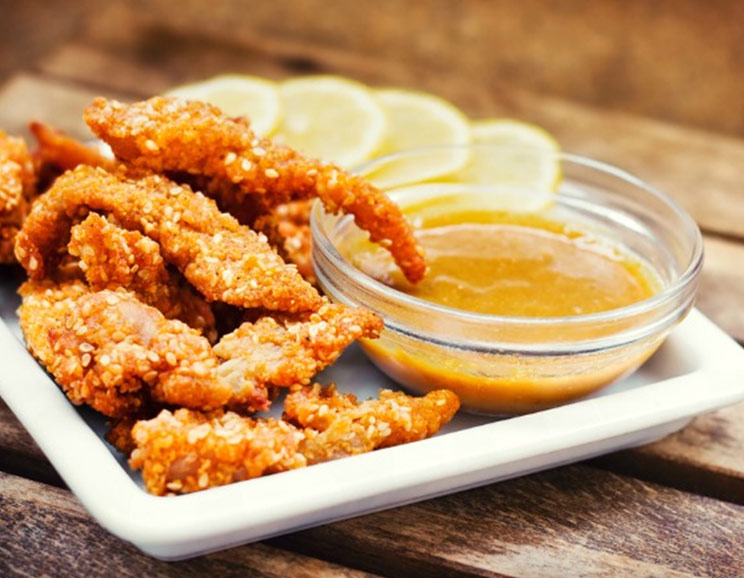 Cook Time:
15 mins
15 minutes
Prep Time:
10 mins
10 minutes
Paleo Chicken Fingers
Everyone loves chicken fingers! Try experimenting with different seasonings for this recipe to make it as kid-friendly as possible.
Ingredients
1 pound of skinless chicken breast strips or chicken tenders

1 egg

1/2 cup of almond flour

3/4 t paprika

1/2 t salt

1/4 t each ground coriander and ground cumin
Instructions
Turn your oven to 425F. Line a baking sheet with parchment paper.

Mix the almond meal with your spices on a plate.

Crack your egg into a bowl and beat it.

Pat the chicken dry and then dip each piece into the egg and then the almond mixture. Make sure to completely coat it on all sides. Lay the chicken pieces onto the baking sheet.

Bake for 15-18 minutes, turning once.
PaleoHacks Team
Honey Mustard Dip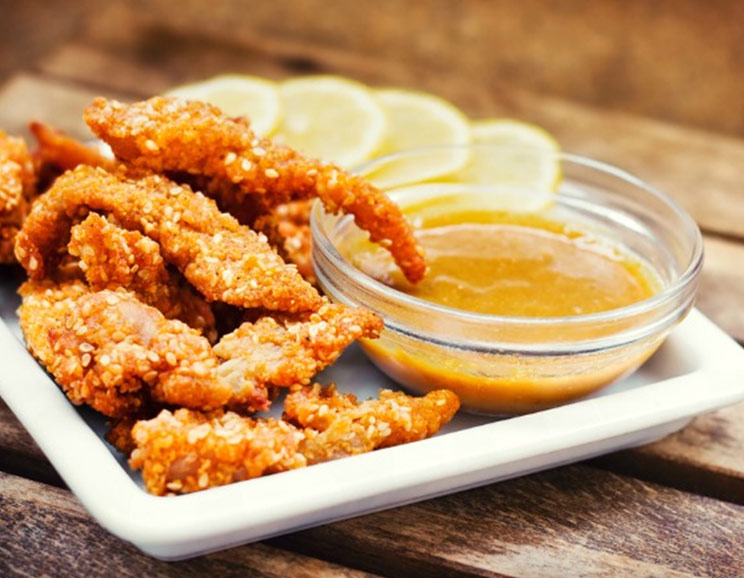 Prep Time:
5 mins
5 minutes
Honey Mustard Dip
Use this as a dip for the chicken fingers, or for raw veggies as a snack!
Ingredients
3 T honey

2 T Dijon mustard

homemade mayo (optional)
Instructions
Mix all the ingredients together and taste. If it's too sweet, add a bit of homemade mayo.
PaleoHacks Team
Sweet Potato Mash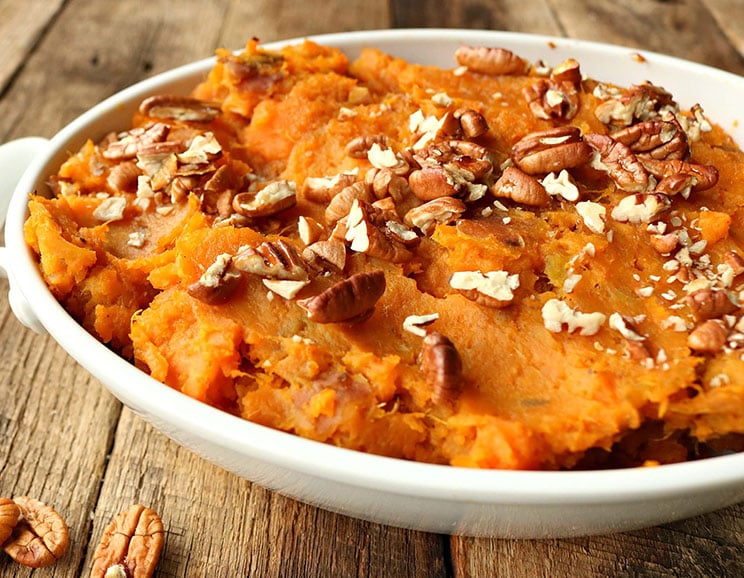 Cook Time:
45 mins
45 minutes
Prep Time:
5 mins
5 minutes
Sweet Potato Mash
One of the best foods you can serve your family is sweet potatoes. They're filled with vitamins and minerals and are a great source of carbs for an active family. These are a little on the sweet side so you can reduce the maple syrup as you see fit.
Ingredients
4 unpeeled sweet potatoes

1/2 cup maple syrup

1/4 cup of butter or olive oil

Freshly ground salt and pepper to taste

2 minced green onions
Instructions
Bake the sweet potatoes on a parchment-lined baking sheet for about 45 minutes in a 400F oven. They should be soft and tender.

In a bowl, mash the sweet potatoes and add the butter and maple syrup. Mix well.

Season with salt and pepper, stir in the green onions, and serve right away.

Enjoy by itself or as a side with roasted chicken.
PaleoHacks Team
Homemade Ranch Dressing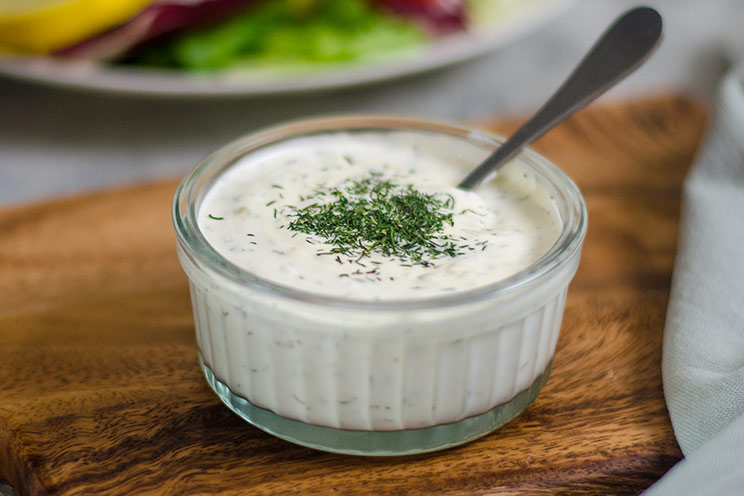 Prep Time:
10 mins
10 minutes
Homemade Ranch Dressing
Try using homemade macadamia mayonnaise in this recipe to really amp up the flavor! It makes a great dressing for a salad, or as a tip to serve with veggies or chicken fingers.
Ingredients
1 cup of mayonnaise

1 cup of canned coconut milk

1-2 T minced fresh dill

2 garlic cloves or minced garlic paste

Dash of sea salt

1 t of apple cider vinegar

Sea salt and freshly ground black pepper to taste
Instructions
If you're not using garlic paste, sprinkle a pinch of salt onto your garlic cloves and mash them up.

Whisk all ingredients together in a bowl and store in the fridge in a jar or fancy container.
PaleoHacks Team
Cucumber Yogurt Dill Dip

Prep Time:
10 mins
10 minutes
Cucumber Yogurt Dill Dip
Otherwise known as Tzatziki sauce, cucumber yogurt dill dip is great with veggies, grain-free crackers, or spread on "sandwiches." It's really delicious and easy to make!
Ingredients
2 cups of non-dairy yogurt

1 cup seedless cucumber, diced

2 T of fresh lemon juice

2 garlic cloves, minced

2 T fresh dill, finely chopped (or 2 teaspoons of dried)

Salt and pepper to taste
Instructions
Combine all ingredients except salt and pepper in a medium-sized bowl. Mix until combined. Season to taste with salt and pepper.

Chill and stir before serving.
PaleoHacks Team
Chocolate Avocado Pudding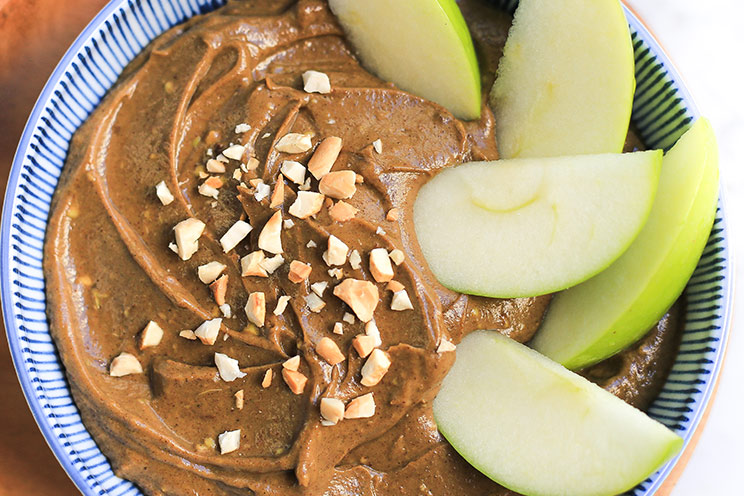 Prep Time:
20 mins
20 minutes
Chocolate Avocado Pudding
Need to get some good fats into your kids? This sweet and creamy pudding recipe will have them coming back for more! You can top it with a ton of different things: strawberries, bananas, chopped pistachios, or chopped walnuts are all great.
Ingredients
2 ripe avocados

2 tbsp of coconut oil

1/3 cup of maple syrup or honey

3 dates

1/2 cup cocoa or cacao powder

2 tsp of real vanilla extract

1/2 cup to 1 cup of almond or coconut milk
Instructions
Soak the dates in warm water for 15 minutes, then chop roughly.

Throw the ingredients into a blender or food processor in this order: oil, dates, sweetener, vanilla, half of the milk, avocados, and cocoa.

Blend it for two or three minutes until it is smooth. Add in more milk until it's just a little runnier than the consistency that you like; it will thicken in the fridge.

Spoon into ramekins or small bowls, cover, and put in your fridge.

Serve as-is or top with your favorite garnish.
You'll Also Love: 17 Paleo Bento Box Lunch Ideas for Kids