Settle in with a warm bowl of hearty beef tagine slow cooked in Moroccan spices and herbs!
While traditional tagine comes in many variations, this recipe slow cooks seasoned beef with vegetables, spices, and savory broth. Inspired by Moroccan influences, you can expect to find a mixture of both sweet and savory spices. Best part is, it's super simple to prep and allows for hands-free cooking throughout the day.
For thousands of years, this dish has been a hearty staple throughout the Middle East. Typically simmered over hot charcoal in a clay pot, this recipe uses a slow cooker to replicate traditional methods by keeping the meat moist and tender. For added variety, you can also make it with other proteins like fish, lamb, or chicken.
Love slow cooker recipes?
Click here to get your FREE copy of our delicious Slow-Cooker Recipes!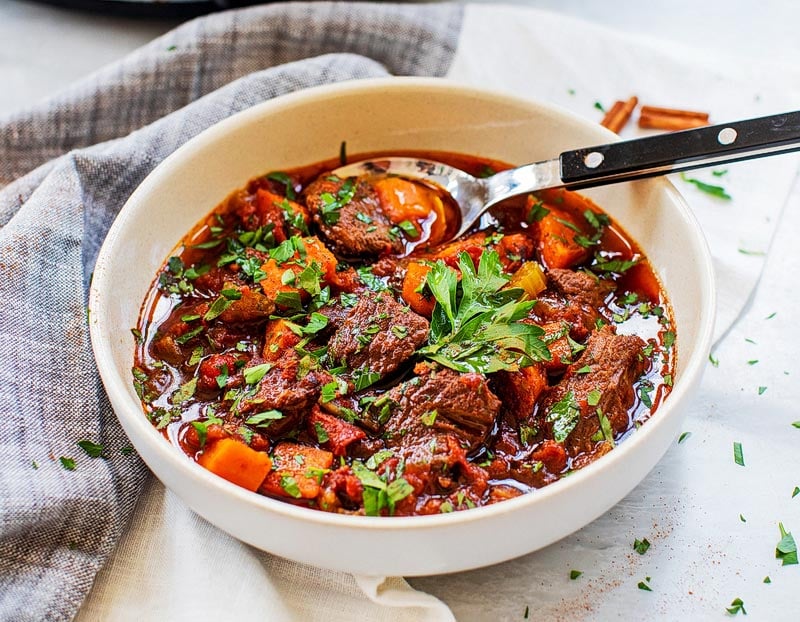 To get started, sauté the chopped veggies in a skillet over medium heat. Cook for about two minutes, or until the veggies are slightly caramelized. When complete, transfer them to a slow cooker and begin prepping the meat.
Next, brown the beef in the same skillet over medium heat, adding a few pieces at a time. Cook until fully browned, then place into the slow cooker with the rest of the veggies. Letting the meat simmer before it enters the slow cooker will give it a more flavorful touch.
Once the meat and veggies are in, add the tomatoes and broth to the pot. Stir in the remaining herbs and spices, then cover and set on low for eight to ten hours. If you're looking to have it done sooner, you can also set it on high for four to five hours.
Sophie Viau
Slow Cooker Beef Tagine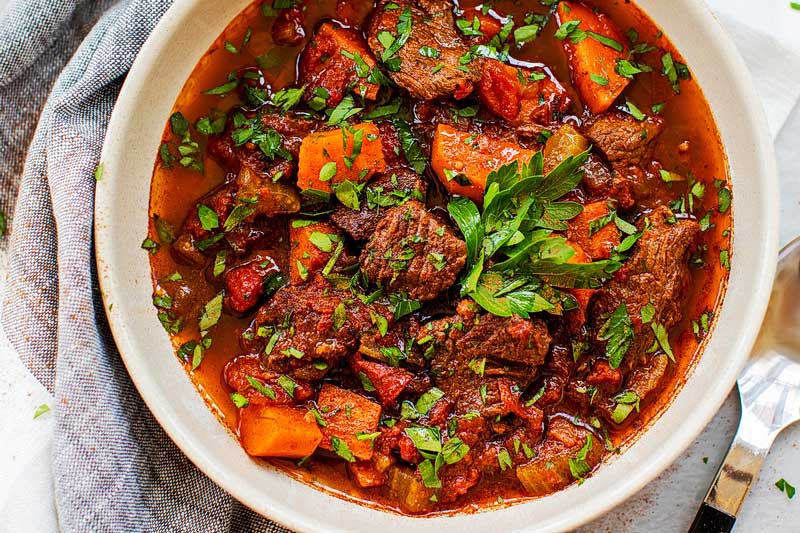 Prep Time:
15 mins
15 minutes
Nutrition facts:
30 grams of protein
11 grams of carbohydrates
28 grams of fat
418 calories
Slow Cooker Beef Tagine
Settle in with a warm bowl of hearty beef tagine slow cooked in Moroccan spices and herbs.
Tools
Large skillet

Slow cooker
Ingredients
1 T coconut oil

3 cups chopped carrots

3 cups chopped celery

1 cup chopped onions

2 lbs beef chuck roast

1 ½ cups chopped tomatoes

1 cup of beef broth

1 bay leaf

1 t ground cinnamon

1 t ground cumin

1 t garlic powder

1 t paprika

1 t salt

½ t ground black pepper
Instructions
Add the coconut oil into a large skillet over medium heat. Sauté the carrots, celery, and onion, for 2 minutes, then place in the slow cooker.

Add the beef chuck to the skillet and brown the meat on each side for 3 minutes. When finished, add to the slow cooker.

Toss in the tomatoes and broth, then season with the bay leaf, cinnamon, cumin, garlic powder, paprika, salt, and pepper. Mix well.

Set the slow cooker to low and let it cook for 8 hours. Serve warm and enjoy!
Looking for Paleo ingredients? Here are a few we'd recommend:
Cold pressed coconut oil (Viva Naturals)
Ground cinnamon (Simply Organic)
Garlic powder (Frontier)
Paprika (Simply Organic)
Black pepper (Frontier)
You'll Also Love: Slow Cooker Beef Brisket Smothered with BBQ Sauce