Whip up this keto-friendly, zesty blueberry lemon cake with just 10 minutes of prep!
Inspired by the classic pairing of sweet and sour, this naturally-sweetened, keto-friendly blueberry lemon cake is sure to please. The best part? It only requires 10 minutes of prep time, then your slow cooker does the rest.
The Trick To Bold Lemon Flavor
A commonly overlooked and underrated source of flavor is lemon zest. While lemon juice is wonderful, zesting that golden surface of a lemon is the real way to amplify flavor. If you don't have a microplane or zester, you can still get in on the fun. Simply use a veggie peeler to peel the outer layer from the lemon rind, then finely dice it with a sharp knife.
Curious about ketosis?
Click here to get the FREE Easy Keto Guide to learn the right way to go keto!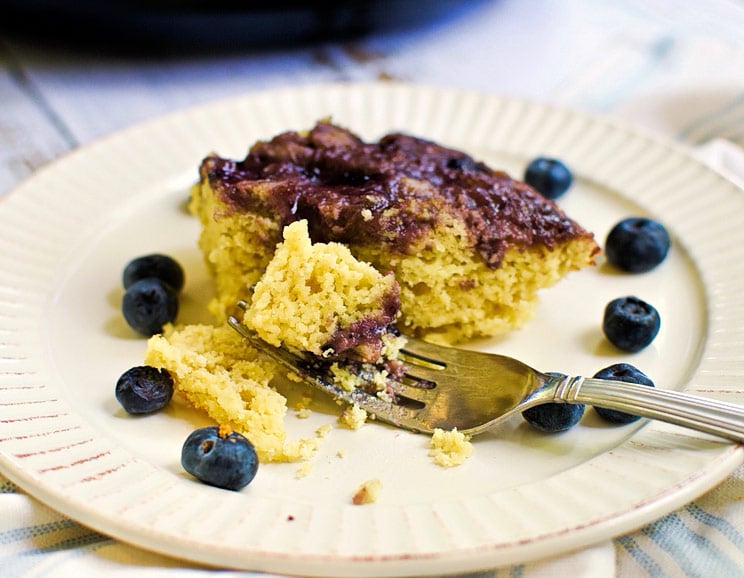 Making The Blueberry Lemon Sauce
The literal icing on the cake is a savory ghee-based blueberry lemon sauce. Rather than slow cooking here, we take a little shortcut to flavor town by physically popping the blueberries with a wooden spoon. We also enlist the help of tapioca flour to thicken the sauce into a jelly-like consistency.
Helpful Tips To Get Started:
Don't overmix. The balance between dry and wet ingredients is especially important when using coconut flour. Overmixing can encourage the coconut flour to absorb even more water, possibly resulting in a dry cake. Mix just until combined then transfer to the slow cooker.
Swirl lightly. While we want some of the delicious sauce to incorporate into the cake, we also want to keep it as a topping. So after pouring the sauce over the top of your cake batter, give it a few quick swirls.
Danielle Moore
Slow Cooker Keto Blueberry Lemon Cake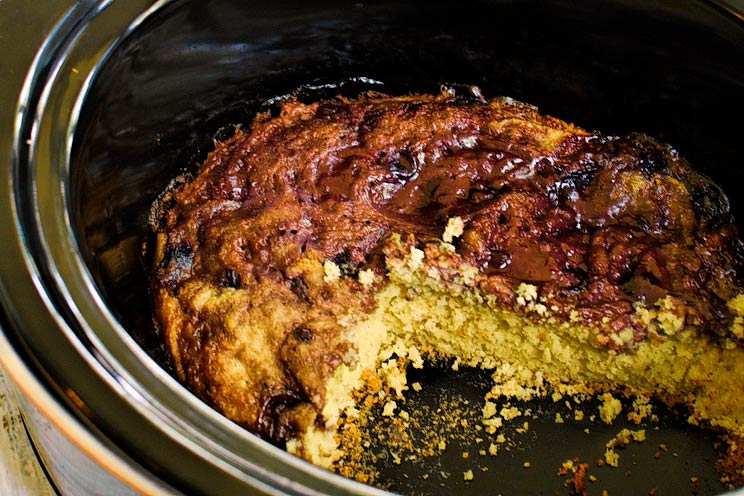 Cook Time:
2 hrs 36 mins
2 hours 36 minutes
Prep Time:
10 mins
10 minutes
Nutrition facts:
4 grams of protein
6 grams of carbohydrates
25 grams of fat
Slow Cooker Keto Blueberry Lemon Cake
Whip up this keto-friendly, zesty blueberry lemon cake with just 10 minutes of prep.
Tools
Small saucepot

Small mixing bowl

Large mixing bowl

Sifter

6-quart slow cooker
Ingredients
For The Blueberry Lemon Sauce:
⅓ cup blueberries

¼ cup lemon juice

¼ cup ghee

1 T monk fruit powder

1 T tapioca flour

2 T water
For The Cake:
½ cup melted ghee

½ cup coconut cream

¼ cup lemon juice

1½ T lemon zest

4 eggs

2 cups almond flour

¼ cup coconut flour

3 T monk fruit powder, divided

2 t baking powder
Instructions
For The Blueberry Lemon Sauce: In a small saucepot, combine the blueberries, lemon juice, ghee, and monk fruit powder over medium heat. Stir to combine and bring to a boil.

In a small mixing bowl, whisk the tapioca flour with 2 T water until dissolved. Add the mixture to the blueberries and stir to incorporate.

Reduce the heat and simmer for 3 to 4 minutes, stirring occasionally, until the sauce is thickened. Smash the blueberries with a wooden spoon as you stir.

For The Cake: In a large mixing bowl, whisk together the ghee, coconut cream, lemon juice, lemon zest, and eggs.

Sift in the almond flour, coconut flour, monk fruit powder, and baking powder. Stir until just combined.

Transfer the mixture to the slow cooker and smooth into an even layer.

Pour the blueberry swirl over the cake then use the tip of a butter knife to gently swirl the mixture into the top layer of the cake.

Cook for 2½ hours on high.

Serve warm or cool.
Looking for Paleo ingredients? Here are a few we'd recommend:
Ghee (Pure Indian Foods)
Monk fruit powder (Julian Bakery)
Tapioca flour (Authentic Foods)
Coconut cream (Native Forest)
Almond flour (Hodgson Mill)
Coconut flour (Nutiva)
Baking powder (Hain)
If you love using your crockpot to stay keto, dig your fork into this Breakfast Sausage Casserole, then indulge in this Molten Lava Cake!