Indulge your creamy soup craving with this low-carb, dairy-free take on Zuppa Toscana!
Zuppa Toscana is a crave-worthy soup popular in Italian restaurants. It's full of hearty flavors from Italian sausage, kale, and a touch of smoky bacon.
This Paleo version ditches the soup's usual potatoes in favor of low-carb cauliflower florets. Best of all, the slow cooker does all the work.
Looking for low carb keto recipes to burn fat and lose weight?
Click here to get your FREE Keto Breakfast Recipes Cookbook!
How To Make Your Own Italian Sausage
Instead of using packaged Italian sausage, this recipe opts for pasture-raised ground pork for complete freedom with the amount of spice and salt added. Ground fennel, oregano, basil, and fresh garlic add a rich aroma, creating a flavor that replicates Italian sausage and crumbles perfectly.
Try subbing in thyme and rosemary if you'd like. If your family isn't into pork, ground chicken, turkey, or even beef will all work in this soup.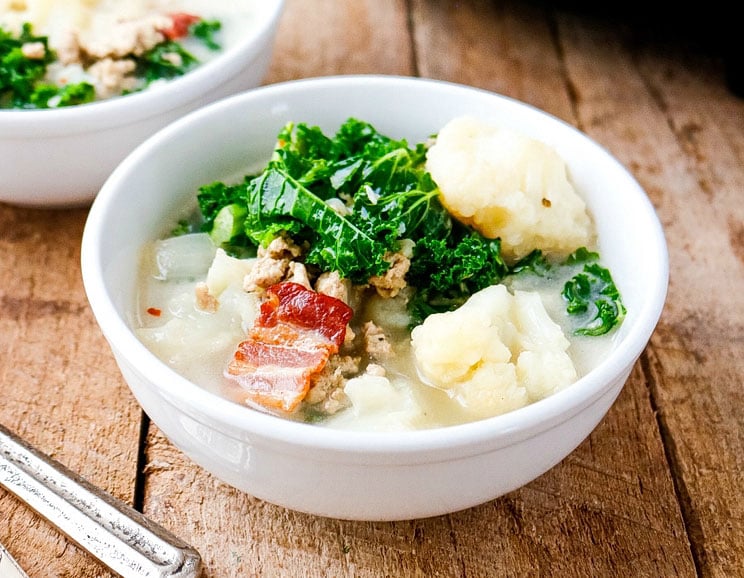 How To Choose Low-Carb Veggies
Vegetables round out this recipe to create a full meal in each bowl. Kale is great in the slow cooker because of its tough texture. Swiss chard and collard greens would also be safe bets.
Cauliflower is a less-starchy alternative to potatoes and can be used in moderation in keto recipes to add texture and filling fiber. If you're not following a keto diet, parsnips, carrots, or celery all work, too.
Helpful Tips To Get You Started:
Watch the cauliflower. Keep a watchful eye when cooking the cauliflower. Slow cooker temperatures differ, so some cauliflower may cook in as little as 2 hours.
Finish the pork in the slow cooker. Don't worry if your pork isn't fully cooked after browning. It will finish cooking in the slow cooker.
Make it a meal prep mainstay. This recipe is perfect for busy days and easily reheats for a great meal prep option.
Jennafer Ashley
Easy Slow Cooker Zuppa Toscana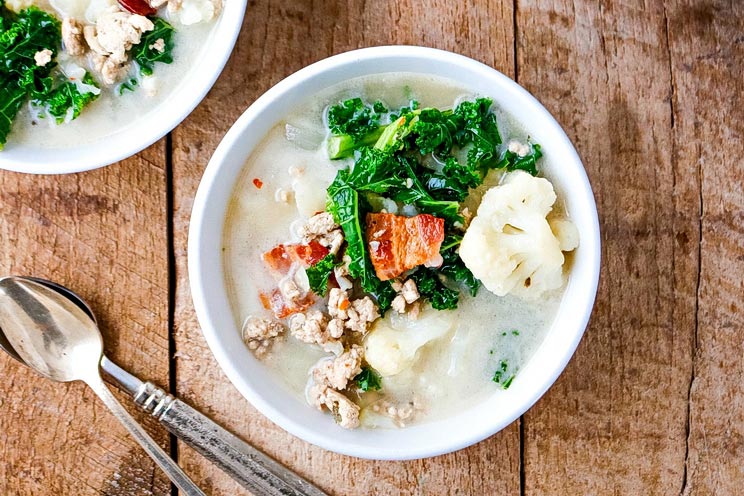 Cook Time:
3 hrs 26 mins
3 hours 26 minutes
Prep Time:
5 mins
5 minutes
Nutrition facts:
26 grams of protein
10 grams of carbohydrates
31 grams of fat
Easy Slow Cooker Zuppa Toscana
Indulge your creamy soup craving with this low-carb, dairy-free take on Zuppa Toscana.
Tools
Medium cast iron pan

Slow cooker
Ingredients
2 strips bacon

1 lb ground pork

1 t ground fennel

1 t minced garlic

½ t dried oregano

½ t dried basil

¼ t red pepper flakes

1 t salt

6 cups chicken stock

½ cup chopped white onion

3 cups cauliflower florets

1 cup coconut cream

3 cups chopped kale
Instructions
Cut the bacon into 1-inch pieces. Cook the bacon in a cast iron pan over medium-high heat for 8 minutes or until cooked through, turning halfway through. Use tongs to remove the bacon and set aside.

Add the ground pork, fennel, garlic, oregano, basil, pepper flakes, and sea salt to the same pan with bacon grease. Brown the pork for 8 minutes, using a spatula to break up into crumbles. Stir occasionally.

Drain the grease from the pan and pour the pork mixture into the slow cooker. Add the chicken stock, onions, and cauliflower florets to the slow cooker and cook for 2 to 3 hours on the low setting.

Stir in the coconut cream, bacon, and kale. Cover and cook until the kale has wilted, about 10 minutes. Serve hot.
Looking for Paleo ingredients? Here are a few we'd recommend:
Red pepper (Simply Organic)
Sea salt (REDMOND)
Coconut cream (Native Forest)
You'll Also Love: Slow Cooker Keto Pulled Pork Chili