This 3-step smoky slow cooker chipotle chicken soup is sure to become a busy day staple. Coconut milk adds a light creaminess while ample amounts of chicken make for a hearty, protein-packed recipe.
The slow cooker is a go-to kitchen tool on busy days. It provides the ultimate convenience when you want to make a healthy recipe but don't have much time for a ton of prep work. This soup is full of savory flavor and doesn't require a lot of fuss.
Start by chopping fresh onions and tomatoes, which will slowly cook and release even more flavor into the broth. I like to use fresh, vine-ripened tomatoes whenever possible because they add a garden fresh flavor to soups and sauces. Organic canned tomatoes can be substituted in a pinch. Add the chopped vegetables, chicken breast, and the seasonings into the slow cooker and let it slowly cook together to marry all of the flavors until the chicken is fork tender.
Love slow cooker recipes?
Click here to get your FREE copy of our delicious Slow-Cooker Recipes!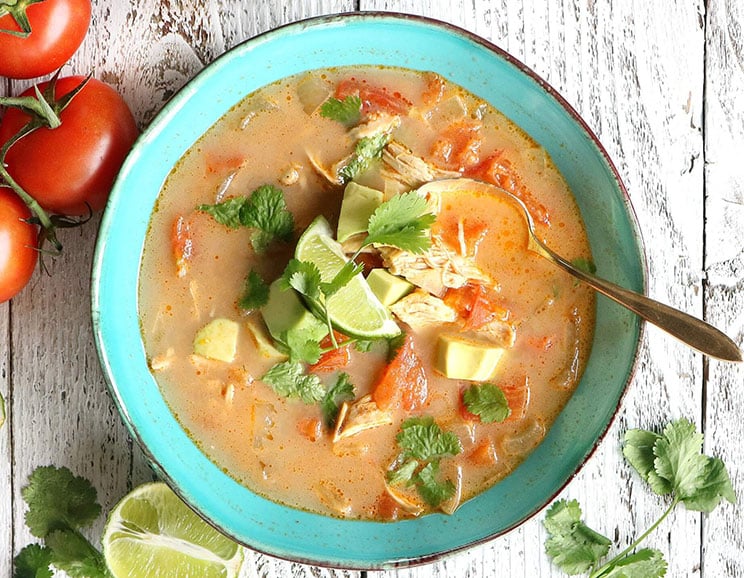 The standout ingredient of this recipe is the chipotle sauce. It adds a smoky rich flavor and heat to the recipe. Chipotle in adobo sauce can be found in most grocery stores, but be sure to look for one without any added sugar. You can also use chipotle paste or chipotle powder (not to be confused with chili powder, which is a mix of spices; chipotle powder is made of only ground chipotle peppers).
Once the chicken is fully cooked and tender, about 5 hours, it is shredded and added back to the slow cooker along with the coconut milk. Coconut milk helps to balance the spiciness while adding a light creamy texture to the soup. If you found that the soup is too spicy, the coconut milk will also help to mellow it out a bit. Allow the chipotle chicken soup to reduce at this time by cooking with the lid off.
What soup would be complete without a few toppings? Ladle the soup into bowl and top with diced avocado, chopped cilantro and fresh lime.
Tip: Chipotle is spicy, so be sure to adjust the amount to your preferences by tasting a little bit before adding.
Jennafer Ashley
Slow Cooker Chipotle Chicken Soup Recipe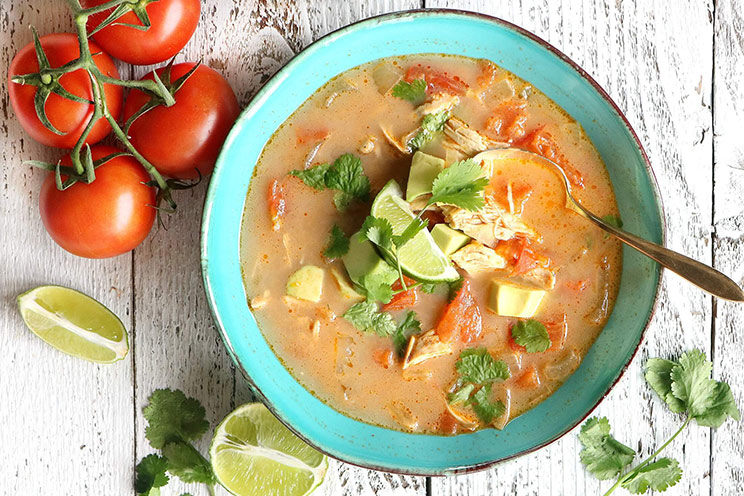 Cook Time:
6 hrs 20 mins
6 hours 20 minutes
Prep Time:
10 mins
10 minutes
Slow Cooker Chipotle Chicken Soup Recipe
This 3-step smoky chipotle slow cooker soup is hearty and protein-packed.
Ingredients
1 lb. boneless chicken breasts

4 cups chicken stock

1 15 oz. can full-fat coconut milk

2 cups ripe tomatoes, diced

1 cup white onion, chopped

3 T chipotle peppers in adobo sauce (sauce only)

2 T ground cumin

1 t smoked paprika

2 t sea salt

Optional Toppings: chopped cilantro, diced avocado, lime wedges
Instructions
Turn slow cooker to low heat setting and add chicken breasts, tomatoes, onion, chicken stock, chipotle sauce, cumin, smoked paprika and sea salt. Cover and cook 5-6 hours.

Remove chicken breasts and shred with 2 forks. Add chicken back to slow cooker and stir in coconut milk. Cook an additional 20 minutes, uncovered, to reduce slightly.

Ladle soup into bowls and serve with chopped cilantro, avocado and lime wedge.
You'll Also Love: The Best Crock Pot Chicken Noodle Soup