Make this hearty bowl of tender, slow-cooked keto pork chili with only 10 minutes of prep!
This chili is easy enough to put together in the morning. Then, while you're at work, your slow cooker will also be hard at work, infusing flavors into your pork roast. You'll walk into an cozy-smelling kitchen and a savory bowl of keto-friendly chili.
How To Prepare Your Pork For Chili
Start preparing the pork by patting it dry and seasoning it liberally with salt and pepper.
Curious about ketosis?
Click here to get the FREE Easy Keto Guide to learn the right way to go keto!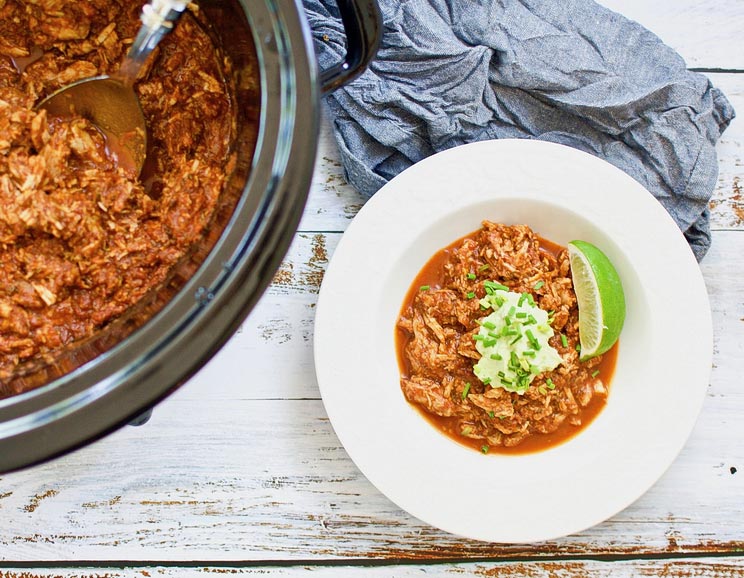 Next, poke small slits on all sides of the pork to let the juices meld between the pork and the chili sauce. This not only adds more flavor to your pork loin, but also to your sauce.
Helpful Tips To Get You Started:
Don't peek. I know you're curious about what's going on in there but resist the urge to lift the lid until the cooking time is done. Letting out all that steam also means letting out a lot of moisture.
Serve the avocado crema fresh. The avocado crema is best served freshly blended, so wait until just before you serve the chili to make it. If you do need to make it ahead of time, double the lime so the avocado doesn't brown.
Danielle Moore
Slow Cooker Keto Pulled Pork Chili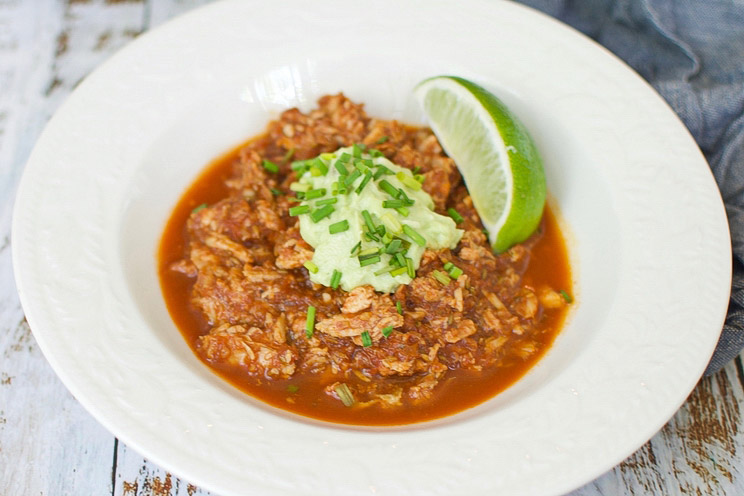 Cook Time:
10 hrs
10 hours
Prep Time:
10 mins
10 minutes
Nutrition facts:
30 grams of protein
18 grams of carbohydrates
11 grams of fat
Slow Cooker Keto Pulled Pork Chili
Make this hearty bowl of tender, slow-cooked keto pork chili with only 10 minutes of prep.
Tools
Large mixing bowl

6-quart slow cooker

Blender
Ingredients
2 cups crushed tomatoes

½ cup coconut milk, divided

6 garlic cloves, minced

3 T smoked paprika

2 T cumin seeds

½ T chipotle powder

2 T dried minced onion

½ t salt, plus extra to taste

¼ t ground black pepper, plus extra to taste

2 lbs. pork loin roast

1 lime, divided

1 avocado

¼ cup chives
Instructions
In a large mixing bowl, whisk together the crushed tomatoes, half of the coconut milk, garlic, smoked paprika, cumin seeds, chipotle powder, salt, and pepper to taste until combined.

Pat the roast dry then season with salt and pepper. Poke the roast on all sides with the tip of a sharp knife then transfer to the slow cooker.

Top the roast with the tomato mixture. Cover and cook on low for 8 to 10 hours, until the pork is tender and cooked through.

Juice half of the lime and cut the other half into wedges. Shred the pork.

Just before serving, combine the avocado, lime juice, and the remaining coconut milk in a blender and process until smooth.

Scoop the chili into a bowl and garnish with lime wedges, avocado cream, and chives.
Looking for Paleo ingredients? Here are a few we'd recommend:
Coconut milk (Native Forest)
Paprika (Simply Organic)
Black pepper (Frontier)
Not sure what to make for dessert? Whip up these keto avocado chocolate brownies, or try one of these 37 keto desserts with low carbs and zero refined sugar.