Warm and juicy chicken chili gets slow cooked in a savory, spicy tomato sauce for an easy weeknight meal.
This chicken chili recipe is practically effortless. Simply add chicken, bell peppers, onions and seasonings to your slow cooker, cook on low and come home to a hearty dinner! Then all that's left to do is shred the chicken, ladle it up and dive in.
This recipe makes a very mild chili. If you'd like a bit more spice, try adding a few chopped roasted jalapeños, or add an extra pinch of cayenne or red pepper flakes.
Love slow cooker recipes?
Click here to get your FREE copy of our delicious Slow-Cooker Recipes!
Likewise, if you'd like a thicker chili, stir in 3 tablespoons of tapioca flour, about 10 minutes before it's done. That'll do the trick for a heftier meal!
You can also cook this chicken chili on your stove. Heat one tablespoon of olive oil on medium-high heat, add the chicken and cook until no longer pink. Remove chicken, chop it up, add the rest of the ingredients to the pot, stir, and cook for about 30 minutes on medium heat.
Tip: This chili is great for meal prep. You can double the recipe and keep refrigerated for up to 5 days, or frozen for 3 months.
Dina Hassan
Slow Cooker Chicken Chili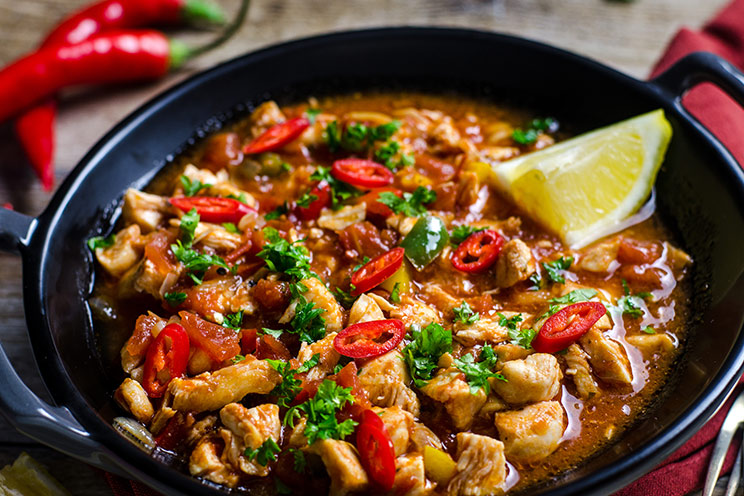 Prep Time:
10 mins
10 minutes
Slow Cooker Chicken Chili
Warm and juicy chicken gets slow cooked in a savory, spicy tomato sauce for an easy weeknight meal.
Ingredients
1 lb boneless chicken breasts or thighs

1 onion, diced

1 cup mixed bell peppers, diced

1 t cumin

½ t coriander

1 t chili powder

Salt and pepper to taste

2 cups chicken broth

1 cup chopped tomatoes

Chopped fresh parsley, for garnish
Instructions
Add the chicken breasts, onion, bell peppers, and spices to the slow cooker. Stir coat the chicken and vegetables with the seasoning.

Pour chicken broth and chopped tomatoes over top, covering the chicken and vegetables by an inch.

Cover and cook on high for 4 hours or on low for 6 hours.

Transfer the chicken onto a large plate and shred it into large pieces. Stir the chicken back into the chili, then serve topped with fresh parsley.
Looking for Paleo ingredients? Here's what we recommend:
Chicken bone broth (Kettle & Fire)
You'll Also Love: Slow Cooker Whole Turkey