Serve a crowd with this cozy shakshuka recipe made in a slow cooker.
Shakshuka is a popular Middle Eastern and Mediterranean dish in which eggs are cooked in tomatoes and savory, warm herbs like cumin. It makes for a satisfying breakfast and is easily made keto with smart veggie swaps.
This dish is most often prepared quickly in a skillet on the stovetop, but the slow cooker is ideal for a set-it-and-forget-it dish if you don't need it for a few hours. This easy recipe is great any time of day, but especially for breakfast.
Love slow cooker recipes?
Click here to get your FREE copy of our delicious Slow-Cooker Recipes!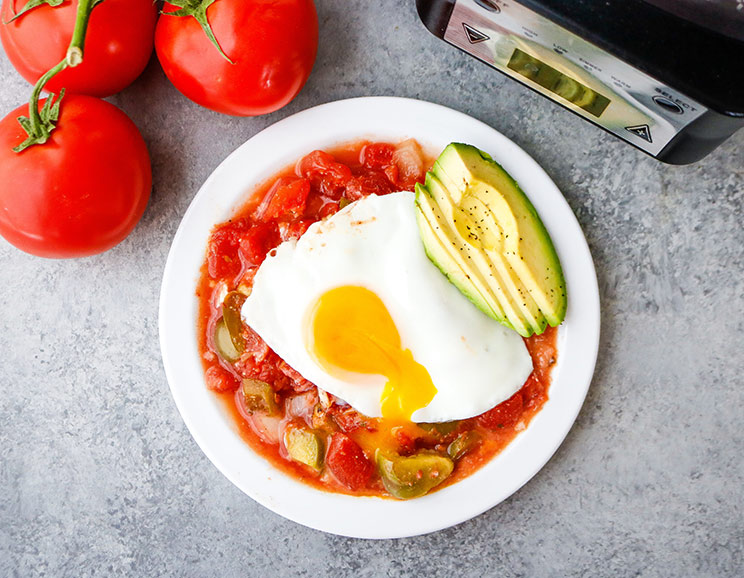 How To Make Shakshuka in a Slow Cooker
This shakshuka uses a half cup of green bell peppers, adding texture and their signature flavor. We add chopped onions, diced tomatoes, and flavors like minced garlic and cumin to the slow cooker and let it go for two hours.
This allows the cooker to tenderize the veggies and condense flavors. No need to chop tomatoes: canned tomatoes make for easy prep. Look for canned tomatoes in BPA-free cans.
Once the vegetables are tender, we make wells in the tomato mixture and drop in the eggs – cook them to your preference, either poached, sunny-side up, or over-easy. Budget five extra minutes of cooking for over-easy eggs.
Helpful Tips To Get You Started:
Bulk it up. Add more heft to the dish with Paleo-friendly vegetables like cauliflower or zucchini.
Pack in those healthy fats. To round out the dish, top with creamy avocado slices.
Experiment with spices. Try dried basil, chives, or thyme in place of oregano for diverse herb flavor.
Jennafer Ashley
Easy Slow Cooker Shakshuka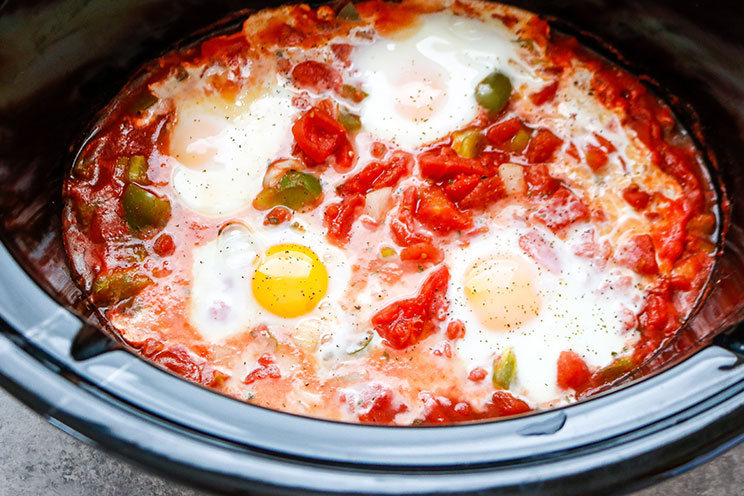 Cook Time:
2 hrs 20 mins
2 hours 20 minutes
Prep Time:
5 mins
5 minutes
Nutrition facts:
8 grams of protein
5 grams of carbohydrates
5 grams of fat
Easy Slow Cooker Shakshuka
Serve a crowd with this cozy shakshuka recipe made in a slow cooker.
Ingredients
Ghee for greasing

2 cups canned diced tomatoes in juice

½ cup chopped green bell pepper

¼ cup chopped white onion

1 t minced garlic

1 t ground cumin

1 t dried oregano

½ t salt

4 large eggs
Instructions
Grease the bowl of a slow cooker with ghee. Add the tomatoes, peppers, onion, garlic, cumin, oregano, and sea salt. Stir well. Cover and cook on low for 2 hours.

Make 4 small wells in the tomato mixture with a spoon and gently drop in the eggs. Cover and cook an additional 15 to 20 minutes, until the eggs reach your desired doneness. Serve hot.
Looking for Paleo ingredients? Here's what we recommend:
Ghee (Pure Indian Foods)
Psst: Our Breakfast Sausage Casserole Recipe is also keto and slow cooker-friendly!