Many foods found in the typical western diet are loaded with sugar, salt, and hydrogenated fats.
There's a laundry list of good reasons to avoid those things. A blueprint for better health involves sticking to animal products, vegetables, and fruits. But there's no doubt about it: No matter how unhealthy processed foods are, they pack a lot of flavor. Food corporations pay chemists big money to engineer the "sweet spot" for the most addictive flavor.
That's why switching to all-natural Paleo foods might not seem very exciting. Fortunately, there's a lot you can do to add the flavor and variety your taste buds crave – without cheating your health. It all starts with your spice rack.
Want to learn more about Paleo and how it can help you?
Grab our FREE "What Is Paleo?" Guide by Clicking Here!
The Health Benefits of Spices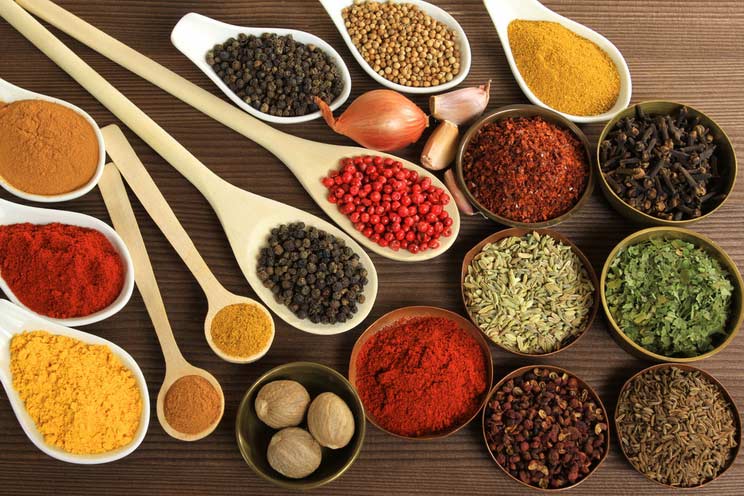 Spices are a great, healthy way to add flavor and variety to Paleo recipes. But figuring out which ones to use with various foods can seem overwhelming. The spice aisle at a grocery store can feel like it's a mile long!
So let's clear up any confusion. Here's a rundown of some of the most popular Paleo spices. We'll cover their benefits – both health and culinary.
Bay Leaves
The term "bay leaves" actually refers to several different types of plants, but the true bay leaf that was used by the ancient Romans comes from the Laurel tree (Laurus nobilis). It's native to the Mediterranean.
Bay leaves contain a phytonutrient called "parthenolide", which reduces chronic inflammation throughout the body and acute issues like sore joints. (1) They're also great if you're at risk for developing diabetes, as they help increase insulin sensitivity and regulate blood sugar. (2) Finally, their caffeic acid and rutin compounds strengthen capillary walls and decrease LDL cholesterol. (3) Make sure you reap the awesome benefits of the Laurel tree!
You can use bay leaves to add flavor to soups, stews, and other Mediterranean dishes. It also pairs well with meats and seafood. It's common to use whole bay leaves while cooking, then remove them when your food is ready. Eating whole bay leaves is an extremely pungent (and presumably unpleasant) experience.
Cardamom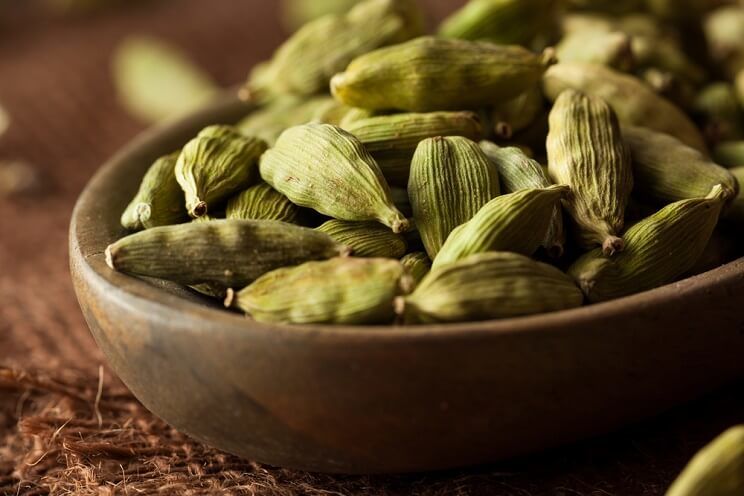 Long popular in Ayurvedic and Chinese medicine, cardamom is a spice made from the seeds of plants that are native to Asia. Cardamon has small, triangular seed pods, which contain black seeds. Both the pods and seeds are used for culinary and medicinal purposes. [tweet_quote]Cardamom decreases blood pressure, soothes gastrointestinal disorders and reduces risk of food poisoning.[/tweet_quote]
Many people already familiar with cardamom don't know that it can decrease your blood pressure and lower your risk of heart disease. Researchers have found that a daily consumption significantly decreases the blood pressure (systolic, diastolic, and mean arterial) of people with hypertension. (4) Cardamom can also help control gastrointestinal disorders and symptoms like heartburn, flatulence, and stomach cramps. (5) Researchers found that cardamom even inhibits the growth of dangerous bacteria that are known to cause food poisoning. (6)
While Cardamom complements Indian cuisine extremely well, you don't have to limit it to savory meals. You can also add cardamom seeds to desserts or beverages. (Check out cardamom tea!)
Cayenne Pepper
Cayenne pepper comes from the Capsicum annuum family of vegetables (e.g., chili peppers). The name "cayenne" is derived from the place where peppers originated – in French Guiana along the northeast coast of South America.
A little cayenne pepper goes a long way. You can use it to bring a spicy kick to homemade sauces or marinades for chicken, beef, or fish.
Capsaicin is a compound found in cayenne pepper (as well as chili powder and paprika). Purdue University researchers have found that a daily consumption of capsaicin increases the rate at which study participants burn calories. (7) Cayenne pepper also improves insulin sensitivity, which decreases the risk of developing type 2 diabetes. (8) Capsaicin can even improve circulation. (9)
Some studies have found that capsaicin can significantly increase your body's fat-burning capabilities. (10) Another study found that people who have capsaicin before a meal end up eating fewer calories during the meal. (11)
Chili Powder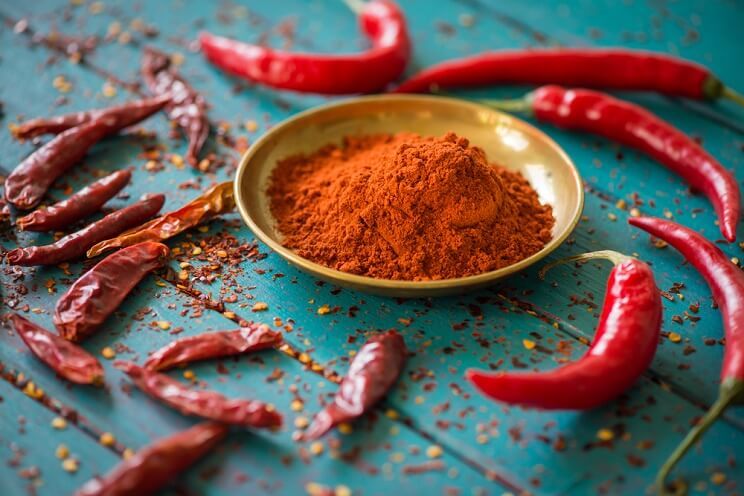 Chili powder is the dried, ground-up fruit of different kinds of chili peppers. It's extremely popular in American and Mexican dishes, which adds a nice kick to spicy foods.
It may sounds crazy, but some studies suggest that chili can actually help reduce heartburn and indigestion. (12) However, some people are sensitive to FODMAPs, and chili peppers are nightshades. So they certainly aren't for everyone.
Chili powder is versatile in the kitchen. In addition to going well with chili, Mexican dishes, and sauces, it's a great choice for seasoning meat.
Cinnamon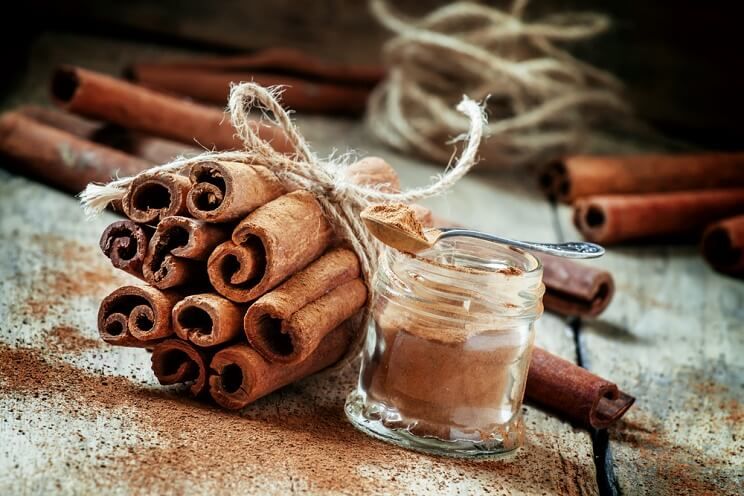 Cinnamon comes from the inner bark of the cinnamon tree. When the bark dries, it rolls up into a tube shape called a stick or quill. You can either buy it in stick form or ground up into powder. People around the world have used this spice for thousands of years – for its flavor and medicinal properties.
Cinnamon is absolutely packed with powerful antioxidants. In a comparison study of the antioxidant activity of 26 different spices, cinnamon came out on top. (13) It also helps improve insulin sensitivity, which helps you avoid issues like high blood sugar, type 2 diabetes, and metabolic syndrome. (14) Cinnamon can even protect your heart. Daily consumption of as little as 120 milligrams can reduce LDL cholesterol and triglycerides. (15) The result is a lower risk of heart disease.
Cinnamon provides a nice warm flavor. It's great in baked treats like paleo bread and desserts. And I love it in my coffee and sprinkled over a bowl of fruit!
Cloves
Cloves are actually dried flower buds from the clove tree, an indigenous evergreen of tropical Asia. The flower buds are dried until they turn a brownish color.
Cloves are also nutritional powerhouses. The main component in cloves' oils is eugenol, which has anti-inflammatory effects. (16) Along with other phenolic compounds, eugenol has been proven to help preserve bone density and mineral content. (17) Cloves are even effective in fighting gum diseases (like Periodontitis or Gingivitis) because they inhibit the growth of oral pathogens (18)
Cloves have a very intense flavor, so you don't need much when cooking. They're great if you're making chili, soups or marinades. You can also add a bit to sautéed vegetables to give them a savory flair. Finally, cloves go well with Paleo desserts that feature ginger or pumpkin.
Coriander
Coriander (also called Dhania in India or Cilantro in the Americas and Europe) has been used around the world for centuries. It's actually considered an herb because its leafs and seeds are used for seasoning and medicinal purposes.
Coriander contains a number of acids (including oleic and linoleic acid), which effectively reduces the LDL cholesterol that lines the walls of veins and arteries. (19) It can also help alleviate vomiting, nausea, and other symptoms of digestive disorders. (20) If you suffer from allergies, coriander is the perfect choice because it has powerful antihistamine properties. (21)
How should you use it? Try adding a few coriander seeds to your next homemade soup or broth. Cilantro leafs work well in cuisine from India and other Asian countries, as well as in homemade dressings and meat rubs. They're also perfect for guacamole and pico de gallo.
Cumin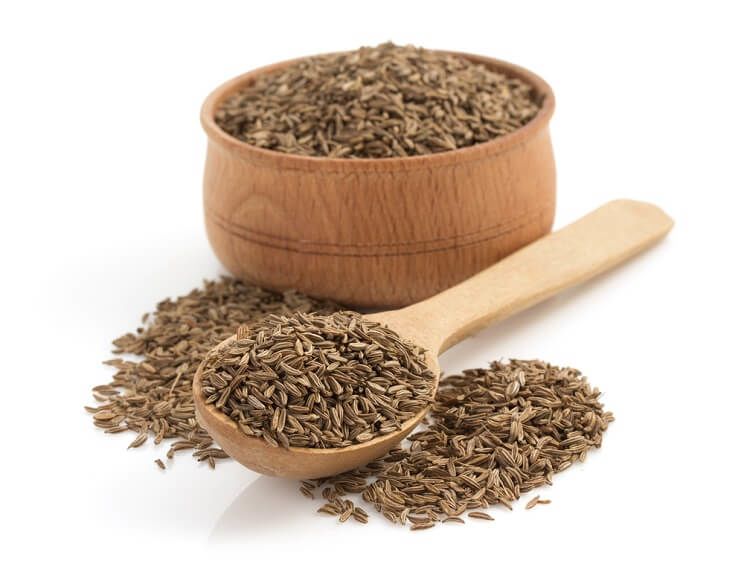 Cumin is made from the dried seeds of the herb Cuminum cyminum, a member of the parsley family. Its seeds are very small and yellow-brown in color. Cumin's unmistakable flavor has made it a staple in India, the Middle East, the Mediterranean, and North America. [tweet_quote]Cumin reduces cortisol levels, priming your body to deal with stress better.[/tweet_quote]
Cumin has plenty of powerful antioxidants. In fact, one study found it even more effective than Vitamin C. These antioxidants help protect your body against the harmful effects of free radicals and stress. (22) Cumin also increases insulin sensitivity, which can reduce blood-sugar levels, and it's great for diabetics. (23) Cumin even improves the body's ability to respond to stress by reducing cortisol levels and the size of adrenal glands. (24)
If you're making curry or tacos, cumin is a classic way to add flavor. Its distinct taste works well when seasoning meat or making your own homemade spice rubs. You can also add it to sautéed vegetables to give them a Middle Eastern feel.
Garlic Powder
Garlic powder is simply garlic that's been ground and dehydrated. Praised for its culinary and medicinal properties, it's one of the most popular seasonings in the world. And it dates back to ancient times.
Garlic powder has a host of health benefits, many from the compound allicin. If you find yourself getting sick a lot, garlic can help. Numerous studies have found that daily consumption reduces the number of colds people get – and how long they last. (25) Garlic can even remove toxins like lead from the bloodstream. (26) And recently, it was found to be just as effective as Atenolol in reducing blood pressure. (27)
Garlic goes great with almost anything. Try it with vegetables, roasts, seafood, and homemade dips like aioli. It's also great on chicken and in soups and sauces.
Ginger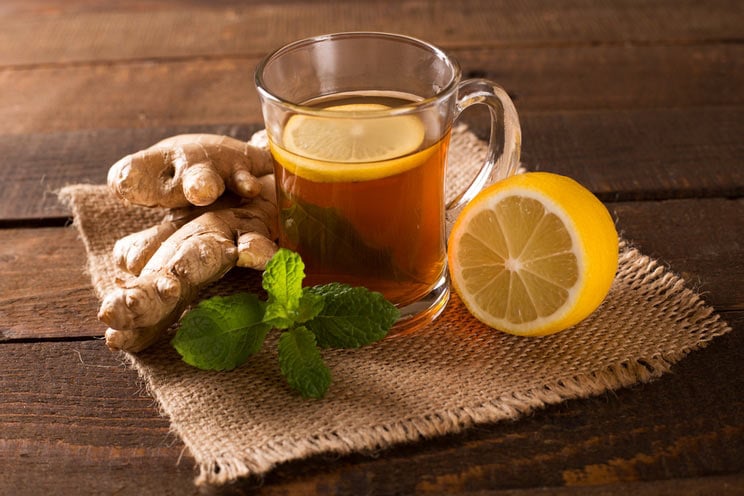 This spice is actually the underground rhizome (i.e., stem) of the ginger plant. It has a firm texture and a brownish outer skin. The flesh of the ginger can actually range from white to yellow to red, depending on the variety of the plant.
Ginger's unique flavor comes from its natural oils, including gingerol. Research has revealed links between gingerol and anti-inflammatory effects. (28) Ginger also helps relieve nausea symptoms for people feeling seasick, cancer patients, and expecting mothers. (29)
But ginger doesn't just help your health, it tastes great too! This spice goes perfect with stir fries, fruit, vegetable dishes, and even sweet treats that call for a soul-warming kick. For a milder flavor, add ginger at the beginning of cooking, but if you prefer spicier food, wait until your meal is almost ready.
Nutmeg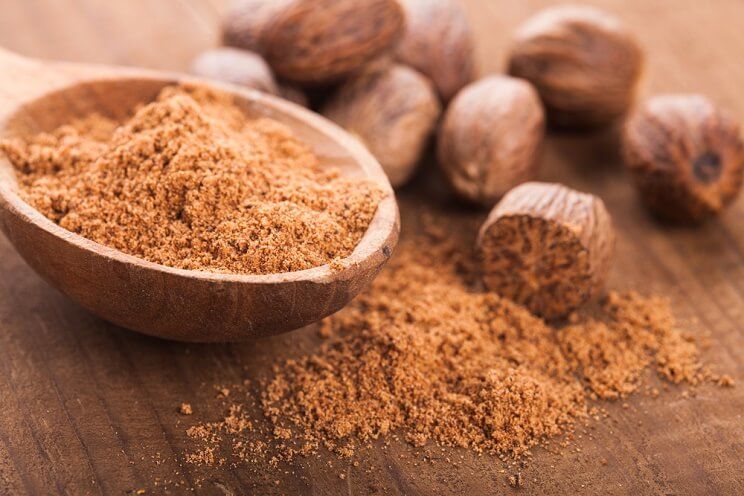 The nutmeg tree is native to the Indonesian rainforest. After the kernels of the tree's fruit are dried, they're ground up and packaged as nutmeg spice. [tweet_quote]Who needs aspirin? Nutmeg is a natural pain reliever that helps soothe muscle soreness and other aches and pains.[/tweet_quote]
One of the coolest things about nutmeg is its ability to relieve pain – whether it comes from an injury, muscle soreness, or inflammation. (30) Nutmeg also contains myristicin and macelignan compounds, both of which slow the degradation of neural pathways that are associated with Alzheimer's disease and dementia. (31)
Nutmeg can also even help you sleep. Its high magnesium content relieves tension and creates feelings of relaxation. (32)
Nutmeg has a subtle, slightly sweet flavor. Give it a try the next time you're seasoning meat, eggs, sauces, and soups. It's also perfect for adding some subtle sweetness to your favorite Paleo baked treats!
Oregano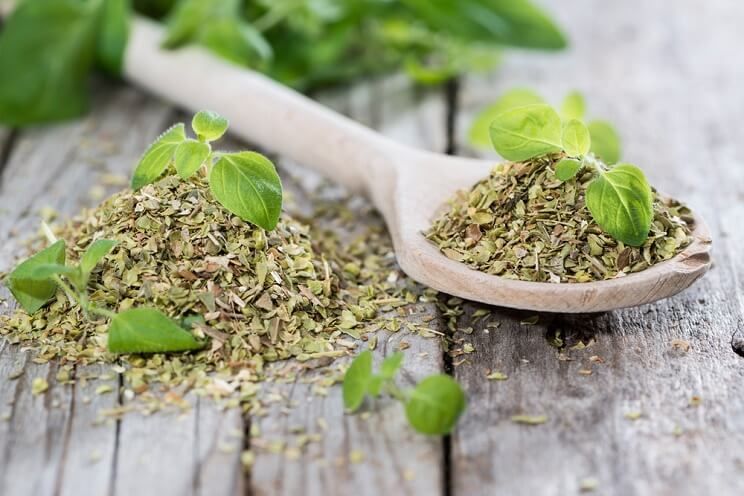 Oregano comes from a shrub, whose stems are covered with green leaves and tiny white or pink flowers. It grows all year round in warm, sunny climates.
Oregano keeps your immune system strong by inhibiting bacteria growth. Researchers have found that it is even more effective than Tinidazole (a prescription drug) in treating bacterial infections. (33) Thanks to its high antioxidant content, oregano also protects your cells against oxidative damage. Per gram, oregano has 42 times more antioxidant activity than apples. It even has four times more than blueberries, an antioxidant powerhouse. (34)
Oregano is a staple of Italian, Spanish, and Greek cuisine. It goes perfectly with meats, tomato dishes (Paleo pizza, anyone?), and eggs. The next time you saute some onions or mushrooms, try adding a few dashes of oregano. Perfection!
Paprika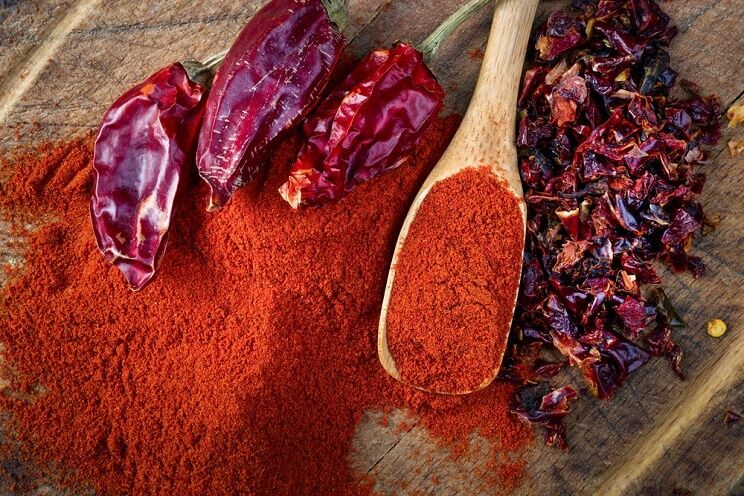 Paprika is made by air-drying and grinding peppers from the species Capsicum annuum. The fruits and leaves of red paprika show strong levels of antioxidant activity beneficial to overall health. (35) And while its flavor can range from mild and sweet to extremely hot, most paprika you buy at the store is mild.
Even though paprika originated in the Americas, it's extremely popular in Hungarian food like goulash. The mild taste goes nicely with poultry, seafood, and starches like potatoes and rice.
Rosemary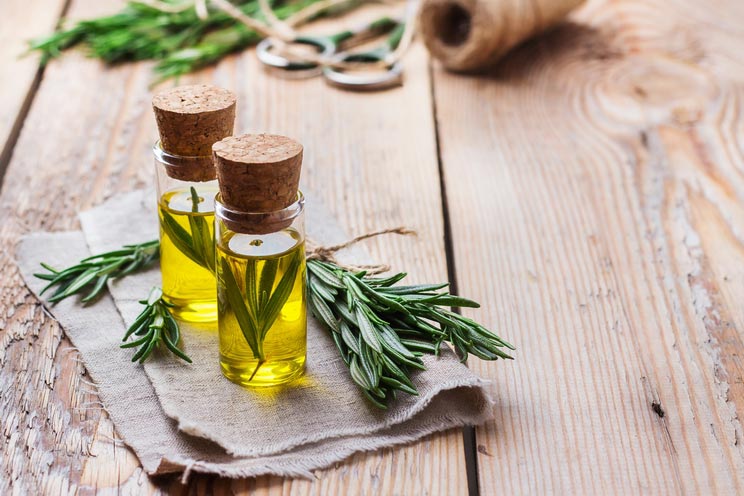 Rosemary comes from a small evergreen shrub that's native to the Mediterranean. People around the world have used its small, pine-needle like leaves for thousands of years – both for culinary and medicinal purposes.
Rosemary has been used as a memory enhancer for centuries. While some of these alleged benefits require further study, it's been proven to improve memory. (36) It can also relieve stress and boost your mood. (37) Rosemary also helps prevent bacterial infections, especially in the stomach. (38)
Rosemary smells and tastes great. It's a nice complement to pork, chicken, lamb, salmon, and tuna. And you can't go wrong adding some to your homemade soups and sauces.
Star Anise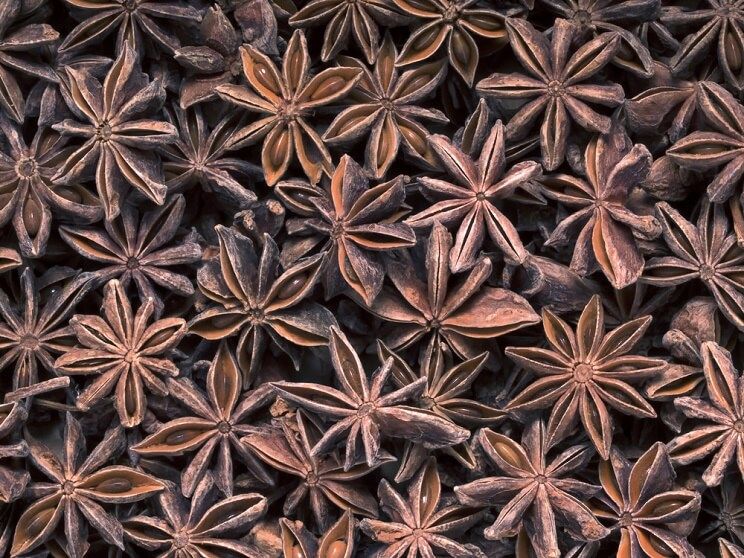 Star anise comes from the pods of the Illicium verum tree, a medium-sized evergreen from China and Vietnam. Recognizing them is simple because they look like eight-pointed stars. But they have a much more pungent licorice taste than their European counterparts.
Star anise is the major source of shikimic acid, a compound in the synthesis of Tamiflu, an anti-flu medication. (39) Star anise also has antifungal properties, especially against Candida, a fungus that can cause infections if your immune system is weakened. (40) And Taiwanese researchers found that different strains of antimicrobial anise compounds worked against 67 strains of drug-resistant bacteria (41)!
Star anise is mostly used in Asian cooking. Try whole stars to infuse your soup, stew, or slow-cooker dish. Just take them out before eating. You can even use ground anise in stir fries. Stick to a tiny pinch because the flavor is intense.
Thyme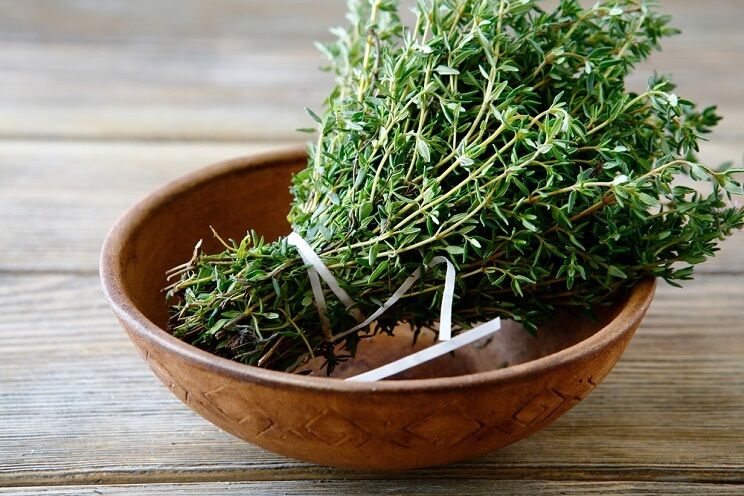 Thyme is an evergreen herb with tiny curled leaves that range from green to white. But don't let its small size fool you! Thyme leaves have been used for thousands of years – for their culinary, aromatic, and medicinal effects.
For a long time, people have used thyme as a natural remedy for respiratory problems, coughs, and chest congestion, and researchers have established that thyme does in fact clear congestion. (42) One study found that thyme leafs alleviate coughing and other bronchitis symptoms. (43) And an animal study revealed that it can also lower blood pressure and cholesterol. (44)
Cooking with thyme is great, especially if you're a fan of French, Italian, or other Mediterranean dishes. It adds a nice flavor to sauces and pesto, as well as homemade soups or broths. Give it a try on your eggs tomorrow morning. You can thank me later!
---
Your Turn
No matter what you're cooking tonight, you can find spices to complement it. These spices don't just make meals more flavorful. They also create variety, so your taste buds don't get bored. And they improve your health in the process.
So give some of these spices a try. Try something different, especially if you're getting tired of eating the same old thing. Part of the fun is experimenting and coming up with new combinations.
Which spices are your favorites? Why? How do you use them? Leave a comment below and let me know!

(Read This Next: The PaleoHacks Guide to Cooking with Herbs
)