Whip up a hearty, flavorful pot of keto coconut curry chicken with just five minutes of prep.
This keto-friendly meal is the ultimate set-it-and-forget-it dish, perfect for batch cooking and hectic weeknights.
This recipe works with any cut of chicken, but the dark meat is where you'll get the richest flavors. The umami flavor of chicken thighs pairs perfectly with the slightly sweet and spicy curry sauce.
Looking for low carb keto recipes to burn fat and lose weight?
Click here to get your FREE Keto Breakfast Recipes Cookbook!
Both bone-in and boneless chicken thighs will work here. If you opt for bone-in, add an extra ¼-pound of chicken to compensate for the weight of the bone.
Give It Time
Cooking the chicken slowly in the flavorful juices will result in a fall-apart tenderness. The more time the chicken has to stew in all those incredible juices undisturbed, the better!
It may be tempting to pop the lid off to check it, but resist the urge. Letting out the steam means letting out a ton of moisture that would otherwise end up in your chicken.
Helpful Tips To Get You Started:
Shred chicken with two forks. Two forks pulled in opposite directions is the perfect way to easily shred this chicken. Because it's so tender, it will easily pull apart. You can do it right in the slow cooker if you'd like!
Build a bed of rice. Cauliflower rice is the perfect bed for this coconut curry chicken. The mild flavor and slight crunch of cauliflower rice are a delicious accompaniment to the savory curry sauce.
Danielle Moore
Slow Cooker Coconut Curry Chicken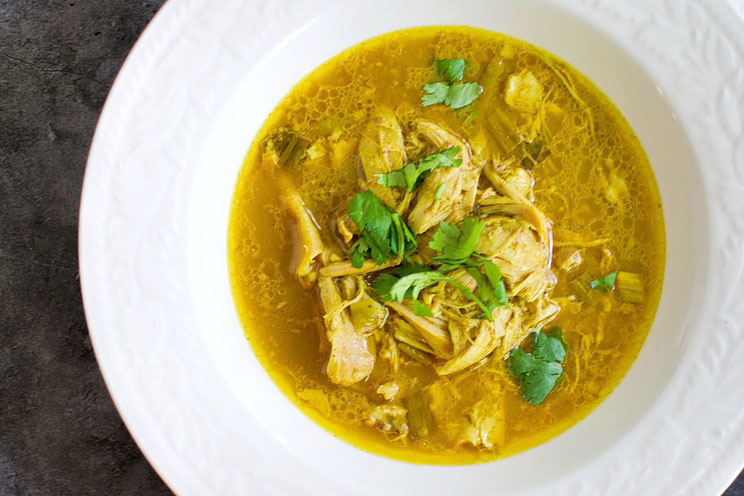 Prep Time:
5 mins
5 minutes
Nutrition facts:
24 grams of protein
7 grams of carbohydrates
31 grams of fat
Slow Cooker Coconut Curry Chicken
Whip up a hearty, flavorful pot of keto coconut curry chicken with just five minutes of prep.
Tools
Large mixing bowl

6-quart slow cooker
Ingredients
1/4 cup melted ghee

1 cup coconut milk

1 cup chicken broth

2 cloves minced garlic

3 T curry powder

2 t ground turmeric

1 t ground ginger

Salt and pepper, to taste

1 lb boneless chicken thighs

4 T chopped green onions

1/4 cup chopped cilantro

Mint to garnish (optional)
Instructions
In a large bowl, whisk together the ghee, coconut milk, chicken broth, minced garlic, curry powder, turmeric powder, ground ginger, and salt and pepper to taste.

Pat chicken dry and season all over with salt and pepper, to taste. Place chicken in a single layer in the slow cooker.

Pour curry mixture over the top of the chicken and sprinkle with chopped green onions. Cover and cook on high for 5 hours, until chicken is fork-tender.

Carefully remove chicken and shred. Return chicken to sauce and toss to coat.

Scoop into bowls and garnish with cilantro and mint.
Looking for Paleo ingredients? Here are a few we'd recommend:
Ghee (Pure Indian Foods)
Coconut milk (Native Forest)
Turmeric (Simply Organic)
Ground ginger (Simply Organic)
For a curry dish that cooks up quick, try our easy curried honey chicken.