How do you get fall-off-the-bone garlic chicken drumsticks with a golden-brown exterior? Enter a secret weapon cooking method you may have not considered before: the slow cooker.
These slow cooker garlic chicken drumsticks require only 5 ingredients and some patience, but they're completely worth the wait. Spicy, sweet garlic and fragrant rosemary combine to flavor the chicken while it cooks in the slow cooker in olive oil and chicken stock.
We use the slow cooker for ultimate tenderness. Just throw the chicken in a bag with its uber-simple, uber-quick marinade and then toss it in the slow cooker for 3 to 4 hours on high.
Love slow cooker recipes?
Click here to get your FREE copy of our delicious Slow-Cooker Recipes!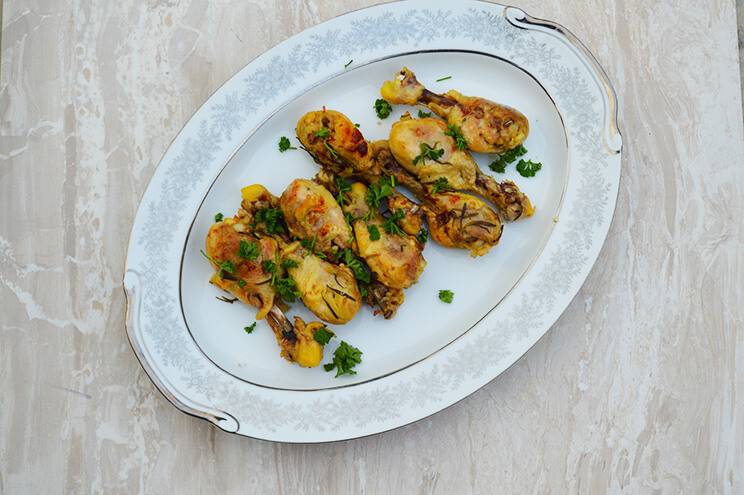 Don't worry about your garlic chicken drumsticks lacking a crackly skin or otherwise turning out unappealing – we have one more quick step after the slow cooker that gives our chicken the perfect golden-brown exterior. We send the drumsticks for a quick broil in the oven on both sides. You can thank the Maillard reaction – a chemical reaction that gives browned food its distinctive flavor – for that perfect caramelization. This step, while quick, is critical. Don't overlook it.
This recipe makes a great weekend dinner when you've got some errands to run. You don't have to expend too much energy for an effortless dinner that looks like you put in way more effort. Prep is only 10 minutes – throw the chicken and flavorings in a bag, shake, then dump in the crockpot. Let the slow cooker do its thing for a few hours, then the oven, and you're golden – just like the chicken.
Courtney Hamilton
Slow Cooker Garlic Chicken Drumsticks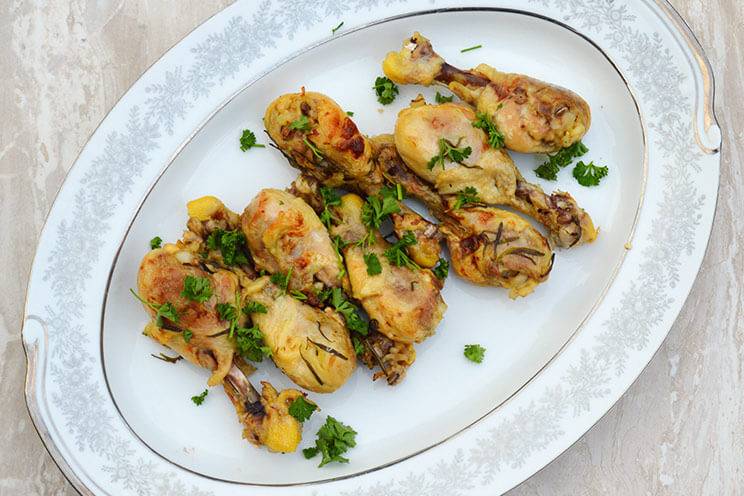 Cook Time:
4 hrs 5 mins
4 hours 5 minutes
Prep Time:
10 mins
10 minutes
Slow Cooker Garlic Chicken Drumsticks
Spicy, sweet garlic and fragrant rosemary flavor these drumsticks while they cook in olive oil and chicken stock.
Ingredients
2 lbs. chicken drumsticks

4 T chopped garlic

2 sprigs rosemary

3 T olive oil

½ cup chicken stock
Instructions
In a bag, combine chicken drumsticks with garlic, rosemary and olive oil. Shake well.

Add chicken mixture to a crockpot, then add chicken stock. Cook on high for 4 hours.

Transfer chicken to a sheet pan. Broil for 3 minutes per side, until golden brown. Garnish with fresh herb (we used parsley but rosemary works, too).
You'll Also Love: Slow Cooker Honey Sesame Chicken Recipe