Whether you are throwing a holiday party or preparing a Thanksgiving feast, this step-by-step guide will have you whipping up a roast turkey with anti-inflammatory turmeric and honey glaze like a pro.
No need to stress if you've found yourself with the task of cooking a whole turkey. Start by choosing a turkey large enough to feed your adult guests, around 1 pound of meat per person. Remember to allow plenty of time for thawing so that your bird cooks evenly. Once thawed, remove the package of giblets, give the turkey a good rinse, and pat completely dry.
Next, turn the oven on and start to prepare the seasonings. Lift the skin near the thighs and use your hands to slather grass-fed butter underneath along with dried seasonings like thyme and sage. Putting seasonings and butter under the skin help to seal in moisture and add tons of aromatic flavor. To give it extra flavor, add a few sprigs of rosemary in the cavity (they'll steam inside the turkey). You can also add fresh onion and a head of garlic.
How to Roast a Turkey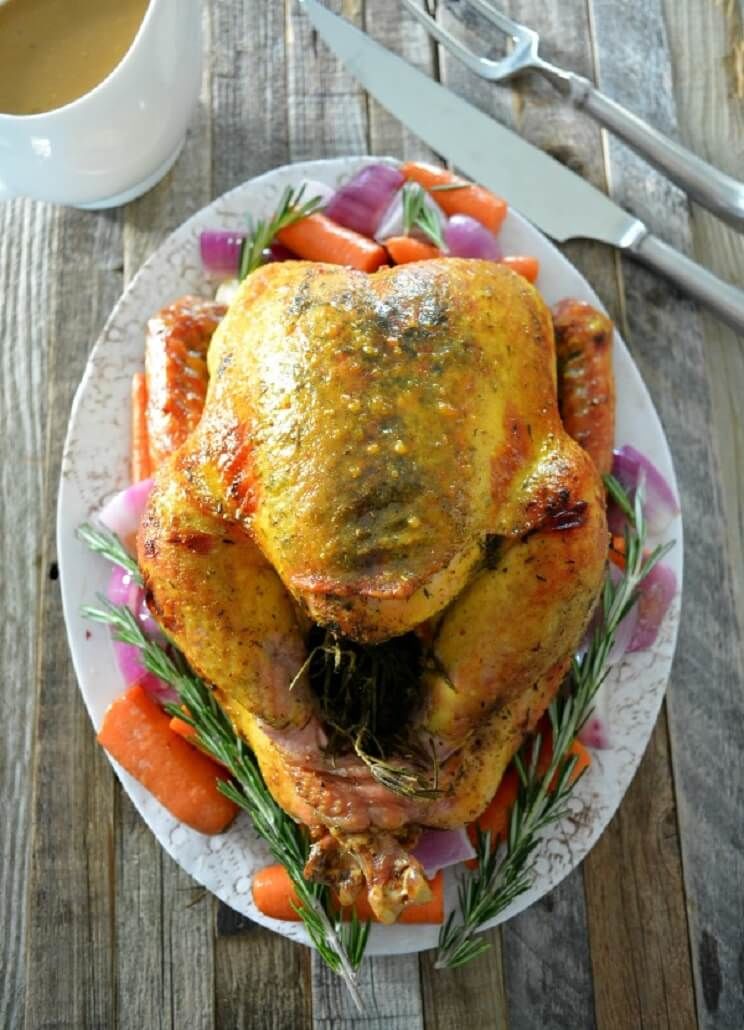 Now that the turkey is seasoned from the inside out, it's ready to cook. A low temperature of 325°F ensures that the turkey cooks at an even rate and gives a rookie turkey roaster the peace of mind that they won't burn or dry out the bird. After the first hour of cooking, baste the bird in a mixture of broth and drippings from the pan, including the butter and seasonings applied during the prep.
Love Slow Cooker recipes?
Get our FREE Slow Cooker Recipe Cookbook here!
To let the turkey steam in its drippings, create a tent using aluminum foil for the rest of the cooking process. To create the "tent," simply cover the top of the turkey with foil, crimping the foil at the sides of the pan. Make sure to leave one inch of room between the foil and the turkey.
Once the turkey has reached 165°F degrees, brush with a buttery glaze of honey, turmeric and garlic and bake for 20 minutes to create a savory sweet coating. Allow to rest for at least 20 minutes after removing from the oven so that the juices can be reabsorbed and don't flow out when carved.
Jennafer Ashley
Turmeric and Honey Roast Turkey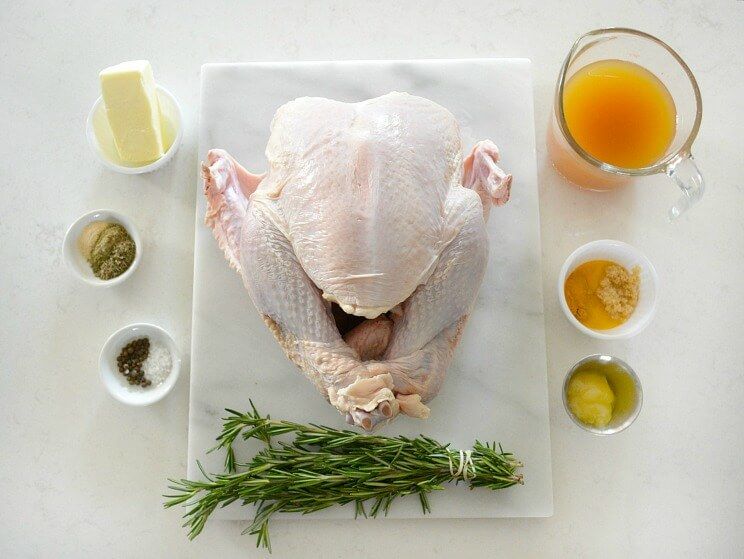 Cook Time:
2 hrs 30 mins
2 hours 30 minutes
Prep Time:
20 mins
20 minutes
Turmeric and Honey Roast Turkey
Whether you are throwing a holiday party or preparing a Thanksgiving feast, this step-by-step guide will have you cooking turkey with anti-inflammatory turmeric and honey glaze like a pro.
Ingredients
For the Turkey
1 whole turkey (we used an 11 lb turkey)

4 cups turkey broth

4 T grass-fed butter, cut into slices

4 rosemary sprigs

1 t rubbed sage

1 t thyme

1 t sea salt

1/2 t onion powder

1/2 t black pepper
For Honey Turmeric Glaze
4 T grass-fed butter

1 t ground turmeric

2 T raw honey

1 T minced garlic

1 t sea salt
Instructions
Begin by thawing the turkey according to package directions.

Preheat oven to 325°F and move oven rack to the bottom. Remove giblets and rinse entire turkey with cool water. Pat dry with paper towel. Place turkey into roasting pan on rack. Neatly position wings behind turkey.

Place sprigs of rosemary in cavity of turkey. Mix together sage, thyme, onion powder, sea salt and black pepper in a small bowl.

Use fingers to lift the skin of the turkey near the thighs and rub grass-fed butter underneath as well as on top. Next, rub dry seasoning under the skin and all over the top of turkey. Pour turkey broth into pan.

Insert an oven-safe meat thermometer into the thickest part of the thigh without touching bone. Place turkey in oven and roast for 1 hour, uncovered.

Carefully remove turkey from oven. Baste turkey with broth. If you find that the broth has evaporated, add 2 cups of broth to the pan, allow it to mix with the drippings, and then baste as normal.

Tent (see above for details) the turkey with aluminum foil and return to oven.

Continue to cook the turkey, basting every 45 minutes until the thermometer reaches 165°F degrees. Cooking time will vary with size of turkey (the rule of thumb is 13 minutes per pound).

Melt grass-fed butter for glaze over medium/low heat, stir in honey, turmeric, garlic, and sea salt until smooth. Use a basting brush to cover turkey with glaze. Return turkey to oven for 20 minutes, uncovered.

Allow turkey to rest 20 minutes before carving.
Tips:
If you want to keep your dinner party Paleo-friendly, serve your turkey alongside these grain-free side dishes:
Wondering what to do with all of that leftover turkey?

(You'll Also Love: How to Make the Best Gravy)