These bite-sized chocolate truffles are perfect for a boost of energy and are packed full of anti-inflammatory benefits!
Filled with a rich, fudgy chocolate ganache, and then coated in turmeric shredded coconut, these truffles are truly a bit of heaven. Plus, they're perfect for preparing beforehand and serving at your holiday parties!
What's In The Filling?
The filling of these truffles is made with just a few simple ingredients – coconut oil, cacao powder, and raw honey for a natural sweetener. Grass-fed collagen gets added for a boost of protein, and vital nutrients to benefit your joints, skin, and gut health.
Love Paleo Desserts? Then you'll love our FREE Paleo Dessert Cookbook.
Click here to get your FREE copy of our delicious Dessert Recipes!
Simply whisk the melted coconut oil with the cacao, honey, and collagen powder until you get a homogeneously smooth and shiny chocolate mixture, and then let it chill till the ganache is set.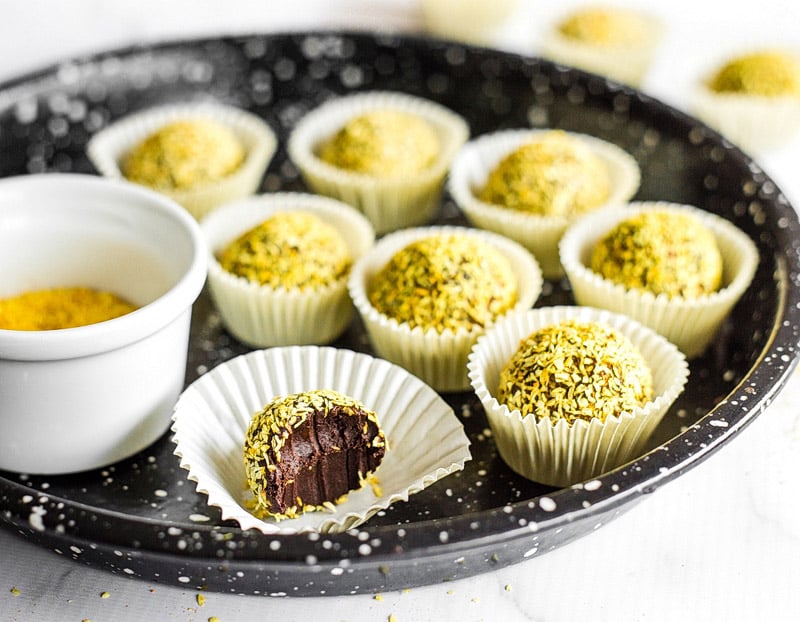 What's The Filling Coated With?
The chocolate ganache is coated with bright yellow shredded coconut, which is high in fiber. The vibrant yellow color is attributed to ground turmeric – containing curcumin, an active ingredient with anti-inflammatory and antioxidant properties. Given the benefits of eating turmeric in the long run, it's worth using this spice as often as possible.
Helpful Tips To Get Started:
Double or triple the recipe as needed. These truffles are so easy to make, and their bite-sized portions make them the perfect dessert for serving at special occasions or get-togethers. If you're expecting a bunch of people over, make sure to double or triple the recipe because these vibrantly colored treats will be a huge hit with your guests.
Chill the truffles before serving. Since the chocolate ganache filling comprises mainly of coconut oil, which melts with heat, it's best to chill the truffles until you're ready to serve them. The ganache doesn't harden too much, so chilling them makes them just firm enough not to melt in your hands, but at the same time retains its decadently rich and fudgy consistency that everyone is going to love.
Felicia Lim
Collagen Turmeric Chocolate Truffles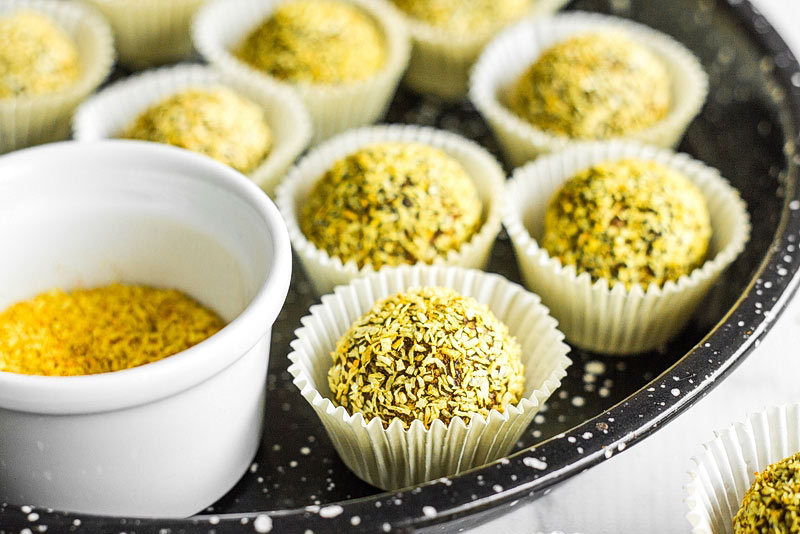 Inactive Time:
1 hr
1 hour
Cook Time:
20 mins
20 minutes
Prep Time:
5 mins
5 minutes
Nutrition facts:
3 grams of protein
10 grams of carbohydrates
12 grams of fat
150 calories
Collagen Turmeric Chocolate Truffles
These bite-sized chocolate truffles are perfect for a boost of energy and are packed full of anti-inflammatory benefits.
Tools
Small paper liners

Medium mixing bowl
Ingredients
½ cup coconut oil, melted

½ cup raw cacao powder

5 T raw honey

2 T collagen powder

1 t turmeric powder

¼ cup unsweetened shredded coconut
Instructions
Melt the coconut oil in a double boiler. Whisk in the cacao powder, raw honey, and collagen powder, mixing well until you get a smooth and shiny chocolate mixture.

Chill the mixture in the refrigerator for at least 1 hour until it hardens and the ganache is set (it should be firm, but malleable).

While the ganache is chilling, mix the turmeric powder and shredded coconut in a bowl until the shredded coconut is a bright yellow. Set aside.

Scoop out 1 tablespoon of the ganache and roll it into a small ball using the palms of your hands. Place the ball onto a plate and set aside. Repeat with the rest of the ganache until it's all used up. If the ganache starts to melt and it becomes hard to roll the balls, chill it in the refrigerator for 5 minutes before rolling again.

Roll the balls one by one in the turmeric shredded coconut and coat them all over. Place the truffles into small paper liners and chill for at least 10 minutes before serving.

Store the truffles in an airtight container in the refrigerator for up to a week.
Looking for Paleo ingredients? Here are a few we'd recommend:
Cold-pressed coconut oil (Viva Naturals)
Collagen (Bright Naturals)
Raw cacao powder (Healthworks)
Raw honey (Bee Farms)
Turmeric (Simply Organic)
You'll Also Love: Keto Chocolate Truffle Cheesecake