After Thanksgiving there's usually an abundance of leftovers, which makes for the perfect opportunity to get creative with next-day meals.
This homemade paleo turkey soup is one of our favorite go-to recipes for Thanksgiving leftovers and is ideal for when you don't feel too ambitious in the kitchen after cooking up a storm the day before.
The broth is made from the turkey carcass, so none of the nutrition in the turkey goes to waste, and is packed with healing minerals and gelatin – great for when you have a winter cold.
Love slow cooker recipes?
Click here to get your FREE copy of our delicious Slow-Cooker Recipes!
You can really use any veggies or root vegetables in this simple soup. Sweet potatoes are usually abundant around Thanksgiving, but rutabagas, parsnips, jersey yams, or even turnips work just as well. You can add green beans, kale, tomatoes, peppers, or whatever vegetables you have sitting in your fridge. If you want your soup to have a rice texture, add chopped cauliflower.
Serve this hot soup with a batch of Paleo Rolls to dip in and soak up the broth.
Heather Resler
Leftover Turkey Soup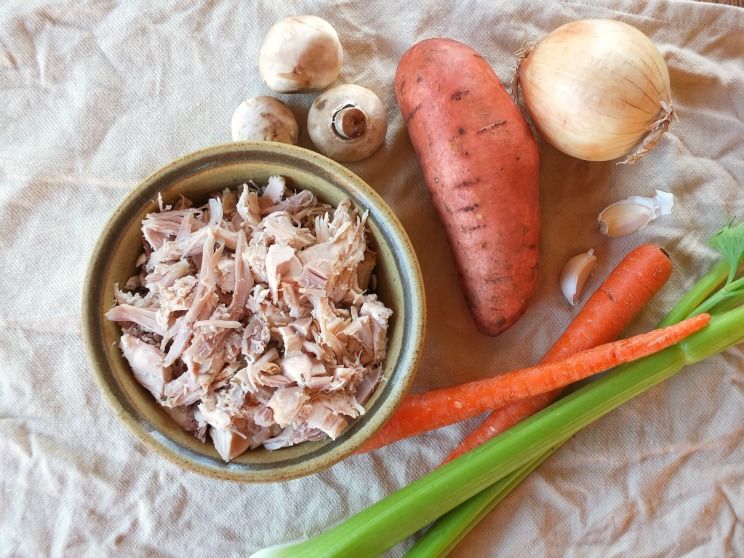 Cook Time:
10 hrs
10 hours
Prep Time:
20 mins
20 minutes
Leftover Turkey Soup
Ingredients
1 leftover turkey carcass

4 carrots, peeled and chopped, divided

5 celery ribs, chopped, divided

2 garlic cloves, chopped

1 onion, peeled and cubed

2 T apple cider vinegar

Salt and pepper to taste

Water to cover

1 medium sweet potato, peeled and chopped

12 oz fresh mushrooms, sliced

¼ to ½ t poultry seasoning

3 cups shredded cooked turkey

1 cup chopped broccoli
How To Make It:
1. In a slow cooker, layer the turkey carcass, 2 carrots, 2 celery ribs, onion, garlic, and apple cider vinegar.  Cover with water and season with salt and pepper.
2. Cover and turn the slow cooker on high.  Cook on low for 6-8 hours, or overnight.
3. Strain the turkey carcass and vegetables out of the broth.
4. Either put the broth in a soup pot or back in the slow cooker.
5. Add 2 of the carrots, 3 celery ribs, the sweet potato, mushrooms, salt and pepper to taste, poultry seasoning, broccoli, and turkey.
6. If using a soup pot, bring to a boil, reduce heat and simmer for about 30 minutes, or until everything is tender.  If using a slow cooker, cover and cook on high for about 4 hours.
7. Enjoy!
PS: Don't have any leftover turkey on hand? A chicken carcass and meat (or even duck) make a great substitute. 
You'll Also Love