The way we see it, Paleo stuffing can go one of two routes.
Either you omit the bread entirely and beef it up (pun intended) with meat and veggies, or you search tirelessly for the perfect Paleo bread recipe that will hold up to the broth and seasoning and turkey drippings.
You then bake that bread well in advance so that it's nice and dried out come stuffing time. If you go ultra-gourmet on Thanksgiving and are happy to plan your dishes in advance, you might try the Paleo-friendly bread option.
But this recipe is for those in the Paleo community who have guests filing in the door and need to whip out a delicious stuffing for their Thanksgiving spread like in the next hour. Or perhaps you or your guests are sensitive to even Paleo-friendly flours and need a stuffing recipe that won't leave something to be desired.
Fret not, this grain-free stuffing is so packed with all the familiar flavors of fall that no one will miss the bread. With warm and earthy sage, toasted almonds, sweet apples, umami mushrooms, fatty bacon, meaty sausage and rich sweet potato, this stuffing will be a hit at your table.
Trying to figure out exactly what to eat on Paleo?
Look no further than our FREE 21 Day Paleo Meal Plan
Beyond delicious, this stuffing is ultra-customizable to suit your tastes and even your nostalgic conception of stuffing. Maybe you'll omit the grains in Grandma's stuffing, but go ahead and include the cranberries if they recapture family holiday memories. This recipe would also do well with pecans and the addition of a small amount of maple syrup to really bring out autumnal flavors. Replace sweet potato with pumpkin or butternut squash if you're looking for more fall flavor.
Oh, and don't worry about the "to stuff or not stuff" the bird debate – whichever you prefer, this stuffing will do the trick. Simply cook all the meat prior to filling your bird.
Courtney Hamilton
Paleo Grain-Free Stuffing

Cook Time:
50 mins
50 minutes
Prep Time:
20 mins
20 minutes
Paleo Grain-Free Stuffing
Ingredients
4 pieces bacon

½ cup almonds, roughly chopped

1 lb sweet potato, peeled and cubed

2 medium apples, chopped

3 heads celery, chopped

1 lb ground sausage

1 lb mushrooms, sliced

1 cup chicken broth

2 t dried sage

2 t salt

2 t pepper
How to Make It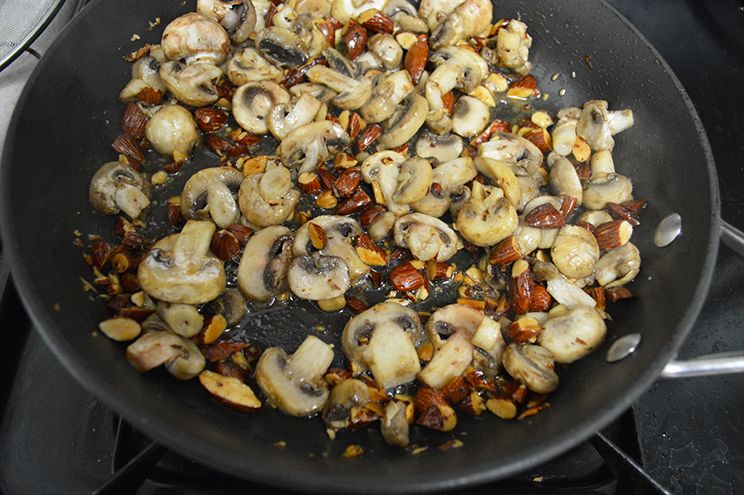 1. Preheat oven to 400°F. In a large pan, fry bacon until crispy. Remove bacon and set aside, leaving bacon fat in the pan. To the bacon fat, add chopped almonds, mushrooms and ground pork. Cook pork all the way through.
2. In a bowl, whisk together chicken broth, sage, salt and pepper.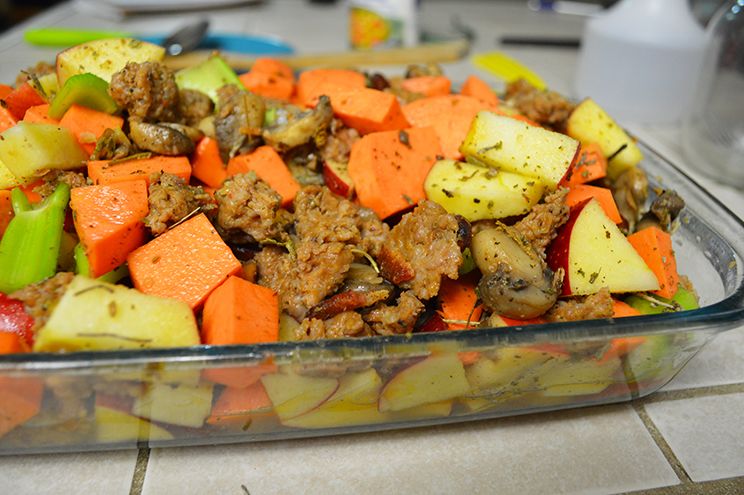 3. In a large casserole dish, combine ground pork mixture with sweet potato, apples, and celery. Crumble bacon over top. Pour seasoned chicken broth over the top. Combine contents well.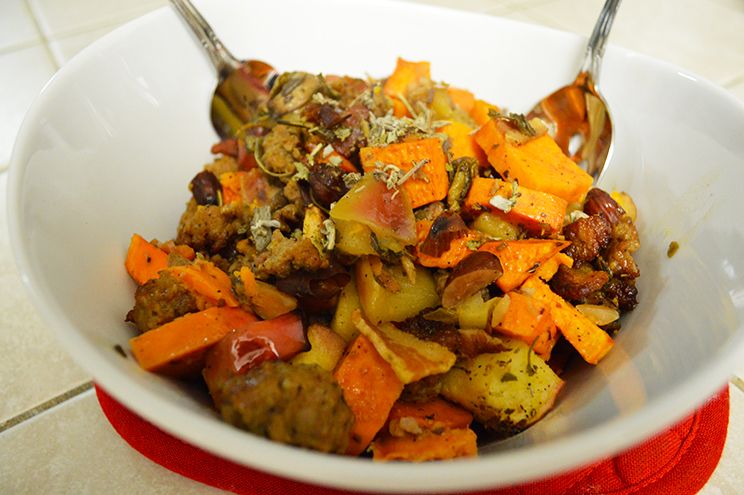 4. Bake stuffing for 40 to 50 minutes, until vegetables are tender.
You'll Also Love