Coat rich turmeric salmon with a sweet honey sauce and bake for an easy weeknight meal.
If you're looking to fight inflammation, look no further than this tasty turmeric salmon recipe. Wild-caught salmon is rich in omega-3 fatty acids, which helps soothe the swelling that leads to Alzheimer's and other inflammatory diseases. (1)
We take inflammation-fighting power to the next level with a melt-in-your-mouth glaze. Before they go into the oven, we coat salmon fillets with a combination of antioxidant-rich raw honey and inflammation-fighting turmeric. (2, 3)
Love turmeric recipes?
Add power-packed anti-inflammatories to every meal with these FREE turmeric recipes!
Don't Skip The Pepper
We all love finishing our dishes with freshly cracked black pepper for a little extra zing, but there's actually a health reason you don't want to skip it in this recipe.
Black pepper helps your body to absorb the active anti-inflammatory curcumin found in turmeric, so be sure to sprinkle it on liberally to help boost bioavailability! (4)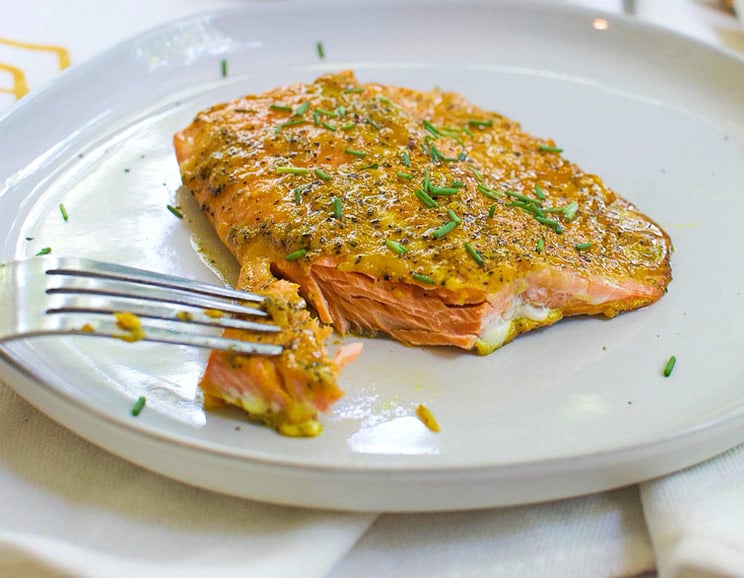 How To Perfectly Glaze The Salmon
Honey glazes can be a little tricky. They tend to want to obey the laws of gravity and slide onto the baking sheet during baking.
To help keep the glaze on the fish throughout baking, start by dredging the salmon in a little tapioca flour before adding the glaze. This helps it adhere to the salmon so you can enjoy every last bit of this sweet and savory glaze.
Helpful Tips To Get You Started:
Pat the salmon dry. Excess moisture can prevent the glaze from sticking to the salmon. Be sure to pat the filets dry before dredging them in the tapioca flour.
Cooking times may vary. Salmon filets can vary in size and thickness. If you have a thicker cut, you may need to cook the fish a bit longer. The USDA recommends an internal temperature of 145°F for fish. (5) If you don't have a thermometer, just use a fork to check for doneness. Salmon flakes easily when cooked through.
Danielle Moore
Baked Salmon with Turmeric Honey Glaze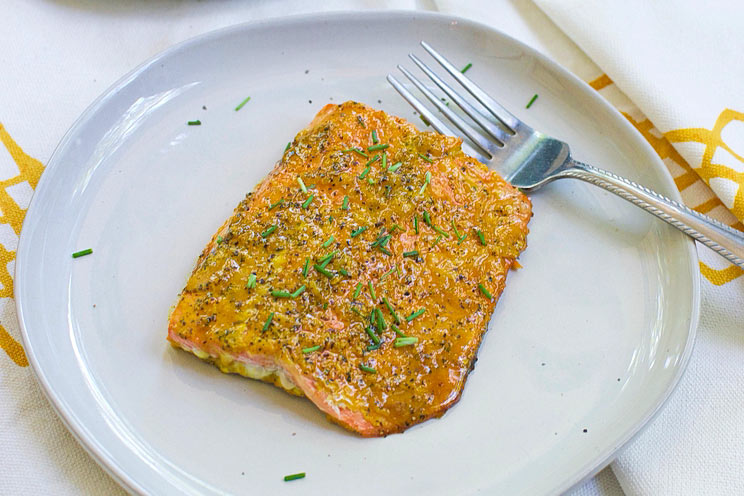 Cook Time:
15 mins
15 minutes
Prep Time:
5 mins
5 minutes
Nutrition facts:
33 grams of protein
26 grams of carbohydrates
2 grams of fat
Baked Salmon with Turmeric Honey Glaze
Coat rich salmon filets with a sweet honey sauce and bake for an easy weeknight meal.
Tools
Baking sheet

Shallow dish

Small mixing bowl
Ingredients
Olive oil for greasing

12 oz salmon filets

2 T tapioca flour

¼ t salt

2 T raw honey

1 t turmeric

½ t black pepper

1 T chopped chives
Instructions
Preheat the oven to 400°F. Grease a baking sheet with olive oil and set aside.

Use paper towels to pat the salmon dry. Place tapioca flour in a shallow dish. Dredge the top of the salmon in tapioca flour and shake off the excess. Place on the prepared baking sheet and sprinkle with salt.

In a small mixing bowl, combine the honey, turmeric, and black pepper. Brush a thick coat of the mixture on top of each salmon filet.

Bake until salmon is cooked through, about 10 to 12 minutes.

Set broiler to high and broil for 2 minutes, until the salmon is golden.

Serve the salmon warm, garnished with chives.
Looking for Paleo ingredients? Here are a few we'd recommend:
Olive oil (Sky Organics)
Tapioca flour (Authentic Foods)
Raw honey (Bee Farms)
Turmeric (Simply Organic)
Black pepper (Frontier)
For more delicious salmon ideas, try our indulgent pan-seared salmon in a garlicky ghee sauce, or these crunchy baked salmon croquettes with your favorite dipping sauce!