If you had to encapsulate these Sriracha chicken wings in three words, they'd be: juicy, sweet and spicy.
To elaborate, they're perfectly cooked chicken wings doused in a tangy, sweet and savory honey-sriracha glaze, kicked up a notch by an additional dried chili pepper.
If you've been struggling to capture the thick and gooey sauces of your pre-Paleo past, this recipe solves it. Tapioca flour serves as the magic ingredient, thickening the glaze in seconds.
Want to snack smarter and curb cravings? Click here to get your FREE 25 Healthy Paleo Snacks Cookbook
Courtney Hamilton
Honey Sriracha Chicken Wings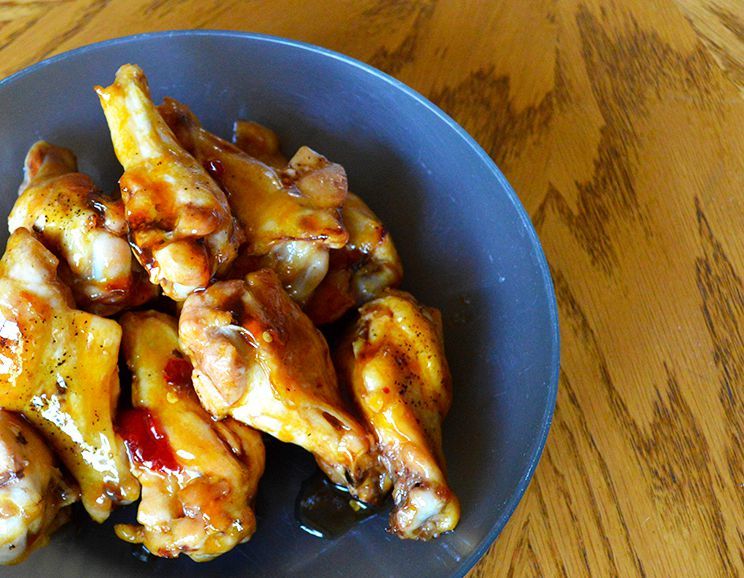 Cook Time:
50 mins
50 minutes
Prep Time:
5 mins
5 minutes
Honey Sriracha Chicken Wings
Ingredients
2 lbs. chicken wing drumettes

1/3 cup gluten-free Tamari (sub Coconut Aminos if you'd like)

1 t garlic powder

1/3 cup honey

1/3 cup ghee

1 T lime juice

1 dried chili pepper, chopped

1 t tapioca flour, made into a slurry

Salt and pepper to taste
How to Make It:
1. Preheat oven to 350°F. Salt and pepper chicken wings to taste and bake for 30 minutes. Turn wings over and bake an additional 15-20 minutes.
2. During last 15 minutes of bake time, combine Tamari, garlic powder, honey, ghee, lime juice and chili pepper in a sauce pan. Bring to a boil, then whisk in tapioca flour slurry.
3. Remove wings and coat in sauce. Bring oven temperature up to 375F. Bake wings an additional 5 minutes.
4. To serve, drizzle wings with excess sauce. Enjoy!
(You'll Also Love: Garlic-Tossed Chicken Wings)