If you are looking for a quick and festive side dish, you've come to the right place. With only 5 minutes of prep, these sweet, honey maple glazed carrots complement any dish on the table.
Start with about two pounds of carrots. I try to buy carrots that aren't too big because they take longer to cook. Place carrots onto a baking pan lined with parchment paper or aluminum foil and pour the ingredients for the glaze over the top.
You can combine the ingredients for the glaze in a bowl first or just add them as you go. Make sure the carrots are dry, as this helps the glaze stick better. Use your hands to rub the glaze over the carrots and sprinkle with fresh thyme and rosemary. This is a great recipe for experimenting with fresh herbs because you can't go wrong with the type you sprinkle on top, so use any fresh herbs you find locally.
Want to go Paleo? Not sure where to start?
Start with this FREE Paleo For Beginners Guide Today!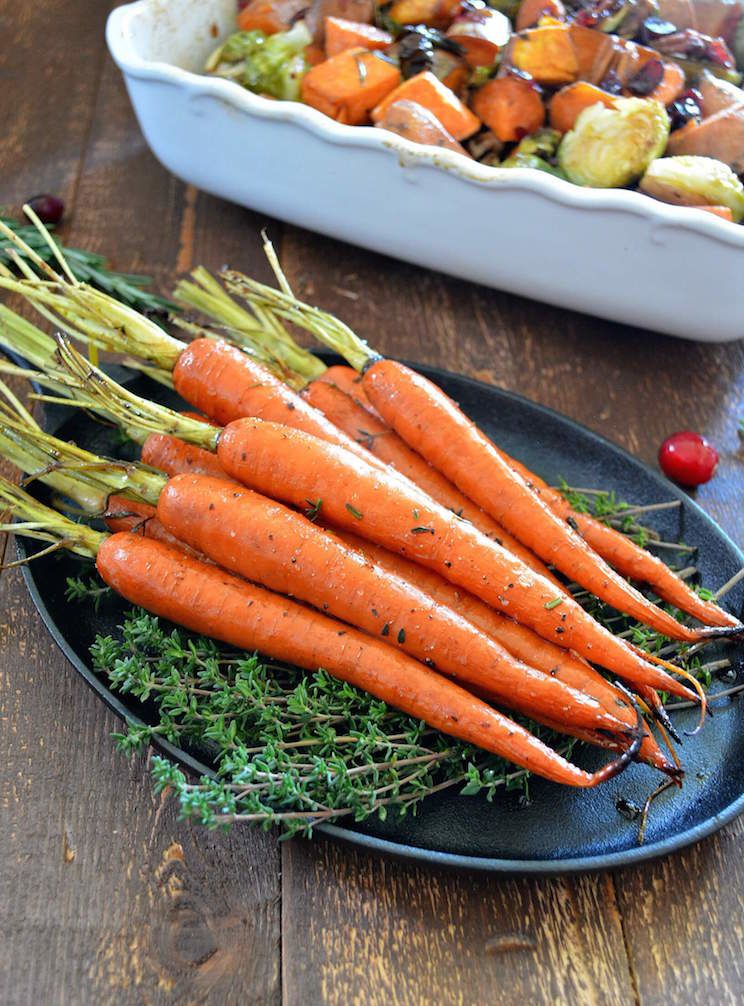 Finish with salt and pepper, then pop them in the oven. The roasting creates a candied glaze and tenderizes the carrots while deepening the flavor and sweetness. Before removing the carrots from the oven, check them with a fork by poking into the thickest part to make sure they are tender. If the fork pokes through easily, they're ready!
Serve these carrots alongside chicken and beef dishes year round. The glaze can also be used on other vegetables like sweet potatoes, Brussels sprouts, and butternut squash.
Jennafer Ashley
Simple Honey Maple Glazed Carrots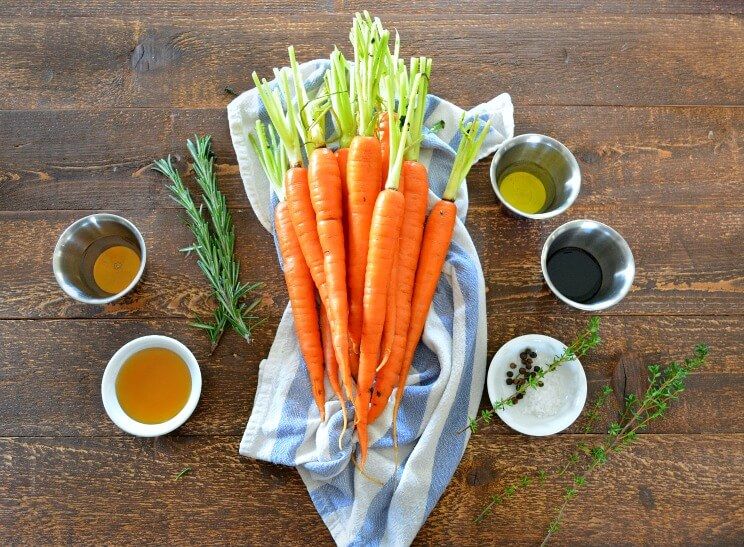 Cook Time:
40 mins
40 minutes
Prep Time:
5 mins
5 minutes
Simple Honey Maple Glazed Carrots
This sweet and festive side dish only requires five minutes of prep.
Ingredients
2 lbs carrots, stems trimmed

2 T pure honey

2 T pure maple syrup

1 T olive oil

1 T balsamic vinegar

½ t fresh rosemary, chopped

1 sprig thyme

1/2 t sea salt

1/4 t black pepper
Instructions
Preheat oven to 400°F and line a baking pan with parchment paper. Place carrots in baking pan.

Drizzle honey, maple syrup, olive oil and balsamic vinegar over carrots. Use hands to toss carrots.

Sprinkle with rosemary, sea salt and black pepper. Use fingers to knock thyme leaves off stem and onto carrots.

Bake 40 minutes or until carrots are tender. Enjoy!


(You'll Also Love: Roasted Turmeric Cauliflower)