Every now and then I get a hankering for a creamy cauliflower dip to serve with crunchy sliced veggies.
The flavor of this cauliflower dip is so mild that you're able to completely dictate the taste of the dip with the spices that you add. Have fun and make a spicy version by adding cayenne, or up the flavor ante with some extra garlic.
Drizzle your finished dip with some olive oil and a sprinkle of sweet paprika. It's ready in only five minutes – perfect for game night!
Add power-packed superfood veggies to every meal with these easy cauliflower recipes.
Click here to get your FREE copy of our Cauliflower Recipe Guide!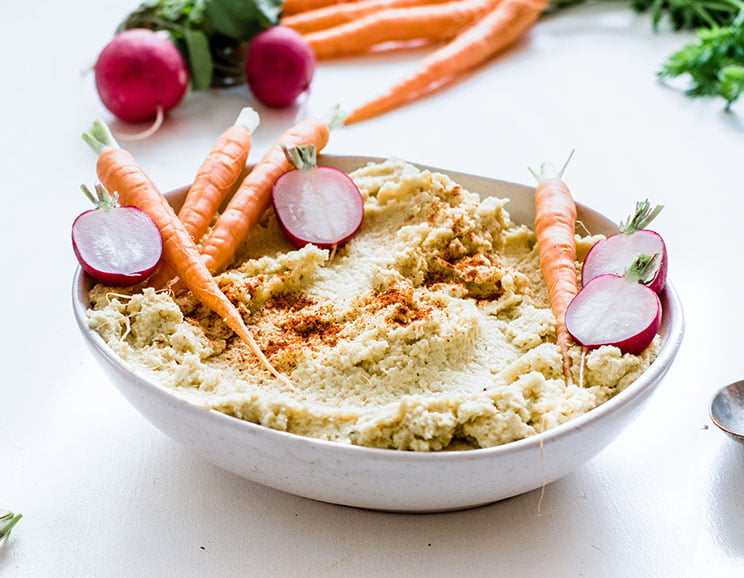 This creamy cauliflower dip is perfect for dunking fresh sliced veggies, Paleo crackers, and slathering on turmeric flatbread!
Diana Keuilian
Creamy Cauliflower Dip Recipe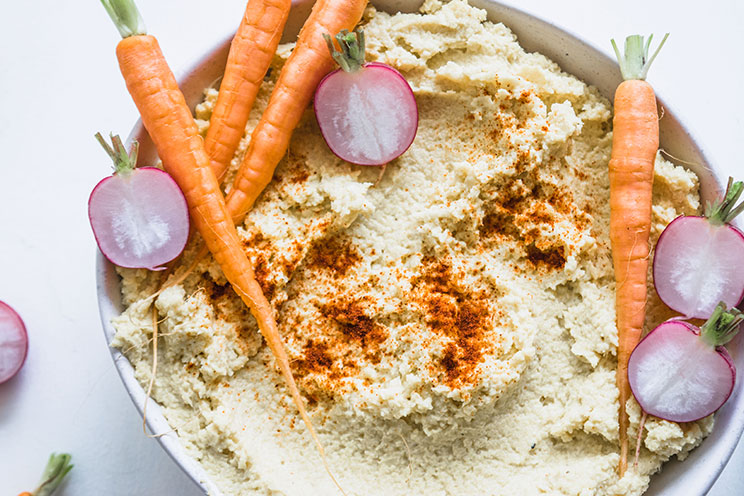 Cook Time:
5 mins
5 minutes
Prep Time:
5 mins
5 minutes
Nutrition facts:
5 grams of protein
6 grams of carbohydrates
13 grams of fat
Creamy Cauliflower Dip Recipe
The flavor of the cauliflower dip is mild, so add lots of garlic or spices to dictate the taste.
Ingredients
1 head steamed cauliflower

2 T tahini

2 T olive oil

1 garlic clove

Juice from 1 lemon

Dash of sea salt and black pepper

Pinch of cumin, paprika, garlic powder, turmeric, and onion powder
Instructions
Throw all of the ingredients into a food processor and blend until smooth.

Taste and add more seasoning as you see fit.

Serve with sliced veggies.
(You'll Also Love: 21 Deliciously Easy Dip Recipes)