These coconut chips tossed in maple syrup and sea salt are the perfect sweet-n-salty snack.
You're going to wonder where homemade coconut chips have been all your life. With just the right combination of sweet and salty, you'll be grabbing for these every time you get the munchies.
Unlike most other chips, you don't need any oil to help these snacks crisp up. Because coconut has a naturally high fat content, the flakes naturally release their oils as they bake. Coconut contains a large amount of medium-chained fatty acids, which are readily used by the body as energy.
Want to go Paleo? Not sure where to start?
Start with this FREE Paleo For Beginners Guide Today!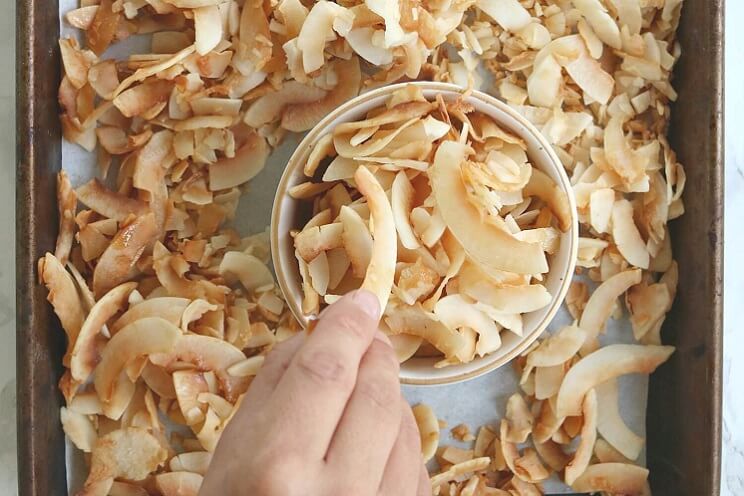 You'll also get a healthy dose of fiber and minerals, like brain-boosting manganese. To get the signature sweet-salty flavor, pink Himalayan sea salt and maple syrup coat the chips to create a flavor similar to kettle popcorn – but healthier!
Start by combining coconut flakes in a large mixing bowl along with the pink salt. Drizzle in maple syrup and use a spoon to gently stir until all flakes are coated. Pour onto a baking sheet lined with parchment paper and bake for 20 minutes. Note: It is really important to stir the coconut flakes every 5 minutes in order to achieve an even golden color and crispness. Try these coconut chips over Paleo cereal, sprinkled on Paleo ice cream, or as a snack all by themselves!
Try tossing your coconut chips in these flavor combos:
Bacon Chips – Crumbled bacon, smoked paprika, sea salt and coconut sugar
Immune Boosting Chips – turmeric and black pepper
Carnival Chips – Cinnamon, vanilla bean, and maple syrup
Jennafer Ashley
3-Ingredient Coconut Chips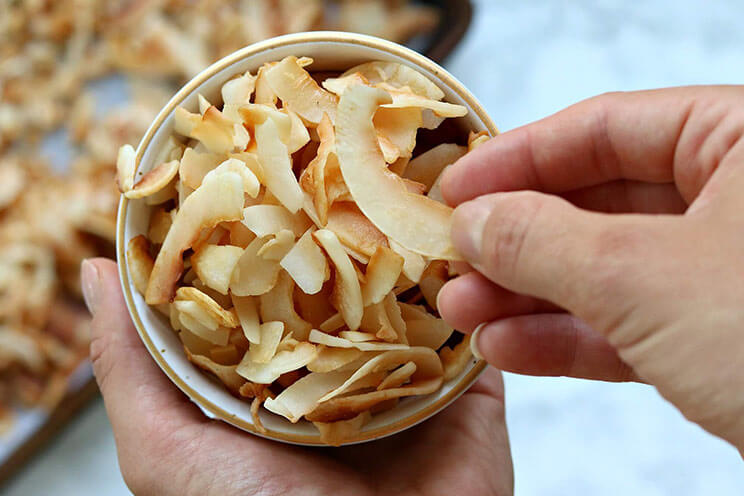 Cook Time:
20 mins
20 minutes
Prep Time:
5 mins
5 minutes
3-Ingredient Coconut Chips
These coconut chips tossed in maple syrup and sea salt are the perfect sweet-n-salty snack.
Tools
Mixing bowl

Baking sheet

Parchment paper

Wooden spatula
Ingredients
4 cups large unsweetened coconut flakes

1/4 t pink Himalayan sea salt

2 T pure maple syrup
Instructions
Preheat oven to 300°F. Line a baking sheet with parchment paper.

In a large mixing bowl, combine coconut flakes and sea salt. Pour maple syrup over and gently stir to coat.

Pour the coconut mixture onto the baking sheet and bake 18-20 minutes, using a wooden spatula to stir every 5 minutes.

(You'll Also Love: No-Bake Apple Chips Recipe)