In this recipe, blistered, tender asparagus and crispy garlic shavings combine for an intensely savory veggie dish.
The secret to locking in heaps of rich flavors within your veggies is pan-searing them to crisp, blistered, perfection. Asparagus is a terrific veggie for blistering since it doesn't let off a ton of moisture and has a tough exterior to handle high-heat temperatures (without getting too soggy). This technique creates a perfectly tender bite with a slight crunch in the center and a nutty, buttery flavor.
Before the blistering can begin, it's important to make sure you have a well-seasoned cast iron pan. This will keep the asparagus from sticking to the bottom and help them glide around easily when tossed with the ghee. The high heat temperatures also add an intense smoky flavor, which means there's no need to add in additional herbs or spices – but by all means, feel free to experiment.
Love slow cooker recipes?
Click here to get your FREE copy of our delicious Slow-Cooker Recipes!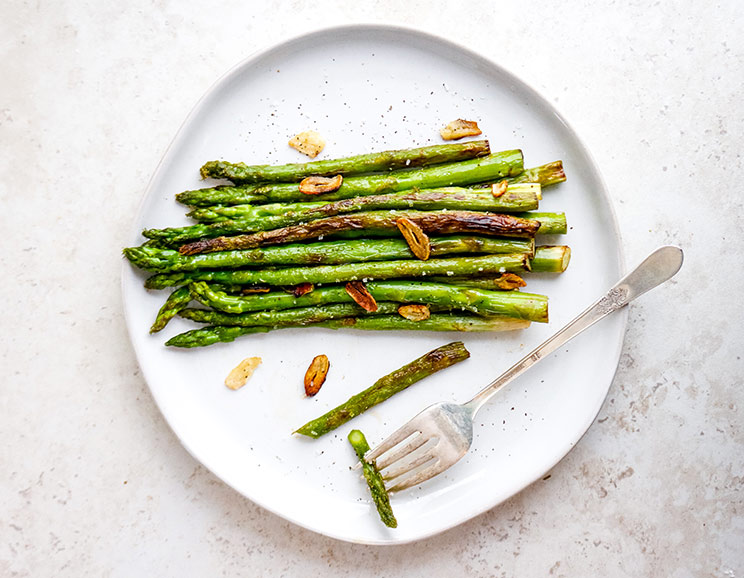 To get started, melt the ghee in a cast iron pan over medium-high heat for two minutes. You'll want the ghee to heat thoroughly before adding in the asparagus – that way it allows them to crisp up evenly. Avocado oil will also work as a substitute for ghee, but note that it incorporates a different taste and texture to the final dish.
When ready, brown the asparagus for five minutes and use a pair of tongs to carefully toss together. Add in the garlic and continue cooking for an additional four minutes (flipping halfway through). If using thicker asparagus, keep cooking for an additional minute or two to achieve the ideal crispiness.
Once complete, enjoy them hot with coarse sea salt and black pepper or serve alongside entrées like steak or fish.
Tip: Other veggies that taste amazing when blistered include: onions, broccoli rabe, Brussels sprouts, shishito peppers, and cauliflower.
Jennafer Ashley
Blistered Asparagus with Crispy Garlic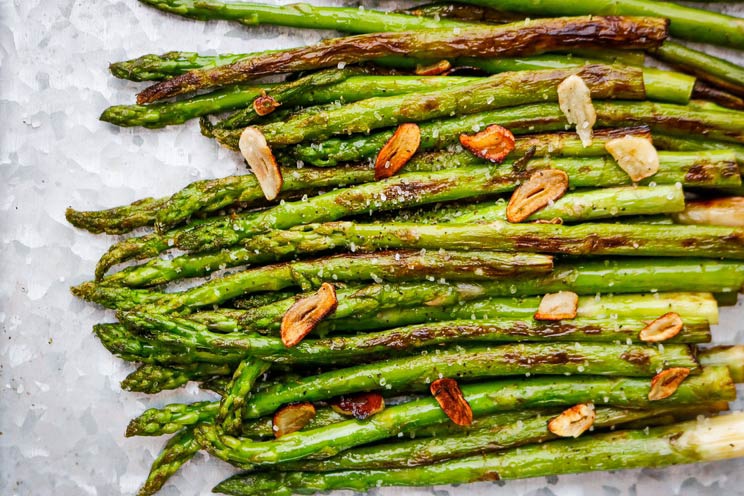 Cook Time:
11 mins
11 minutes
Prep Time:
2 mins
2 minutes
Blistered Asparagus with Crispy Garlic
This one-pan asparagus recipe shines with buttery ghee and crispy garlic shavings.
Ingredients
1 T ghee

1 lb asparagus, ends trimmed

2 thinly sliced garlic cloves

1/8 t coarse sea salt

1/8 t ground black pepper
Instructions
Melt the ghee in a cast iron pan over medium-high heat for 2 minutes.

Add in the asparagus and brown for 4-5 minutes, using tongs to toss.

Place the sliced garlic into the pan and cook for an additional 4 minutes, flipping halfway through.

Transfer asparagus and garlic to a serving plate and season with salt and pepper. Serve hot and enjoy!
Looking for Paleo ingredients? Here are a few we'd recommend:
Ghee (Pure Indian Foods)
Coarse sea salt (AztecSeaSalt)
Black pepper (Frontier)

(You'll Also Love: Baked Asparagus Fries Recipe)