Ground chicken gets rolled up with savory ingredients and baked until golden brown in this spicy meatball recipe. Plus, they're super moist thanks to freshly grated zucchini!
Not only are these meatballs full of spicy flavor, they also get veggie goodness by adding freshly grated zucchini. The zucchini adds fiber and moisture to the meatballs (as lean chicken meatballs can often come out dry). Tip: No need to peel your zucchini; the skin houses most of this vegetable's nutritious benefits.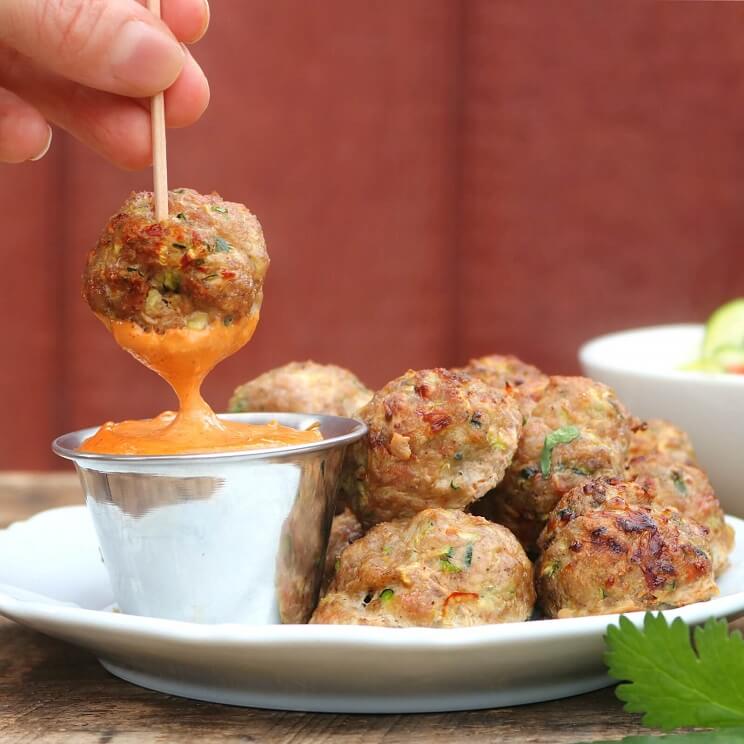 Start by squeezing the grated zucchini with a few paper towels to remove any excess moisture. Combine grated zucchini with the rest of the ingredients in a large bowl until combined. Form the mixture into balls and place them onto a baking sheet. If you plan to serve these as an appetizer, opt for a smaller, golf ball-sized meatball, and if you are using the meatballs for an entree, go a bit larger. Bake in the oven for 35 minutes or until meatballs have evenly browned and are cooked in the center.
Want to go Paleo? Not sure where to start?
Start with this FREE Paleo For Beginners Guide Today!
You can serve these spicy meatballs as an appetizer or snack dipped in spicy turmeric aioli. For a full meal, serve them over zucchini noodles tossed in a creamy avocado garlic sauce.
Jennafer Ashley
Spicy Meatball Recipe with Grated Zucchini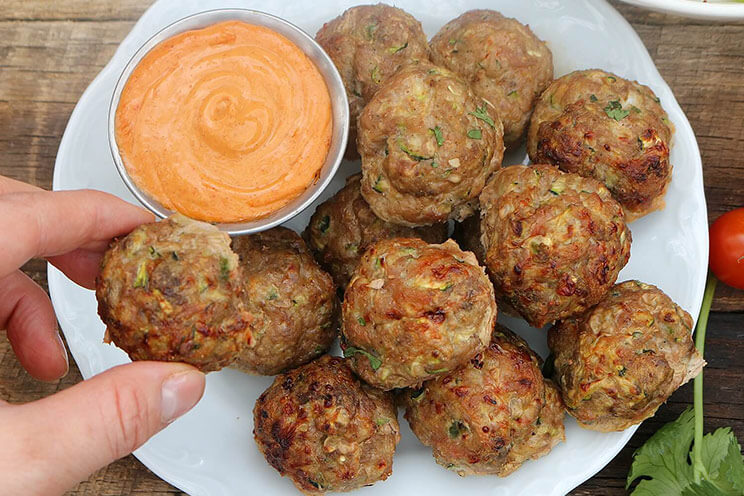 Cook Time:
35 mins
35 minutes
Prep Time:
10 mins
10 minutes
Spicy Meatball Recipe with Grated Zucchini
Freshly grated zucchini is the secret to keeping these spicy meatballs super juicy!
Tools
Baking sheet

Parchment paper

Large bowl
Ingredients
1 lb ground chicken, 93% lean

1 cup grated zucchini

2 T jalapeño, minced

1 large egg

2 T ground cumin

1 t onion powder

1 t sea salt
Instructions
Preheat oven to 400°F. Line a baking sheet with parchment paper.

Use paper towels to squeeze any excess liquid from grated zucchini.

In a large bowl, combine all ingredients. Stir until well combined.

Use hands to form mixture into balls (I chose golf ball size). Set meatballs onto parchment paper.

Bake for 35-40 minutes until browned and cooked through.
Tips:
Try swapping the chicken with ground turkey, beef, or even bison!
Add even more flavor to your meatballs by sprinkling in smoked paprika, minced garlic, or chopped cilantro.

(You'll Also Love: Teriyaki Meatball Bowl with Cauliflower Rice and Veggies)