Smoky and sweet, these Paleo maple bacon donuts are perfect when you need something slightly extra at breakfast.
Who doesn't love maple… or bacon?! These Paleo donuts combine two favorites. Crispy bacon is sprinkled on a Paleo maple donut for a flavor combination you'll love.
Perfect as a morning treat or a savory dessert, these little beauties are sure to be gobbled up within minutes after baking. Plus, since they're made out of coconut flour, almond flour, and coconut oil, you can rest assured they'll be gluten free.
Love Paleo Desserts? Then you'll love our FREE Paleo Dessert Cookbook.
Click here to get your FREE copy of our delicious Dessert Recipes!
For the glaze, you'll be using coconut butter, maple syrup, and cinnamon. If you've never heard of coconut butter before, don't worry, you can find them at most health food stores and even whip up your own coconut butter at home (it's easy!)
So feel free to indulge and enjoy these savory treats with a cold glass of Vanilla Bean Milkshake!
Deanna Dorman
Paleo Maple Bacon Donuts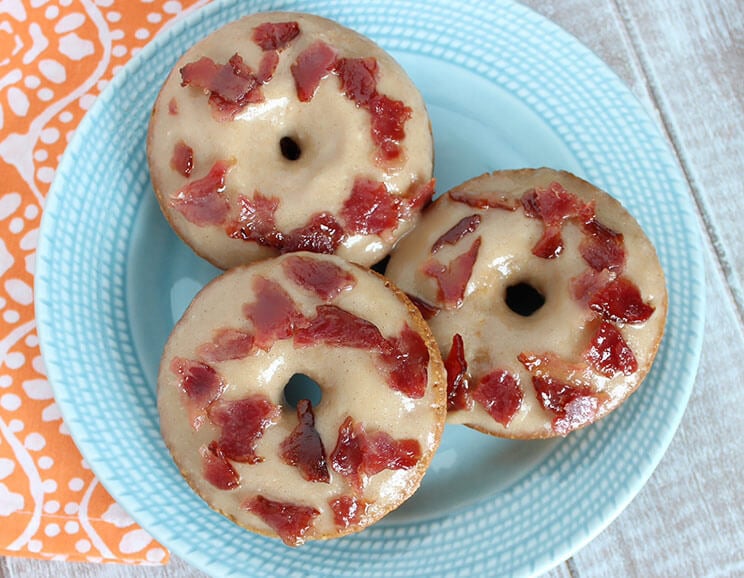 Cook Time:
40 mins
40 minutes
Prep Time:
10 mins
10 minutes
Paleo Maple Bacon Donuts
With a duo like bacon and maple, you won't resist making these tasty donuts more often.
Tools
Donut pan

Large mixing bowl

Blender

Large Ziplock bags

Baking sheet

Aluminum foil
Ingredients
For the Donut Batter:
1 3/4 cups almond flour

2 T coconut flour

1 t baking soda

1 t cinnamon

4 eggs

1/4 cup maple syrup

1/4 cup coconut oil, melted

1 t vanilla extract
For the Glaze:
1/4 cup maple syrup

1/4 cup coconut butter

1/4 cup full-fat coconut milk, shaken

2 T grass-fed butter

1 t vanilla extract

1 t cinnamon
For the Bacon Crumble:
4 pieces of bacon

2 T maple syrup

1 T dijon mustard
Instructions
Preheat oven to 350°F and grease a donut pan with coconut oil.

To Make The Dough: In a large bowl, sift together almond flour, coconut flour, baking soda, and 1 t cinnamon. Add in the eggs, 1/4 cup maple syrup, coconut oil, and 1 t vanilla extract. Mix ingredients until smooth.
To Make The Glaze: As the donuts are baking prepare the glaze. In a blender combine 1/4 cup maple syrup, coconut butter, coconut milk, butter, 1 t vanilla extract, and 1 t cinnamon. Mix until smooth. Pour glaze into a shallow bowl and set aside.

Spoon the dough into each donut cavity and bake for 20 minutes.

Remove the donuts from the oven and set aside to cool in the pan.

To Make The Bacon Crumble: Line a baking sheet with aluminum foil and lay bacon in a single layer on top.

In a small bowl mix together 2 tbsp maple syrup and mustard until smooth. Brush each piece of bacon with the maple-mustard mixture and bake for 20 minutes or until crispy. Allow the bacon to cool and then crumble.

Once everything has cooled, dip one side of each donut in the glaze and sprinkle with crumbled bacon.
Looking for Paleo ingredients? Here are a few we'd recommend:
Coconut Flour (Nutiva)
Almond Flour (Bob's Red Mill)
Cold Pressed Coconut Oil (Viva Naturals)

(You'll Also Love: Chocolate Paleo Donuts)