This dairy-free vanilla bean milkshake recipe is a must-have when you're craving something sweet. 
Lusciously lavish, this yummy drink is filled with natural sweeteners and wholesome ingredients. The best part is, you don't need to spend a lot of time or money to enjoy it.
Inside this delightfully creamy shake is a healthy serving of fresh bananas. It's the secret ingredient to ensuring frothy thickness, while sneaking in plenty of potassium for your digestive health.
Natural vanilla bean is also a plus in this recipe. Not just for it's taste, but because of its superfood qualities. It's nutritional benefits include calcium and magnesium, which helps keep your mood and brain performing in tip-top shape.
Love Paleo Desserts? Then you'll love our FREE Paleo Dessert Cookbook. Click here to get it!
Enjoy being dairy-free and try it with our curly-crisp sweet potato fries. We promise you'll savor every bit. Plus, you'll never have to regret indulging your sweet tooth for health again.
Diana Keuilan
Vanilla Bean Milkshake Recipe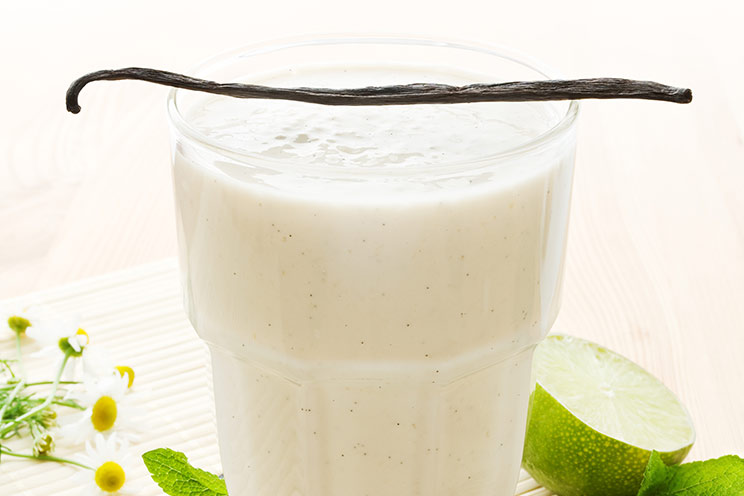 Cook Time:
5 mins
5 minutes
Vanilla Bean Milkshake Recipe
Better than Starbucks, this vanilla bean milkshake is refreshingly sweet and simple to make.
Ingredients
2 bananas, peeled and frozen

1 cup coconut milk, canned and full fat

pinch of salt

1 packet stevia

half a vanilla bean, scraped

*optional, handful of ice cubes
Instructions
In a high speed blender combine the bananas, coconut milk, salt, stevia and scraped vanilla bean.
Tips:
If the mixture isn't thick enough, add in more ice and blend until smooth.
Feel free to add a pinch of cinnamon for extra flavor.
Careful blending for too long. The heat from your blender could make things a bit more runny.
You can also make these into popsicles using a popsicle mold
(You'll Also Love: No Sugar, Naturally Sweet Dark Chocolate Coffee Milkshake)