Ditch traditional pancakes and try these Paleo-friendly Coconut Flour Bacon Pancakes instead. Because who wouldn't want both salty bacon and sweet coconut pancake in every bite?
All you need is four ingredients and you'll have delicious pancakes embedded with thick slices of bacon. And the whole process will take you less than 15 minutes to throw together!
Start by cooking the bacon in coconut oil as your prepare the simple batter of eggs, coconut milk, coconut flour and baking soda. When the bacon is cooked to your liking, simply pour the batter over the top, cook, flip, and serve. A nice drizzle of maple syrup is needed here for the perfect balance of sweet-salty maple bacon flavor!
Love Coconut Flour Recipes? Then you'll love our FREE Coconut Flour Recipes.
Click here to get your FREE copy of our delicious Coconut Flour Recipes!
As a note, this recipe is for one pancake, so feel free to double, triple or quadruple it depending on the number of pancakes you want (or how hungry you are). It truly couldn't be simpler!
Erin Druga
Coconut Flour Bacon Pancakes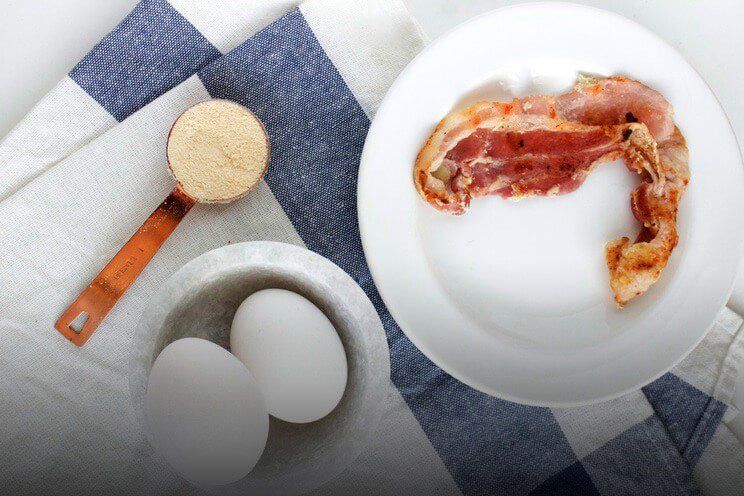 Cook Time:
10 mins
10 minutes
Prep Time:
2 mins
2 minutes
Coconut Flour Bacon Pancakes
Forget regular pancakes - each of these Paleo Bacon Pancakes has a whole slice of bacon in them!
Ingredients
1 slice of bacon

2 eggs

1 T coconut flour

1 T coconut oil

2 T coconut milk

1 t baking soda
Instructions
Cook bacon in a skillet with coconut oil.

While bacon is cooking, whisk eggs together in a bowl and then stir in flour, coconut milk, and baking soda. Mix well.

Once bacon has finished cooking, pour batter slowly over bacon, just so the batter covers the bacon.

Cook until batter starts to bubble and harden on the outer edges, then slowly flip and cook the other side.

Serve with syrup and enjoy!
Watch the Video Recipe Below!

(You'll Also Love: 17 Pancake Recipes Worth Waking Up For)