Juicy and flavorful, this Paleo avocado bacon burger makes ample use of fresh seasonings.
Burgers are definitely Paleo-friendly foods, but when you first make the switch, it can be difficult to get used to eating them without the bun.
It doesn't have to be boring or complicated, however, you just have to know how to top your bunless burgers to make them mouthwateringly delicious. This recipe uses seasonings to spice things up, resulting in a deliciously salty bacon burger topped with creamy avocado.
Want to learn more about Paleo and how it can help you? Grab our FREE "What Is Paleo?" Guide by Clicking Here!
Serve this bacon burger over greens, or with a side of your favorite roasted veggies for a meal that's filling, satisfying, and quite simply, perfection.
Tip: Want more delicious burger recipes? Try these Paleo Turkey Burgers!

Amy Hunter
Paleo Avocado Bacon Burgers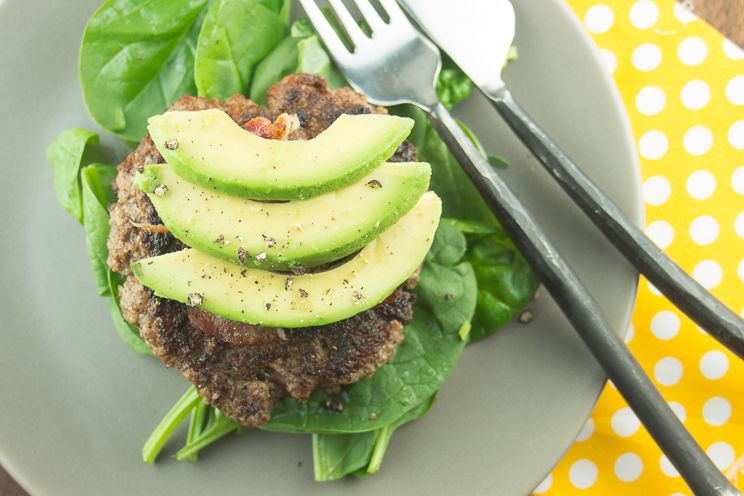 Cook Time:
10 mins
10 minutes
Prep Time:
10 mins
10 minutes
Paleo Avocado Bacon Burgers
Ingredients
4 slices thick cut bacon

1 1/2 lbs ground beef

1 t ground cumin

1 t chili powder

1/2 t smoked paprika

1 avocado, pitted and sliced

Juice of 1 lemon

Sea salt and fresh ground pepper, to taste
How To Make It:
1. Cook the bacon in a skillet over medium heat until browned and crispy. Remove from pan and drain on paper towels. Drain most of the fat from the pan.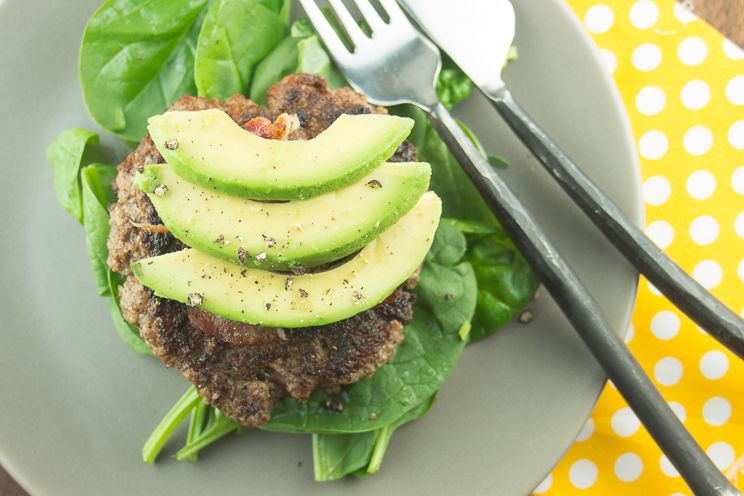 2. Mix the ground beef with the spices and a pinch of salt and pepper. Form into four patties.
3. In the same skillet you used to cook the bacon, cook the burgers until done to your liking. Transfer to a plate.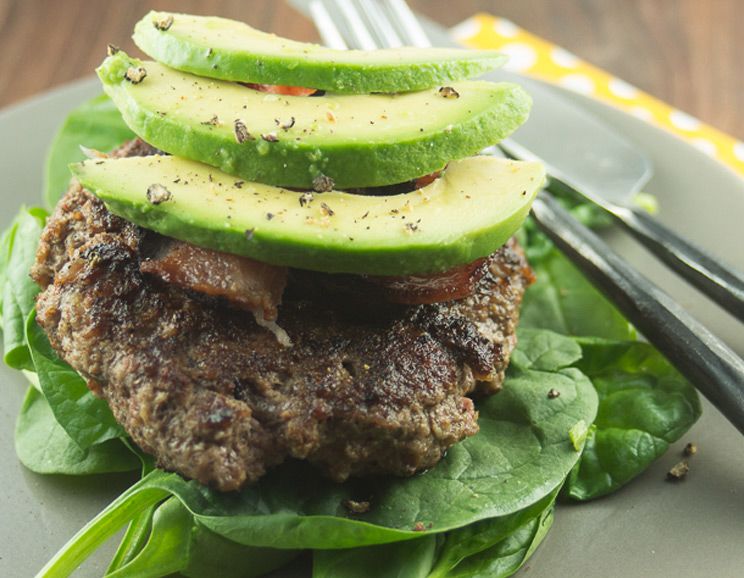 4. Top with the bacon, some avocado slices, and drizzle with the lemon juice. Top with plenty of fresh ground pepper and enjoy with a knife and fork.
(You'll Also Love: Jamaican Burger with a Sweet Potato Bun)
Lose weight, fight inflammation, and soothe your digestion with delicious meals like juicy skirt steak with cucumber & radish salad, succulent pulled pork, and more!
FREE Cookbook:
80 Gourmet Paleo Recipes from
a Professional Chef trained at Le
Cordon Bleu in Paris
FREE Cookbook:
80 Gourmet Paleo Recipes
from a Professional Chef
trained at Le Cordon Bleu
in Paris