Fuel your snack cravings with these sweet and smoky bacon-wrapped pineapple donuts.
In this crave-worthy recipe inspired by Genius Kitchen, sweet pineapple and onion rings get baked inside a layer of smoky bacon. The end result is an uber juicy center encased in crispy bacon goodness. These "donuts" make an awesome game day appetizer, or can be piled on top of burgers for the ultimate topping.
Using pasture-raised bacon is crucial to ensuring the highest quality end product, both flavor and health-wise. Pasture-raised pork contains higher levels of omega-3 fatty acids and vitamins. The bacon also needs to be thick cut! That way, you can stretch each slice as it is woven around the pineapple without tearing the bacon.
Want to go Paleo? Not sure where to start?
Start with this FREE Paleo For Beginners Guide Today!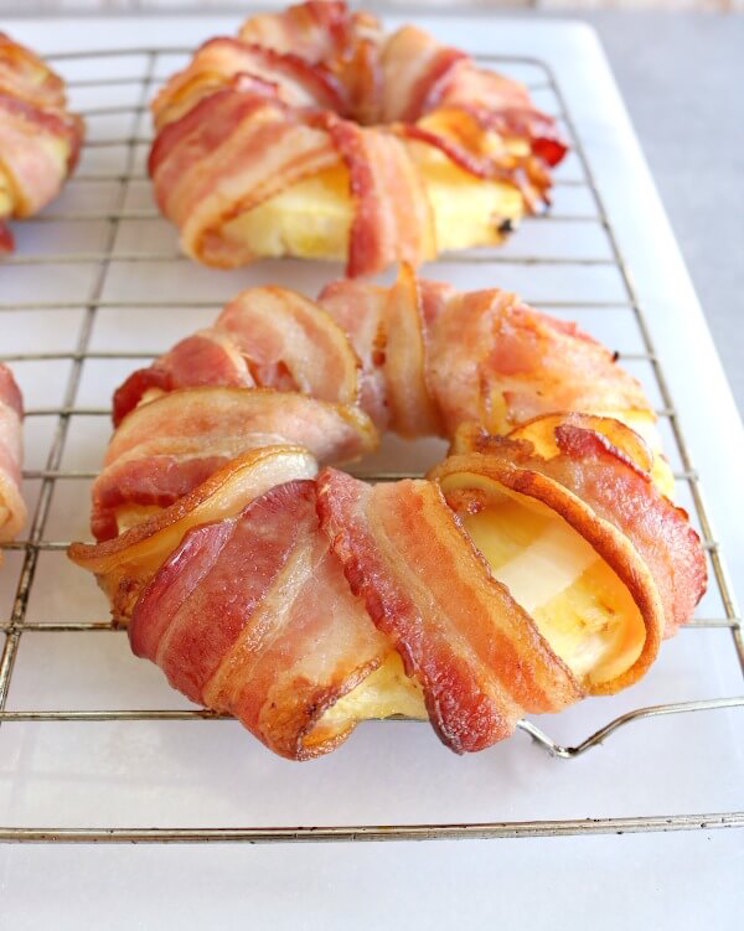 Caramelized pineapple serves as the center of these "donuts," as they are sturdy enough to be picked up after cooking. I opted to use sweet white onion for its light flavor, but red onion or traditional white onion will also work just fine.
Tip: When slicing the pineapple, I used a stainless steel bartending jigger to press and cut the rind out of each slice in a circle. Mini round cookie cutters would also work.
Start by layering 1 slice of onion on top of 1 pineapple slice and weave bacon around the ring, overlapping as closely as you can. When the bacon cooks, it will naturally separate, so it doesn't have to be perfect. Next, place the donuts onto a baking rack set on top of a baking sheet. This allows the bacon drippings to fall onto the cookie sheet for crisp, evenly cooked bacon. Bake for 35-40 minutes, or until the bacon is fully cooked and browned. Let the donuts cool 3 minutes to crisp the bacon a little bit more before serving. Enjoy while it's still warm!
Jennafer Ashley
Bacon-Wrapped Pineapple Donuts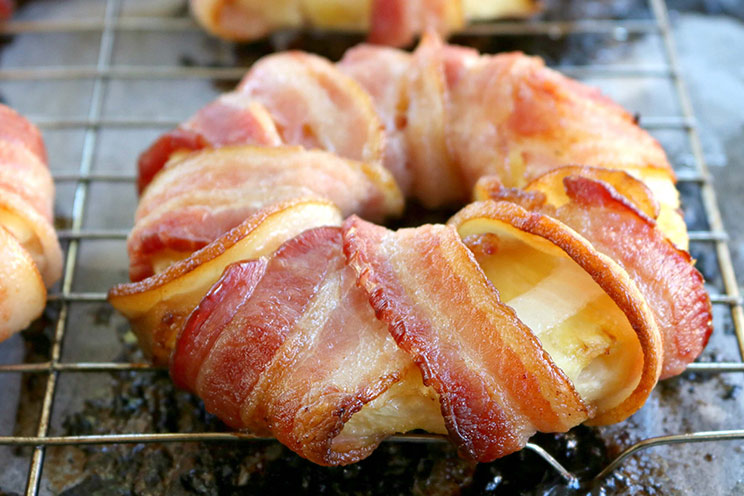 Cook Time:
40 mins
40 minutes
Prep Time:
10 mins
10 minutes
Bacon-Wrapped Pineapple Donuts
Fuel your snack cravings with these sweet and smoky bacon-wrapped pineapple donuts.
Tools
Baking sheet

Parchment paper

Baking rack
Ingredients
1 pineapple, sliced into rings, core removed

18 strips thick-cut, pasture-raised bacon

1 large sweet white onion, sliced into ⅓-inch rings
Instructions
Preheat oven to 400°F. Line a baking sheet with parchment paper, then place a baking rack on top.

Layer 1 slice of onion over a pineapple ring, then weave 3 strips of bacon around the outside. Repeat with the remaining pineapple slices. Place on the prepared baking rack.

Bake for 35-40 minutes, or until bacon is fully cooked and crisp. Cool 3 minutes.

(You'll Also Love: Bacon-Wrapped Avocado Fries)