Let the sweet aroma capture your senses with these Paleo Coconut Macaroons.
This sweet treat is incredibly easy to make and will wow your taste buds while making the kitchen smell divine.
These macaroons are sweet and moist with a crunchy bite that'll satisfy any avid coconut lover. Coconut milk also offers a thick creamy base to create the perfect batch of fluffy cookies.
Love coconut flour recipes? Get our free coconut flour recipe cookbook here!
This recipe is also egg-free, which makes it suitable for many people to enjoy. When you add in a little maple syrup or honey, it creates a natural sweetener similar to little bites of tropic heaven.
Enjoy them with your morning coffee or as an indulgent treat throughout the week. With cookies these tasty, you can expect they'll be gobbled in no time.
Rebecca Hughes
Crunchy Paleo Coconut Macaroons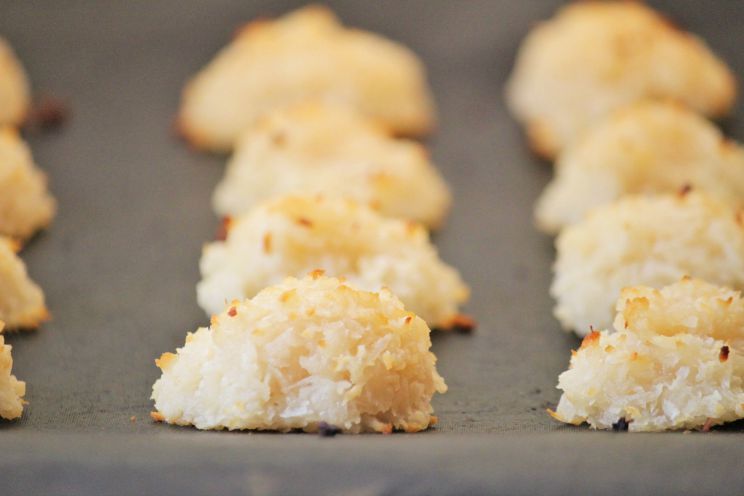 Cook Time:
10 mins
10 minutes
Prep Time:
10 mins
10 minutes
Crunchy Paleo Coconut Macaroons
These sweet macaroons are made with natural ingredients like shredded coconut, maple syrup, and coconut milk.
Tools
Baking tray

Baking paper or non-stick reusable baking sheet.

Saucepan

Melon baller or ice cream scoop
Ingredients
1 cup shredded, unsweetened coconut

1 T coconut flour

1/2 cup plus 2 T coconut milk

3 T honey or maple syrup

1/4 t vanilla extract
Instructions
Preheat the oven to 350°F.

Line a baking tray with baking paper or non-stick reusable baking sheet.

Combine all ingredients in a saucepan.

Heat the mixture to a high heat and simmer for about two minutes or until thickened so that it is firm enough to scoop out in ball shapes.

Remove from the heat. Scoop into balls onto the baking sheet. Use a rounded tablespoon, melon baller or ice cream scoop.

Place in the oven and bake for 10 minutes. Time depends on the type of oven you have. Check after 5 minutes, and bake until they are golden brown on top.

Remove from the oven once cooked and transfer to a cooling rack. The macaroons are slightly fragile so let them cool and set before removing from the tray.
Looking for Paleo ingredients? Here's what we recommend:
Coconut Flour (Nutiva)
Coconut Milk (Native Forest)
Raw Honey (Bee Farms)

(You'll Also Love: Coconut Flour Pancakes)