These pumpkin spice donuts are moist, cakey and a little gooey thanks to their combination of pumpkin, almond milk and coconut oil.
While some of us are accustomed to weekend donut shop visits where we gluttonously marvel over the local shop's maple bars and chocolate twists (guilty), donuts are fairly easy to make at home.
All you need is a donut pan and a mixing bowl, and you're on your way. Even better, there's a number of Paleo-friendly ways to lighten up the donut's sugar and calorie-dense load. Try these pumpkin spice donuts, perfect for an autumn morning. They take just as long to make as a trip to the donut shop, anyways, and prove far more nutritious.
Love Paleo Desserts? Then you'll love our FREE Paleo Dessert Cookbook.
Click here to get your FREE copy of our delicious Dessert Recipes!
That's right—a donut that's not awful for you, chock full of nutrient-dense pumpkin and the warm flavors of pumpkin pie spice mix. These donuts are moist, cakey and a little gooey thanks to their combination of pumpkin, almond milk and coconut oil. Autumnal flavors dominate with the pumpkin pie spice blend of ginger, allspice, cinnamon, cardamom, nutmeg and more, sweetened lightly by pure maple syrup. A small addition of coconut and tapioca flours lend them that characteristic cake donut texture.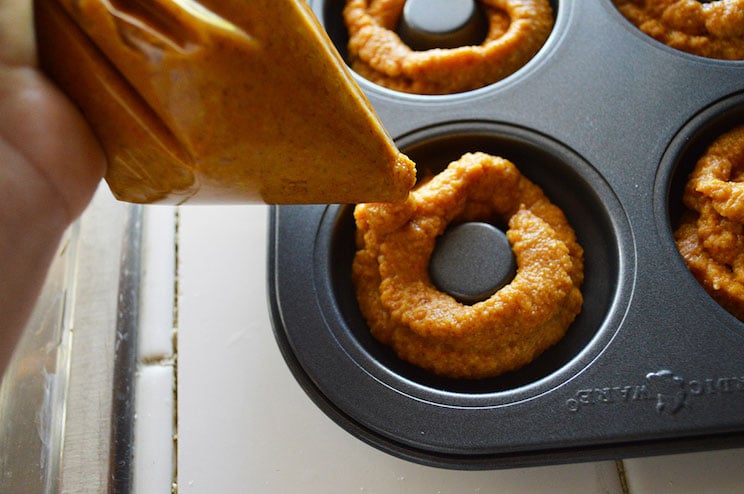 The final touches include a dusting with coconut sugar and more pumpkin pie spice. If done while the donuts are still warm, the spiced coconut sugar will melt into the donut's nooks and crannies, producing a de facto glaze that will leave your fingers sticky and your stomach happy. If you wait for the donuts to cool, you'll prove both a master of patience and be able to recreate that classic sugar-dusted donut taste and texture. Either way, you end up with a delicious pumpkin spiced donut. Do whatever feels right.
These are best enjoyed with a steaming cup of coconut cream chai tea, and if you're really feeling the pumpkin spice season, try it with a Paleo pumpkin spiced chai tea latte.
Courtney Hamilton
Paleo Pumpkin Spice Donuts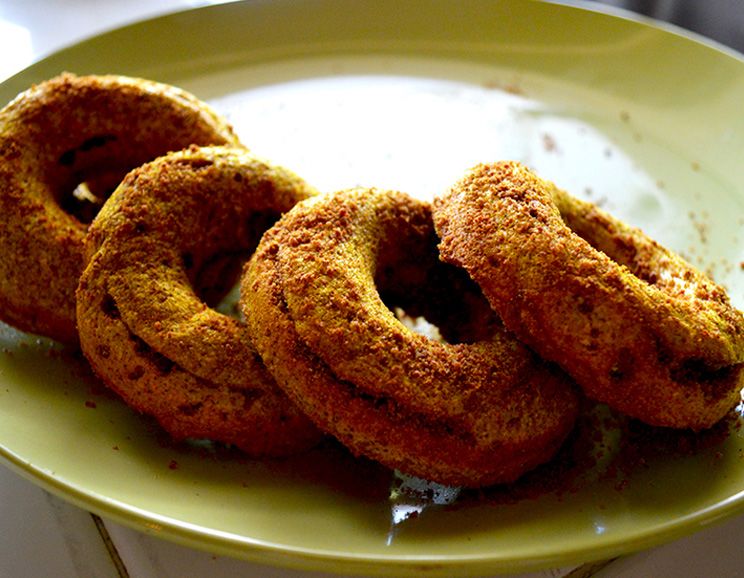 Cook Time:
25 mins
25 minutes
Prep Time:
10 mins
10 minutes
Paleo Pumpkin Spice Donuts
Dunk these donuts into your morning coffee for an autumn treat you can enjoy anytime of the year!
Tools
Mixing Bowl

Whisk

Plastic Bag

Donut Pan
Ingredients
3 eggs

½ cup pumpkin puree (canned or fresh)

2 T coconut oil, melted

¼ cup unsweetened almond milk

1/3 cup maple syrup

¼ cup coconut flour

¼ cup tapioca flour

3 t pumpkin pie spice, divided

½ t salt

¼ cup coconut sugar
Instructions
Preheat oven to 350°F

In a mixing bowl, whisk together eggs, pumpkin, coconut oil, almond milk and syrup

Whisk in coconut flour, tapioca flour, 2 tsp pumpkin pie spice, and salt.

Scoop mixture into a plastic bag and cut off edge for piping. Pipe mixture into donut pan. (You can scoop mixture directly into donut pan, too, but piping makes for nicely shaped donuts).

Bake donuts for 25 minutes. Allow donuts to cool, then roll in a mixture of coconut sugar and 1 tsp pumpkin pie spice. Enjoy!
Looking for Paleo ingredients? Here's what we recommend:
Cold Pressed Coconut Oil (Viva Naturals)
Maple Syrup (Hidden Springs Maple)
Coconut Flour (Nutiva)
Tapioca Flour (Authentic Foods)
Coconut Sugar (Wholesome)

(You'll Also Love: Chocolate Paleo Donuts)