Make these irresistible Maple Bacon Wings for the ultimate game day appetizer – no frying necessary!
Bacon wrapped and maple glazed, these protein-packed wings are made with six wholesome ingredients. Sticky, sweet, and smokey, they satisfy any hungry crowd and are the ultimate easy-prep snack. Since the oven does most of the work for you, this recipe is ready for munching in less than an hour!
Traditional wings are usually coated in wheat flour and deep fried in unrefined oils. Thankfully, these wings skip the harmful ingredients and go straight for gluten-free and oven-baked alternatives. Best part is, no one will even notice the difference!
Want to go Paleo? Not sure where to start?
Start with this FREE Paleo For Beginners Guide Today!
Crisp bacon wraps around each wing to create a crunchy bite that begs to be baked and basted in a sticky maple glaze. It produces a candied smokey flavor that is irresistible, with an extra dose of protein. As with all Paleo meats, try to opt for pasture-raised bacon and chicken for optimally sourced ingredients.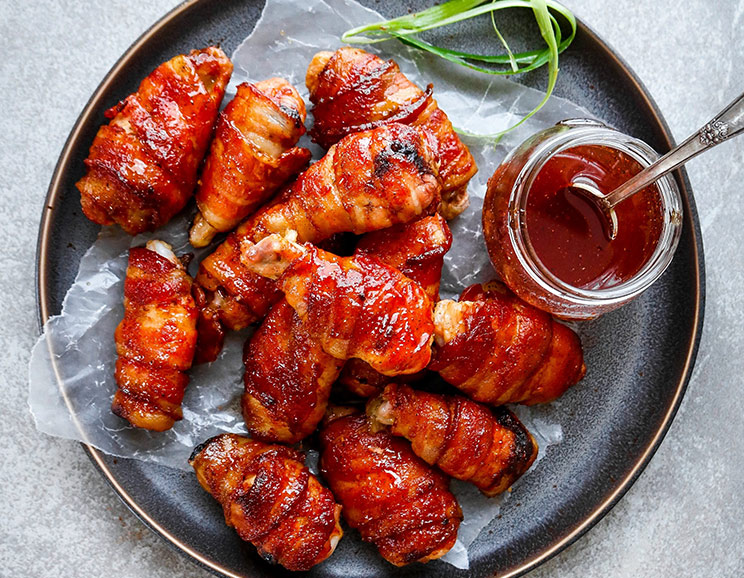 The sweet glaze is a mixture of maple syrup, tomato paste, smoked paprika, and pepper. Tomato paste is a rich source of antioxidants and can help protect against cancer. (1) Since the bacon adds enough salt as is, there's no need to add any extra to the glaze. Use the glaze to baste pork chops, chicken kebabs, and salmon for other grilling recipes.
To get started, wrap each wing with a strip of bacon. Overlap the bacon slightly and place onto a wire cooling rack, seam side down. Set the cooling rack with the chicken on top of the baking sheet. The wire rack will help circulate the air and evenly cook the bacon while allowing the excess fat to drip off.
Next, bake the wings for 20 minutes and then baste with the maple glaze. Return the wings back to the oven for 25 minutes. Let the wings cool and crisp for five minutes while the glaze sets. Serve them right out of the oven to enjoy a crispy juicy flavor.
Jennafer Ashley
Maple Bacon-Wrapped Wings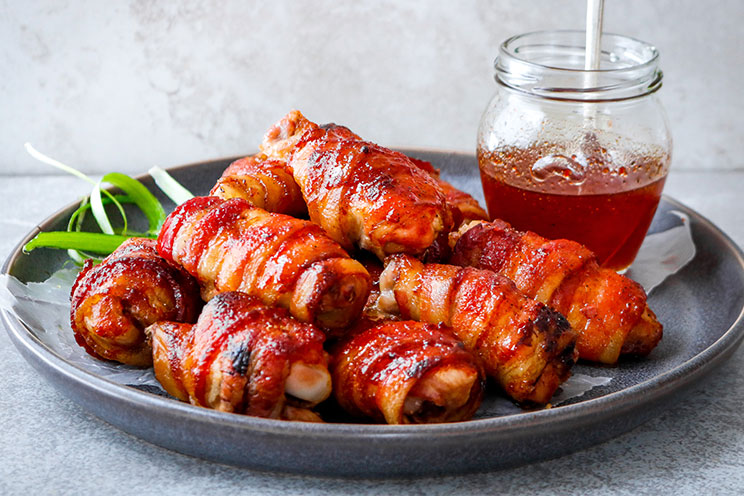 Cook Time:
45 mins
45 minutes
Prep Time:
10 mins
10 minutes
Maple Bacon-Wrapped Wings
Make these irresistible Maple Bacon Wings for the ultimate game day appetizer - no frying necessary.
Tools
16-inch baking pan

Parchment paper

Wire cooking rack
Ingredients
2 lbs. chicken wings

14-16 slices thick-cut bacon

1/3 cup maple syrup

1 T tomato paste

1/2 t smoked paprika

1/8 t black pepper
Instructions
Preheat the oven to 400ºF and line a baking pan with parchment paper, then place a wire cooling rack on top.

Snugly wrap each chicken wing in one strip of bacon, overlapping slightly. Place the wrapped wing onto the prepared baking sheet with the seam side down. Bake for 20 minutes.

While the wings bake, create the glaze by stirring together the maple syrup, tomato paste, smoked paprika, and black pepper in a small bowl.

Carefully remove the wings from the oven and baste with the glaze. Return to the oven for an additional 20-25 minutes.

Allow the wings to cool for five minutes at room temperature before enjoying.

For more bacon-wrapped game day appetizers try one of these Paleo recipes…