With a maple-brushed, crispy bacon lattice "crust," this breakfast pie is the ultimate Paleo brunch treat. Plop it down on the table and watch your brunch buddies – Paleo and non-Paleo alike – express their awe.
We've worked bacon into both the egg and vegetable-laden pie filling and, of course, the lattice-weaved crust. While the bacon lattice may seem complicated, it's fairly simple as long as you're not afraid to get your hands, well, bacon-y. Bonus: Once you've mastered bacon weaving, you can take up actual weaving!
Speaking of bacon, don't skimp on quality, as it is the star of the dish. Opt for preservative-, nitrate- and nitrite-free bacon. Thick-cut bacon will hold up better than thin, flimsy pieces.
Love Paleo Breakfasts? Then you'll love our FREE Paleo Breakfast Recipes.
Click here to get your FREE copy of our delicious Breakfast Recipes!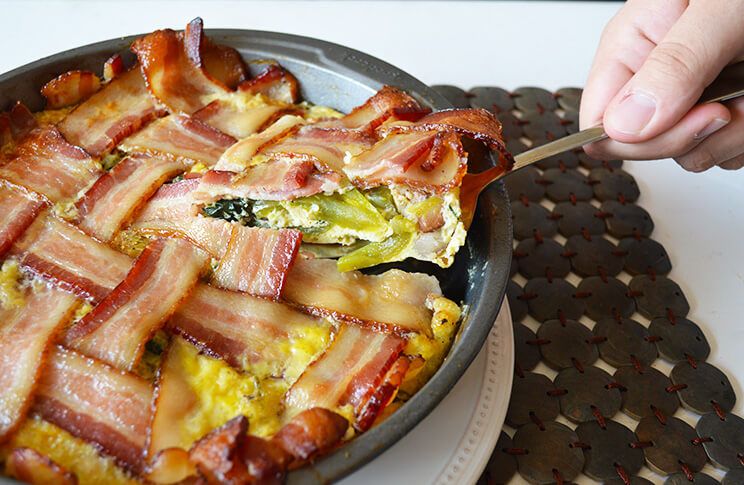 While this pie is indulgent, it's chock-full of nutritious vegetables. We've opted for veggies that pair well with the rich bacon flavor – like rustic Tuscan kale and mushrooms – but this breakfast pie is a great way to use up any extra vegetables in the fridge. Try cherry tomatoes for an extra zing or even sweet potatoes grated into hash brown-like thinness.
The quick brush of maple syrup gives the crust an extra layer of subtly-sweet richness, and when paired with the thyme-flavored pie filling, makes for an unexpectedly sophisticated flavor in each bite. In short, it's heavenly.
Perhaps the greatest thing about this pie is its deceptive simplicity. A handful of ingredients come together to make something you'd find at a restaurant-worthy brunch spread. Once you've assembled the crust, the oven does most the work. Why bother with the long waits and major mark-ups of going out when you've got this delectable meal in your arsenal?
Courtney Hamilton
Maple Bacon Breakfast Pie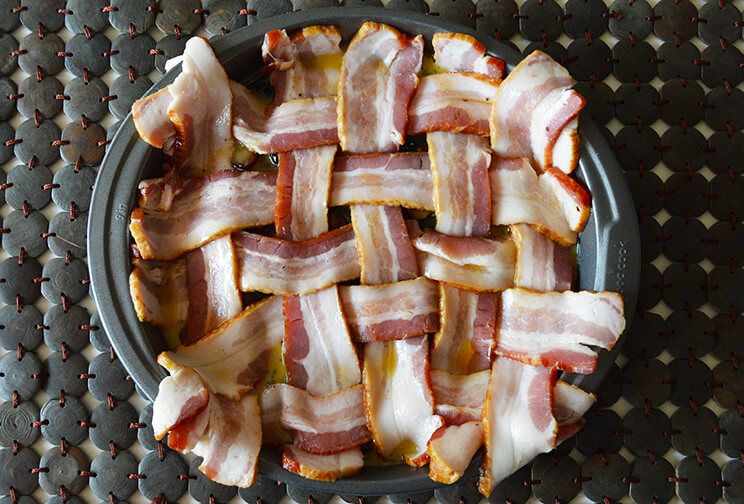 Cook Time:
55 mins
55 minutes
Prep Time:
15 mins
15 minutes
Nutrition facts:
41 grams of protein
9 grams of carbohydrates
39 grams of fat
Maple Bacon Breakfast Pie
With a maple-brushed, crispy bacon lattice "crust," this breakfast pie is the ultimate Paleo brunch treat.
Ingredients
10 pieces bacon + ½ cup chopped bacon

2 cups Tuscan kale

½ cup sliced mushrooms

1 green bell pepper, sliced

1 sprig thyme

5 eggs

1 T maple syrup

Salt and pepper, to taste

Coconut oil for greasing pie pan
Instructions
Preheat oven to 350°F. In a pan, sauté ½ cup bacon, kale, mushrooms, bell pepper, and thyme over medium heat for about 15 minutes, or until bacon is crisp and vegetables tender.

Beat 5 eggs. Season with salt and pepper to taste. Spread vegetable mixture in a 9-inch pan greased with coconut oil, then add eggs to fill in the cracks.

Form bacon lattice over the top. To start, lay 4 slices of bacon horizontally. Then weave in the other 6 pieces in an under-over pattern, alternating with under or over with each piece. Brush pieces with maple syrup.

Place pie pan on baking dish to catch any bacon drippings. Bake for 30 to 40 minutes, until egg is solid and bacon crisp. Skim any excess grease off the top before serving.

(You'll Also Love: Bacon Weave Fried Egg Sandwich)