Fall in love with your favorite carnival classic and indulge in these Paleo-approved Funnel Cake Dippers.
Nothing makes us nostalgic for fair rides and oversized stuffed animals quite like this fan-favorite funnel cake. Amusement parks and summertime festivals just wouldn't be complete without them.
The problem is they contain a large amount of unnecessary refined sugar that can wreck havoc to your health. However, this Paleo version is a decadent dessert you can enjoy any time you have a sweet-tooth craving!
Love Paleo Desserts? Then you'll love our FREE Paleo Dessert Cookbook.
Click here to get your FREE copy of our delicious Dessert Recipes!
Funnel cakes are known for their doughy texture and light crunchiness. It's traditionally made with all-purpose wheat flour, but tapioca starch is a healthier alternative. Not only is it Paleo-friendly, but it also has a light consistency. Plus, the starch is very cost-effective and nice to have on-hand for baking or thickening sauces.
In this recipe, you'll notice the funnel cakes are in the form of sticks or "dippers" (as we call them). This is different from the layers of intertwined dough, found in traditional funnel cakes, since it makes it easier to pick up and snack on. It also makes them the perfect size for dipping into a naturally sweet side of coconut cream sauce.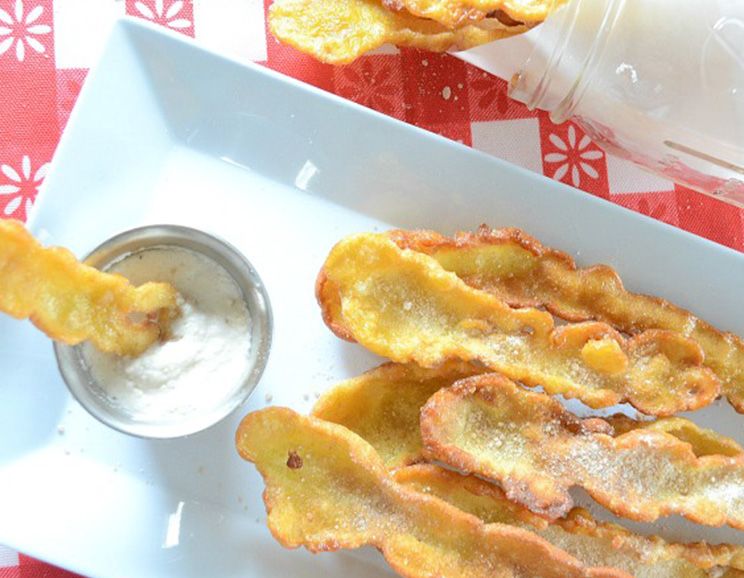 Whipping up the coconut dipping sauce is simple to make and requires minimal effort to prep. Simply grab a can of full-fat coconut milk, let it refrigerate overnight, and the creamy fat portion will separate from the liquid on its own.Then, scoop out the cream and whip it with coconut sugar for an effortless sauce that pairs nicely alongside the funnel cake dippers.
Frying these beauties can be a bit intimidating at first, but if this is your first time experimenting with hot oil don't be afraid of a little splatter. The best advice is to move slowly and work in batches of no more than two or three at a time. Be sure to have a good grip on the batter bag and only let out small amounts at a time.
Once you get going, it's a piece of (funnel) cake.
Jennafer Ashley
Funnel Cake Dippers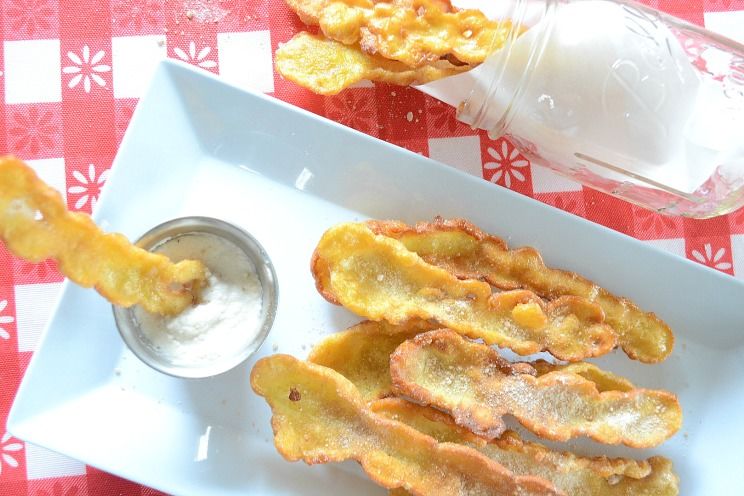 Cook Time:
15 mins
15 minutes
Prep Time:
20 mins
20 minutes
Funnel Cake Dippers
In the mood for a classic carnival treat? Try these naturally sweet Funnel Cake Dippers made out of tapioca flour, honey, and a coconut dipping sauce.
Tools
Hand Mixer

2 Mixing Bowls

Medium Baking Pan

Ziplock Bag

Scissors
Ingredients
For the Coconut Dipping Sauce:
1 can full-fat coconut milk

2 tbsp coconut sugar
For the Sugar Topping:
1 T coconut sugar

1 t tapioca starch
For the Funnel Cakes:
2 cups + 2 T avocado oil

1 cup + 1 t tapioca flour

2 eggs

2 T honey
Instructions
To Make the Coconut Dipping Sauce: Place can of coconut milk in refrigerator overnight. Open can and spoon out the solid fat portion into a mixing bowl. Discard the liquid portion. Add 2 tbsp coconut sugar. Using a hand mixer, beat until thick and sugar is dissolved. Place in refrigerator.
To Make the Sugar Topping: Combine 1 tablespoon coconut sugar and 1 teaspoon tapioca starch in a small bowl. Set aside.
To Make the Funnel Cakes: Heat avocado oil in a medium baking pan over medium/high heat. Oil should be lightly shimmering.

Combine tapioca flour, eggs, honey, and 2 tablespoons avocado oil in a mixing bowl. Stir to form batter.

Pour batter into a sandwich bag and snip one corner with scissors, about 1/3 inch wide.

Gently squeeze bag over oil in lines going up and down to form funnel cake dippers. Allow to brown 1 minute, then flip and cook the other side 1 minute.

Remove from oil with a slotted wood spoon and place on a paper towel-lined plate.

Sprinkle with sugar topping and serve with dipping sauce.
Looking for Paleo ingredients? Here are a few we'd recommend:
Tapioca Flour (Authentic Foods)
Raw Honey (Bee Farms)
Avocado Oil (Primal Kitchen)
Coconut milk (Native Forest)
Coconut Sugar (Wholesome)

(You'll Also Love: Sweet Potato Churros Dipped in Dark Chocolate
)