Highlight the bright flavor of kiwi with this fresh Paleo Upside-Down Cake!
This upside-down cake is like no other! Sweetened with bananas and accented with creamy cashew butter, this cake is reminiscent of banana bread with a burst of fresh kiwis on top.
Kiwis have a fresh, tart flavor, and their little seeds add a crunchy texture that's distinct from any other fruit. However, they can be tricky to peel! Instead of using a peeler, you can slice off the ends, then place a spoon between the flesh and the kiwi. Make a circular motion with the spoon around the flesh to remove the kiwi in one piece from the flesh. Then all you need to do is slice!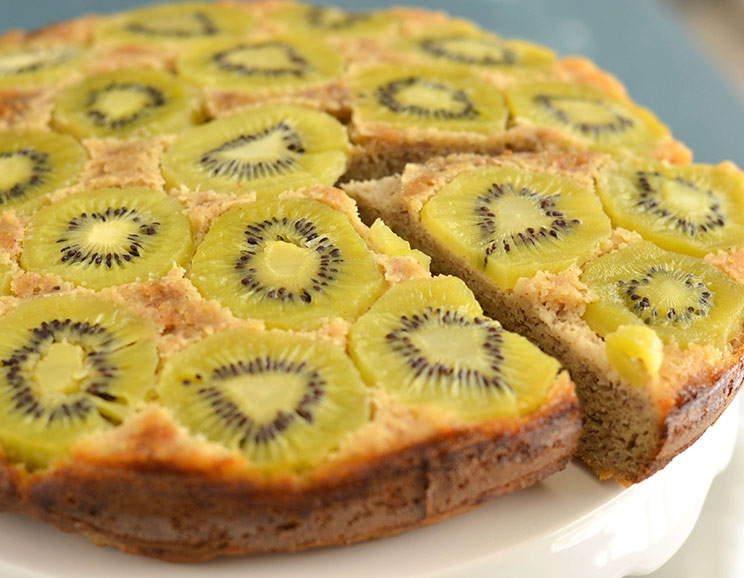 To make the kiwi upside-down cake, you'll mix a dry mixture of coconut flour and cinnamon into a wet mixture of cashew butter, coconut sugar and eggs. You can substitute other Paleo-friendly nut butters for the cashews – just make sure it's creamy and made from raw nuts. The creaminess of the nut butter is what gives the cake a smooth and velvety texture! Bake the cake until slightly browned, then let it cool at least 30 minutes before flipping it onto a wire rack.
Love Paleo Desserts?
Get our FREE Paleo Dessert Cookbook here!
This kiwi upside-down cake is best served warmed with a little homemade coconut yogurt or coconut ice cream on top. Enjoy as a healthy dessert, or make for your next brunch gathering!
Megan Olson
Paleo Upside Down Kiwi Cake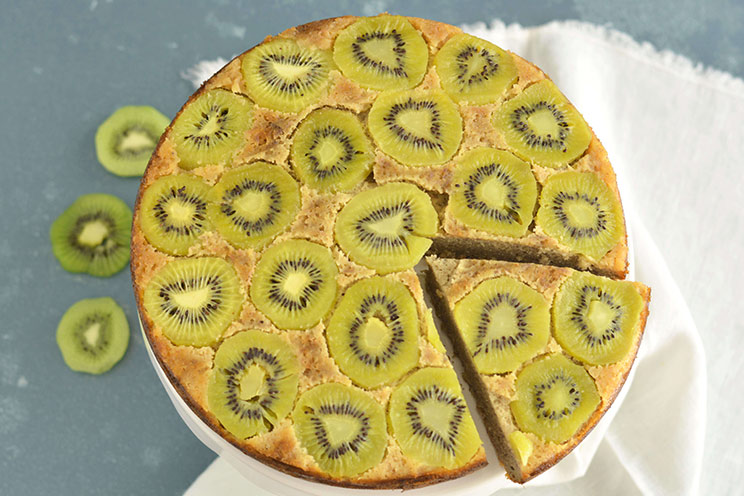 Cook Time:
30 mins
30 minutes
Prep Time:
20 mins
20 minutes
Paleo Upside Down Kiwi Cake
Highlight the bright flavor of kiwi with this fresh Paleo Upside-Down Cake!
Tools
9-inch springform pan

Standing mixer

Small mixing bowl

Parchment paper
Ingredients
2 T honey

3 kiwis, sliced

3 medium bananas, slightly browned

1/3 cup cashew butter

2 T coconut sugar

3 t melted coconut oil

1 t vanilla extract

3 large eggs

½ cup coconut flour

½ t cinnamon

½ t baking soda

½ t baking powder

¼ t salt
Instructions
Preheat oven to 350°F. Line the bottom of a 9-inch springform pan with parchment paper.

Drizzle the honey on the bottom of the pan, then arrange sliced kiwis in a single layer to cover.

Mix bananas, cashew butter, sugar, coconut oil, vanilla extract and eggs in a standing mixer until smooth.

In a small bowl, sift together the coconut flour, cinnamon, baking soda, baking powder and salt.

Add the flour mixture to the liquid mixture and combine until thick, but slightly runny. Pour the mixture over the kiwis.

Bake 25-30 minutes or until slightly browned and a toothpick comes out clean.

Let the cake cool 10 minutes before removing the springform. Cool another 20 minutes before carefully flipping the cake over a wire rack or cake stand.
Looking for Paleo ingredients? Here are a few we'd recommend:
Raw honey (Bee Farms)
Cold pressed coconut oil (Viva Naturals)
Coconut flour (Nutiva)

(You'll Also Love: Strawberry Butter Cake with a No-Grain Crust)