Get ready for a light and fluffy treat you can't resist! This Paleo Mango Cake is the ultimate hack if you're looking to satisfy your sweet tooth.
Combining fresh chopped mangoes with energy-boosting maca powder, this recipe has all the flavor with no added sugars. Great health benefits are also included. You'll find plenty of fiber packed into the maca powder and mangoes do wonders for your digestive system. It's a great way to stay regular and eat fit. Plus, the sweet tart taste of fluffy cake and honey is always a win for your tastebuds.
Love Paleo Desserts? Then you'll love our FREE Paleo Dessert Cookbook. Click here to get it!
Serve it for dessert or snack on it for breakfast, this cake has no boundaries when it comes to calming cravings. You can also pair it with fresh berries or or coconut shavings for extra flavor.
PaleoHacks Team
Paleo Mango Cake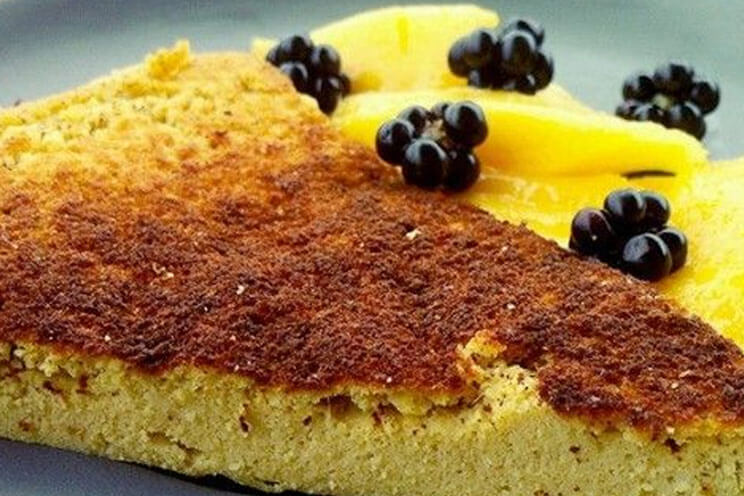 Cook Time:
25 mins
25 minutes
Prep Time:
7 mins
7 minutes
Paleo Mango Cake
Check out this Paleo mango cake! It's simple, easy to make, and satisfies any sweet tooth.
Tools
Cake Tin

Baking Paper

Hand Mixer
Ingredients
4 heaped tablespoons coconut flour

1 1/2 cups chopped mango

1 1/2 tablespoons maca powder

10 eggs

2 tablespoons honey
Instructions
Preheat a fan-forced oven to 350° degrees Fahrenheit and line a round cake tin with baking paper.

Puree the chopped mango until smooth.

Place all ingredients into a bowl and use an electric hand mixer to combine until a smooth cake batter forms.

Pour the cake batter into the cake tin and place into the oven for 20-30 minutes, or until browned on top and cooked. Test by inserting a knife into the middle of the cake, if it comes out clean the cake is cooked.

Serve.
(You'll Also Love: Coconut Mango Sorbet)