Got a donut craving? Bite into these Paleo carrot cake donuts with a decadent coconut cream frosting!
These lightly sweetened donuts are a carrot cake lover's dream! They're made from an almond and coconut flour base, which lends the same thick, satisfying texture you expect from a classic donut. Grain-free, and full of protein and healthy fat, these donuts are a healthy way to satisfy a sweet morning craving!
These donuts are sweetened with raisins and a small amount of honey (though you can add a little more honey, if you like!). The raisins are pre-soaked in lukewarm water beforehand, and this is done for two reasons. First, soaking the raisins lowers its sugar content, and secondly, it softens the raisins so they aren't too heavy for the batter. This is very important! This allows the donuts to rise without weighing them down.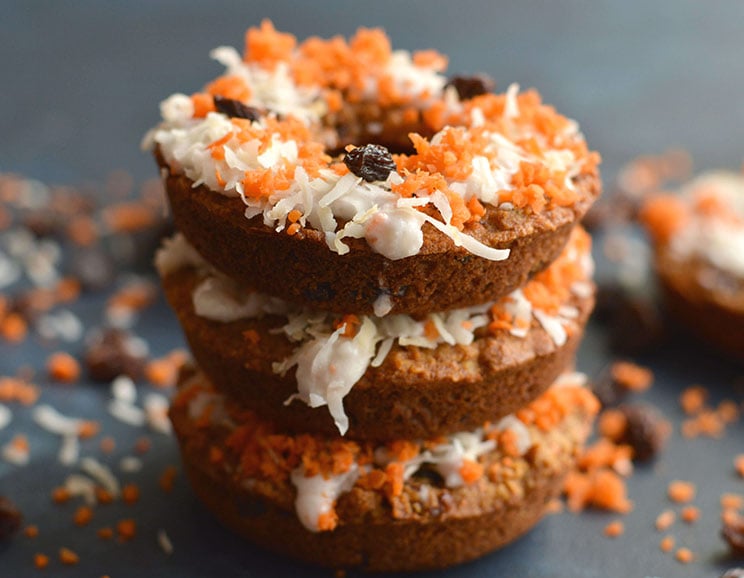 These donuts are delicious enough to eat without frosting, but we recommend it – all you need is four ingredients and a blender. Be sure you're using only the cream part of the coconut cream, and not the liquid portion. Chilling the coconut cream, in the can, in the refrigerator, several hours before blending will help thicken it when blended.
Love Coconut Flour Recipes?
Get our FREE Coconut Flour Recipe Cookbook here!
If you're prepping your donuts ahead of time, store the frosting and donuts in the refrigerator in separate containers for maximum freshness. When you're ready to indulge, spread on the frosting and sprinkle with raisins and shredded coconut.
Enjoy these carrot cake donuts for breakfast, or an anytime snack. They're perfect for a weekend brunch too!
Megan Olson
Carrot Cake Donuts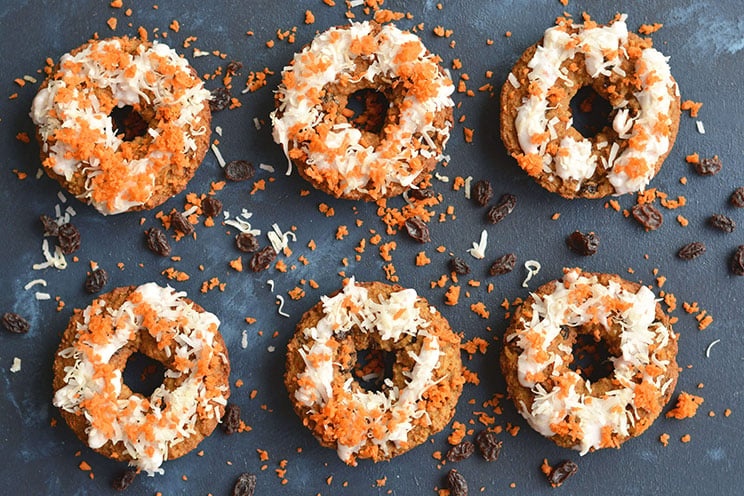 Cook Time:
15 mins
15 minutes
Prep Time:
15 mins
15 minutes
Carrot Cake Donuts
Got a donut craving? Bite into these Paleo carrot cake donuts with a decadent coconut cream frosting!
Tools
Donut pan

Small bowl

2 large bowls

Whisk

Baking rack
Ingredients
For the Donuts
½ cup raisins, plus more for garnish

2 large eggs

1 T honey

¼ cup melted coconut oil

½ cup carrots, grated

1 cup almond flour

2 T coconut flour

¼ cup unsweetened shredded coconut flakes, plus more for garnish

½ t baking soda

½ t cinnamon

½ t ginger

¼ t salt
For the Frosting
½ cup coconut cream, liquid omitted

2 T carrots, grated

1 T honey

1 T lemon juice
Instructions
Preheat the oven to 350 °F. Grease the donut pan lightly with coconut oil.

Add the raisins to a small bowl with lukewarm water. Set aside to soak for 10 minutes in the bowl.

Whisk eggs, honey, coconut oil and carrots together in large bowl.

In a separate bowl, sift together the almond flour, coconut flour, shredded coconut, baking soda, cinnamon, ginger and salt.

Drain the water from the raisins then add to the egg mixture.

Mix wet and dry ingredients until just incorporated. Do not overmix.

Spoon the batter evenly into the donut cavities and bake for 15 minutes or until golden brown.

While the donuts bake, prepare the frosting by combining the coconut cream, grated carrots, honey and lemon juice together in a food processor or blender. Place in the refrigerator.

Once the donuts are done baking, remove from the oven and cool in the pan 5 minutes before flipping the pan over a baking rack. Cool donuts to room temperature.

Spoon the frosting over the donuts, then top with extra raisins and shredded coconut!
Looking for Paleo ingredients? Here are a few we'd recommend:
Raw Honey (Bee Farms)
Cold pressed coconut oil (Viva Naturals)
Almond flour (Bob's Red Mill)
Coconut flour (Nutiva)
Coconut cream (Native Forest)

(You'll Also Love: 15 Ways to Make Gluten-Free Homemade Donuts)