The health industry praises insects as the next big food trend. But are insects really as healthy as a lean cut of steak? Are you likely to see fried crickets sold next to chips any time soon?
For many of us in North America or Europe, the idea of eating insects sounds about as appealing as a root canal. It's something you might try as a novelty while on vacation abroad or on a dare with friends. But casually eating a grasshopper burger? Now, that's another story.
Cultural norms that go back centuries keep us from even considering insects as a food option at all. As a result, it's easy for us to look past the 2 billion people who make entomophagy (eating insects) a regular part of their lifestyle (1). [tweet_quote] Cultural norms keep us from eating insects, but norms do change. We already eat lobster and crab![/tweet_quote]
Yet these cultural norms can – and do – change. Consider the fact that many of us already love lobster or king crab. Some of us even consider them their favorite foods. We might not be aware that they are arthropods, a phylum of invertebrate animals that also includes crickets, caterpillars, and even tarantulas.
Well into the 1850s United States, lobster was fed to servants and prisoners. Even just having lobster shells in your home was considered a sign of poverty. It wasn't until a hundred years later, during World War II and as railways began to spread across America, that lobster gained popularity as a food item. Chefs began to realize that lobster tasted much better when cooked live, as opposed to killing it and cooking it later. Market prices rose, and lobster soon became a gourmet dish found in top restaurants (2). Sushi went through a similar experience. It took the invention of the California roll in the 1970s to ease Americans into this unique food (3). And now, with us forking over big bucks for sashimi, the rest is history.
The same cultural shift can happen with insects as well. What if we gave insects a fair shot and figured out they weren't just okay, but we really liked them? A few brave entrepreneurs are leading the way.
---
An Emerging Industry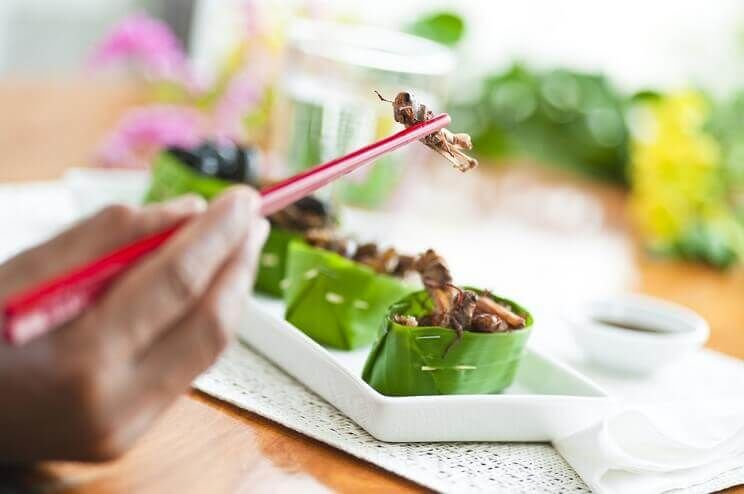 The market conditions are ripe for an insect food revolution, and a few entrepreneurs are doing their best to take advantage.
Insect-based products and flours are making their way into health and fitness communities. This idea resonates with Paleos as well, who recognize insects' significant role in our ancestral diet and development.
In North America and Europe, the insect-as-food market is still small, but it's growing. Big names like Tim Ferriss and Mark Sisson have made investments in companies like Exo, which makes protein bars with cricket flour. If you've been to the airport lately, you might have seen Exo bars or Chirps (tortilla chips made from cricket flour), which are carried by the CIBO Express chain of convenience stores (4). [tweet_quote] Commercial insect farms are already in operation to supply insect-based flours and powders.[/tweet_quote]
There are also commercial farming operations popping up across the U.S. and Canada to supply insect-based flours, powders, and other products. Two notable ones are Aspire Food Group (Austin, Texas) and Entomo Farms (Ontario, Canada).
Savvy entrepreneurs recognize that the idea of chowing down on a plate of fried cicada may be too far of a jump for most Americans. That's why they've tended to focus on energy bars, snack foods, granola, flours and powders. These products incorporate insects without the visual impression or texture of say, picking up a whole roasted cricket and chowing down.
Gourmet chefs have also taken an interest in insects and are creating unique dishes to introduce fine diners to these foods. Danish restaurant Noma, often regarded as the best restaurant in the world, has served up fermented cricket soy sauce, ant-infused gin cocktails, and a lot more (5). They even received a grant from the Danish government to explore gourmet entomophagy (6).
---
Benefits of Eating Insects
Remember when I mentioned how market conditions are ripe for an increased interest in eating insects? Their appeal comes primarily from three factors.
1. Solid Nutrition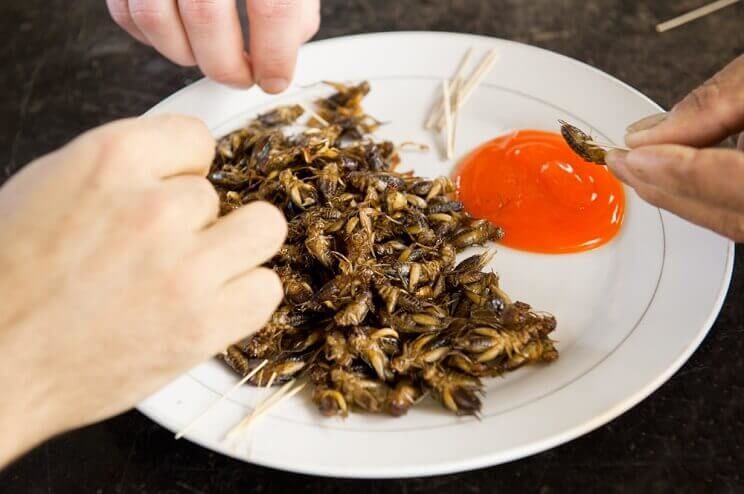 As our knowledge of nutrition and how it affects our health increases, insects reveal themselves to be a surprising source of key nutrients.
The United Nations has identified over 1,900 edible insect species (7). Each one has a different nutritional profile, but common themes are high protein and vitamin and mineral content. Some species, like wax moths and mealworms, are also a good source of healthy fats (8).
I'll focus on crickets because those are the most likely to be found in the insect-based products available in Western countries today. Cricket farming is the most economical for farmers, as they're able to consistently raise more of them in a given space than they could with other insects. They're actually supposed to taste pretty good too. Most people report a mild, nutty flavor.
Just 100 grams of crickets contain:
12.9 grams of protein
5.5 grams of fat
5.1 grams of carbohydrates
76 milligrams of calcium (13 percent of daily value)
10 milligrams of iron (20 percent of daily value) (9)
Not bad at all! A study comparing the bioavailability of minerals of four commonly-eaten insects (including crickets) with sirloin beef found the nutrients highly bioavailable (10). [tweet_quote] Crickets are a great source of protein, calcium and iron.[/tweet_quote]
This solid nutrient profile has led manufacturers to market cricket flour, protein powder, and cricket-based energy bars, granola, and other snacks. It can be a good alternative to soy and whey protein, both of which have their issues. And, because both soy and whey are isolated forms of protein, manufacturers typically add sweeteners and other artificial ingredients for flavor. This isn't the case with cricket powder, as it's just ground-up crickets.
Cricket flour is also an interesting (and gluten-free) option for baking. There are recipes online for anything from pancakes and cookies to cupcakes and pizza.
2. Environmental Sustainability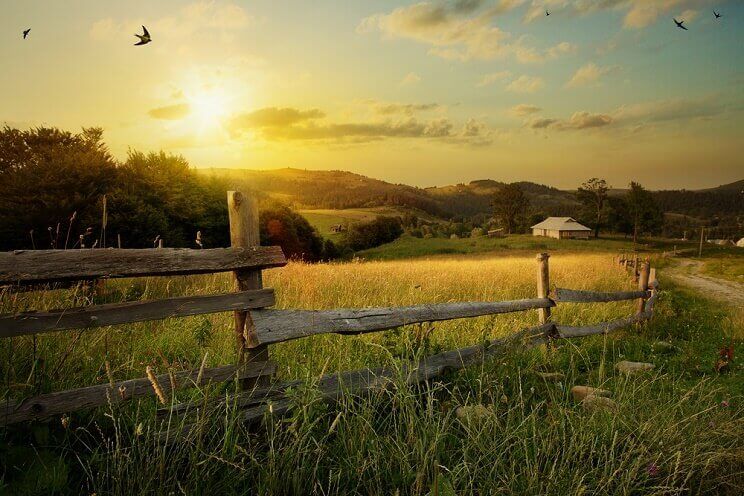 One of insects' strongest selling points is sustainability. As we continue to add about 70 million people to the earth's population every year, we're projected to hit over 9 billion people by 2050 (11). The pressure to produce enough food for all of these people will be enormous. Commercially-raised insects could provide a sustainable, affordable protein source.
The oceans are already overfished, and much of our available land is dedicated to raising livestock. Livestock create a huge demand for space, and with a skyrocketing global population, beef prices rose 53 percent between 2006 and 2016 percent and will probably keep going up into the future (12). [tweet_quote] Oceans are overfished and livestock emissions effect climate change. Insect consumption is sustainable! [/tweet_quote]
Livestock emissions like methane and ammonia throw another wrench into the problem. Pound for pound, methane has been shown to have a climate change effect 25 times stronger than carbon dioxide over a 100-year period (13).
Insects are attractive here for a lot of reasons:
Less space. Imagine just how many crickets you could raise on a piece of property the size of a cattle ranch! Entrepreneurs are still in the early stages of tweaking the perfect temperatures, feed, and environmental conditions for the densest population, but the results so far have been extremely promising. Farmers can also use vertical farming to maximize their yield.
Less water and feed. It takes about 3,300 liters of water to produce 150 grams of beef, but practically none to produce the same amount of grasshopper protein (14). It takes only two kilograms of feed to produce one kilogram of insect protein, but eight kilograms of feed to produce the same amount of beef (15).
Less emissions. Insects emit only a fraction of greenhouse gasses as other livestock. One study found pigs produced between eight and 12 times as much ammonia per kilogram as crickets, and up to 50 times more than locusts (16). They can even eat organic waste, which is good for the environment.
Faster production and reproduction. It only takes crickets about 6 to 8 weeks to reach maturity and be ready for harvest. During their short lifetimes, female crickets are able to lay around 1,500 eggs! That means farmers are able to produce much more food in the same amount of space than other types of livestock, which take much longer to mature and reproduce.
3. A Paleo-Friendly Option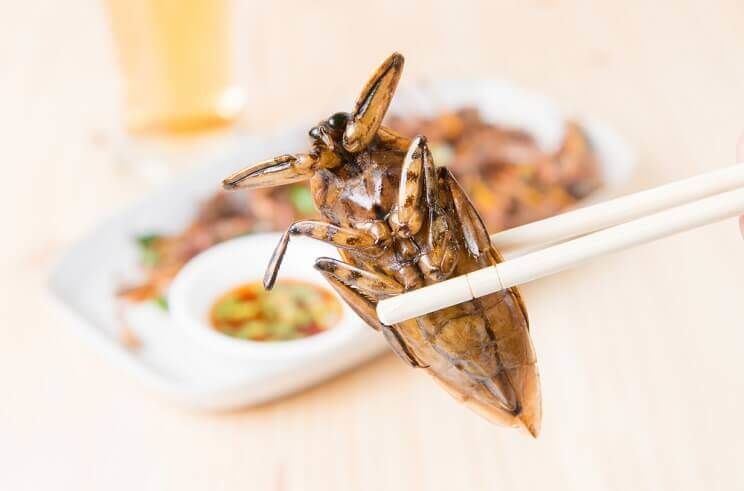 Before the agricultural revolution, the idea of having such massive availability of protein was unthinkable. Successful hunts were few and far between. In the meantime, our Paleo ancestors made due with whatever they could scavenge: fruits, vegetables, seeds and nuts, and of course insects.
Insects played a big role to ensure we got enough protein between successful hunts. A review of hunter-gatherer diets published in the journal Evolutionary Anthropology found that invertebrates accounted for up to 20 percent of the total caloric intake in some traditional cultures (17).
So are insects Paleo? Absolutely. Raised with organic feed and in healthy conditions, they're one of the least-processed animal products around. As of now, we don't have to worry about antibiotics or growth hormones like we do with factory farming of livestock.
---
Where Do We Go From Here?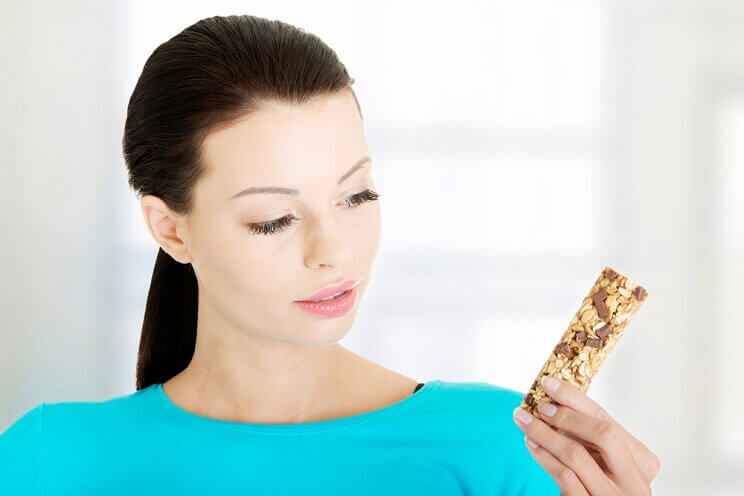 Insects have good things going for them as a food source, but there's a major obstacle pro-insect companies stumble over: they try to frame the issue as a head-to-head comparison with other animal products.
Here's what I mean. While crickets have a comparable nutritional profile as beef, we're not talking about a simple substitution. We aren't just swapping a beef burger for a cricket burger. The idea of eating insects that haven't been ground into flour or powder (or made into bars, snacks, or other products) is a huge leap from not eating them at all. [tweet_quote] We can start introducing insects into our diet through protein bars or snacks.[/tweet_quote]
That's why some of the comparison can seem a bit misleading. We aren't just going to run out and replace all the meat and fish we eat with insects. Nor should we. Both forms of protein have their own set of unique nutritional profiles that we can benefit from. Expanding our palates to include insects is a way of adding variety to our diet, not switching one form of protein for another.
Companies that tout insects as a replacement for chicken or beef are getting ahead of themselves. They'll get more traction by emphasizing what insect-based products can do well now: serve as a healthy supplement to foods or for baking. Promoting these products will help get more people on board and eventually, grabbing a pack of roasted ants on your way to the cash register may not seem so foreign.
---
Over to You
Companies in this space have a lot of work cut out for them. But if they emphasize the nutrition, sustainability, and Paleo-friendly aspects, they might be able to gradually shift western culture to become more receptive.
All in all, it's definitely an interesting trend to watch develop and, if you're daring enough, give it a shot yourself. You can always ease yourself into it with a protein bar or some granola. Cricket and almond bar, anyone?
Would you ever eat insects? Have you tried them before? What did you think? Leave a comment below and share your experience!
(Read This Next: 6 Ways to Start Eating More Dirt)