If you're the type that can't pass up an egg roll when someone's ordering Chinese takeout, then this healthy, crunchy recipe is for you.
Most Asian foods are easy to make Paleo-friendly, if they aren't already. A few, such as egg rolls, are a little harder to tweak. This recipe simplifies things while still keeping it delicious.
(You'll Also Love: Raw Pad Thai)
A crêpe like wrapper is easy to make with a few ingredients and gets fried until crisp. You'll need a good high heat oil to fry in — lard or ghee work well — and the patience to fry each egg roll individually so it holds its shape.
Want to learn more about Paleo and how it can help you? Grab our FREE "What Is Paleo?" Guide by Clicking Here!
The filling in this recipe is a fresh combination of veggies, but you can easily adapt it to include shrimp, pork, or chicken, as long as it's cooked before it goes in the egg roll. Dip the rolls in some coconut aminos, a Paleo-friendly version of soy sauce, and you've got yourself a healthy appetizer!
Amy Hunter
Paleo Egg Rolls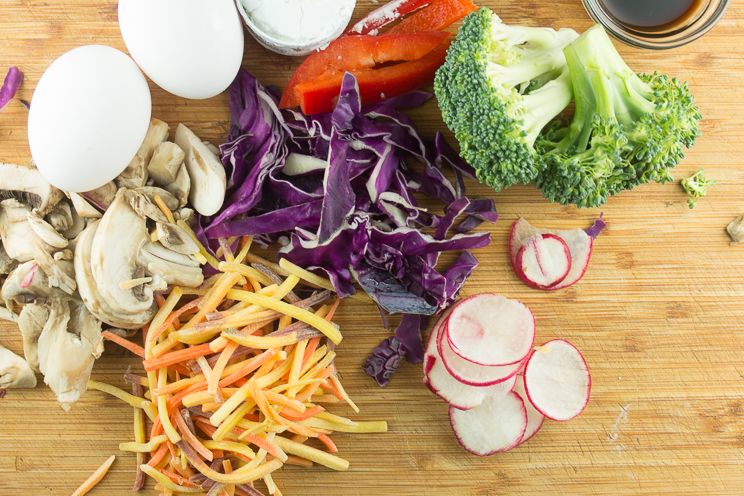 Cook Time:
20 mins
20 minutes
Prep Time:
20 mins
20 minutes
Paleo Egg Rolls
Ingredients
Wrappers:

4 eggs

1/2 cup arrowroot starch

2 T coconut oil

3 T water

1/4 t sea salt

1 T sesame oil

Filling:

2 T sesame oil

2 T chopped green onions

1 t grated ginger

1 clove garlic, minced

1 cup shredded cabbage

1 cup grated carrots

1/2 cup sliced mushrooms

1/2 cup diced red peppers

1/2 cup finely chopped broccoli

2 T coconut aminos

Ghee or lard, for frying
How To Make It:
1. Make the wrappers by putting all of the ingredients, except the sesame oil, in a blender. Blend on the lowest speed until combined.
2. Heat a nonstick skillet over medium heat and add the sesame oil. Pour the batter in the pan to form a 4 inch circle. Cook for about a minute and use a spatula to flip the wrapper. Cook for another minute and transfer to a plate. Continue cooking the rest of the wrappers. Let cool while you make the filling.
3. To make the filling, heat the sesame oil in a large skillet. Add the green onions, ginger, and garlic, and cook for about a minute. Add the rest of the vegetables and cook until very soft, stirring continuously. Turn off heat and allow to cool.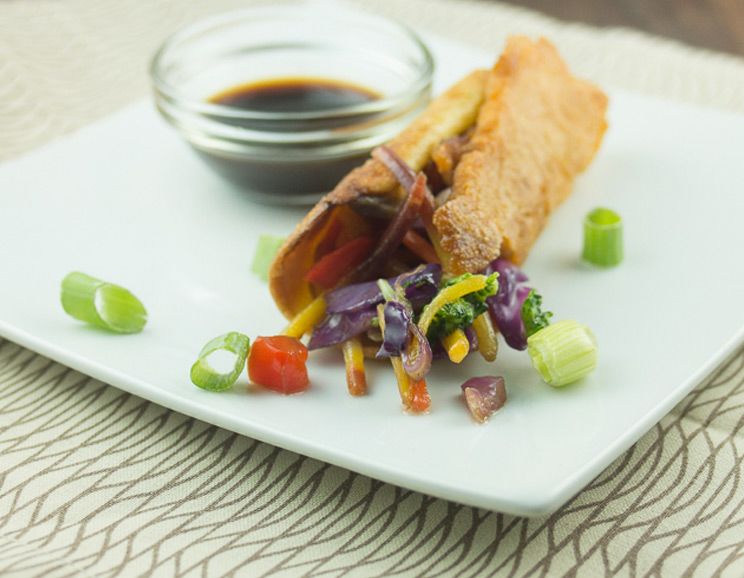 4. When ready to fry, heat a heavy skillet, such as cast iron and add enough fat to fill to an inch.
5. Lay the wrappers on a flat surface and spoon the filling in the middle. Carefully wrap the wrapper around the filling (you won't be able to wrap it completely like a traditional egg roll) and add it to the hot oil, holding it together with tongs until the wrapper is set. Carefully turn it until it is browned on all sides and transfer to a paper towel lined plate.
6. Serve with additional coconut aminos for dipping, if desired.
(You'll Also Love: Asian-Inspired Minced Beef with Coconut Aminos)