Think you don't have what it takes to make restaurant-quality sushi? We've got you covered. This Spicy Tuna Roll is not only grain-free and Paleo, but also incredibly easy to make. No fancy rolling skills required.
We've been on an Asian-inspired recipe kick of late. From Sweet Thai Salmon to Korean BBQ Pork to Shrimp Fried Rice – the possibilities are endless when it comes to transforming your favorite dishes into a Paleo-friendly meal.
For this Spicy Tuna Roll, we'll start with some nori. Nori is the paper-like, toasted seaweed used in most kinds of sushi. As we've mentioned before, seaweed has tons of health benefits including preventing signs of aging, promoting healthy hair, and detoxifying the body of heavy metals.
Want to go Paleo? Not sure where to start?
Start with this FREE Paleo For Beginners Guide Today!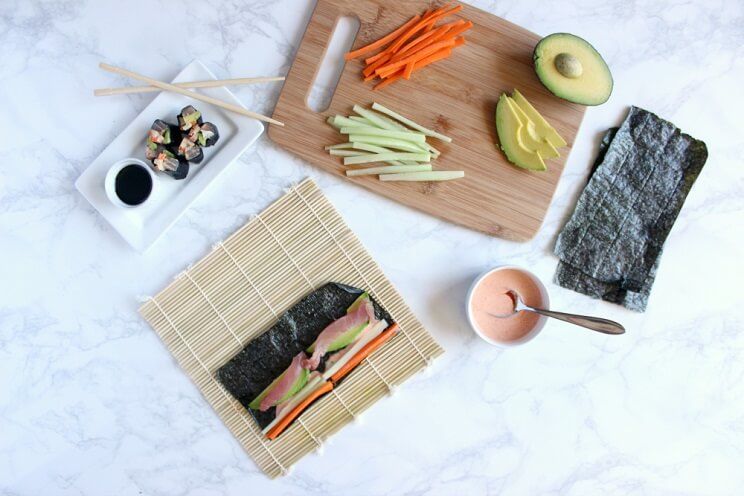 It's important to choose a sashimi-grade fish for your protein. For these, we chose a piece of sashimi-grade yellowtail for its rich and fatty texture.
To make these tasty bites Paleo, we swapped the white rice with avocado to keep these rolls nice and filling. We also added some carrot and cucumber slices, and one of my personal favorites – spicy Paleo mayo!
Of course, the tricky part of the spicy mayo is finding both a mayo AND a sriracha sauce that are Paleo. You can find healthy Paleo condiment options at most health stores or you can easily make your own. Try this Paleo mayo and honey sriracha recipe (you can omit the honey if you like it less sweet) as a quick fix.
Feel free to get creative with these Paleo sushi rolls, too. You can choose any fish (as long as it's sashimi grade!), and veggies (or even some fruit – pineapple, perhaps?), and a whole array of Paleo-friendly sauces. Just follow your taste buds!
Deanna Dorman
Grain-Free Spicy Tuna Roll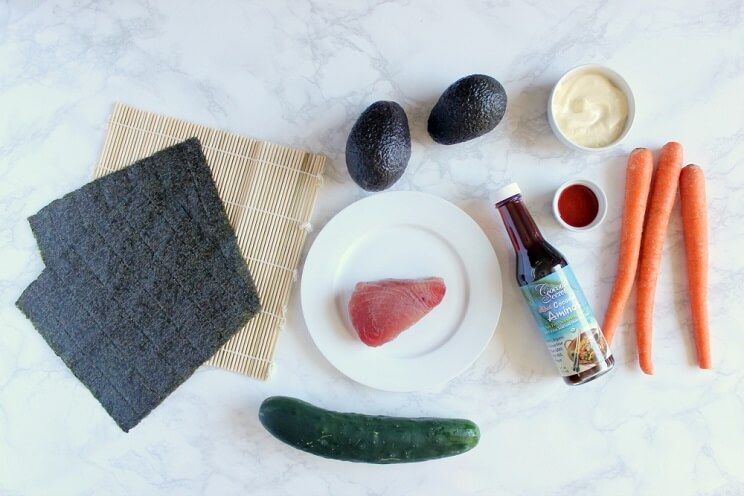 Prep Time:
10 mins
10 minutes
Grain-Free Spicy Tuna Roll
These sushi rolls are packed with tuna, veggies and spicy mayo for a quick and filling lunch!
Ingredients
2 nori sheets, cut in half

4 ounces sashimi-grade tuna (or any sashimi-grade fish), sliced thin

½ cucumber, julienned

1 carrot, julienned

½ avocado, sliced thin

2 T Paleo mayonnaise

1 T Paleo sriracha (or hot sauce)

Coconut aminos (optional for dipping)
Instructions
If you have untoasted nori, preheat oven to 250ºF. When ready, place nori on a baking sheet and bake for 5 minutes until the nori stiffens up and turns a dark green (it should also release a savory aroma). If it needs more time, keep it in the oven in increments of 1 to 1 ½ minutes.

Place the nori on a sushi bamboo mat and arrange the fish, cucumbers, carrots, and avocado on the nori

In a small bowl, combine the mayonnaise and the sriracha to make the spicy mayo, and drizzle a teaspoon on the ingredients.

Roll the nori over using the mat, and apply a small amount of pressure as you continue to roll. Once the bamboo mat reaches the inside of the nori, lift up the end of the sushi mat and continue to roll the sushi until it closes and the end of the nori sticks to itself.

Slice the sushi roll into 6-8 bite-sized pieces, and repeat with the remaining ingredients. Serve with coconut aminos.
Pro tip: Try this method if you don't have a sushi mat!


(You'll Also Love: Spicy Avocado Shrimp Tower)