These decadent turmeric truffles boasts a healthy dose of anti-inflammatory turmeric and dark chocolate with a boost of coconut oil.
Each ingredient in these no-bake turmeric truffles bring their own set of nutritional benefits. Raw honey packs natural enzymes and minerals, providing antiviral and antifungal properties.
Coconut oil provides a dose of healthy fats, while turmeric adds detoxifying properties and heaps of antioxidants. For the final touch, dark chocolate gets drizzled on top, rounding out the recipe and elevating the coconut flavor.
It's not just a sweetener -- it's medicine, too! Discover The Benefits of Nature's Superfood: Honey
Click here to get your FREE copy of our Honey Guide!
To begin making the turmeric truffles, make sure you use finely shredded coconut. If you happen to have larger coconut flakes, run it through a food processor to achieve a finer consistency. The coconut will be the base of the truffles and rolls easier when finely shredded.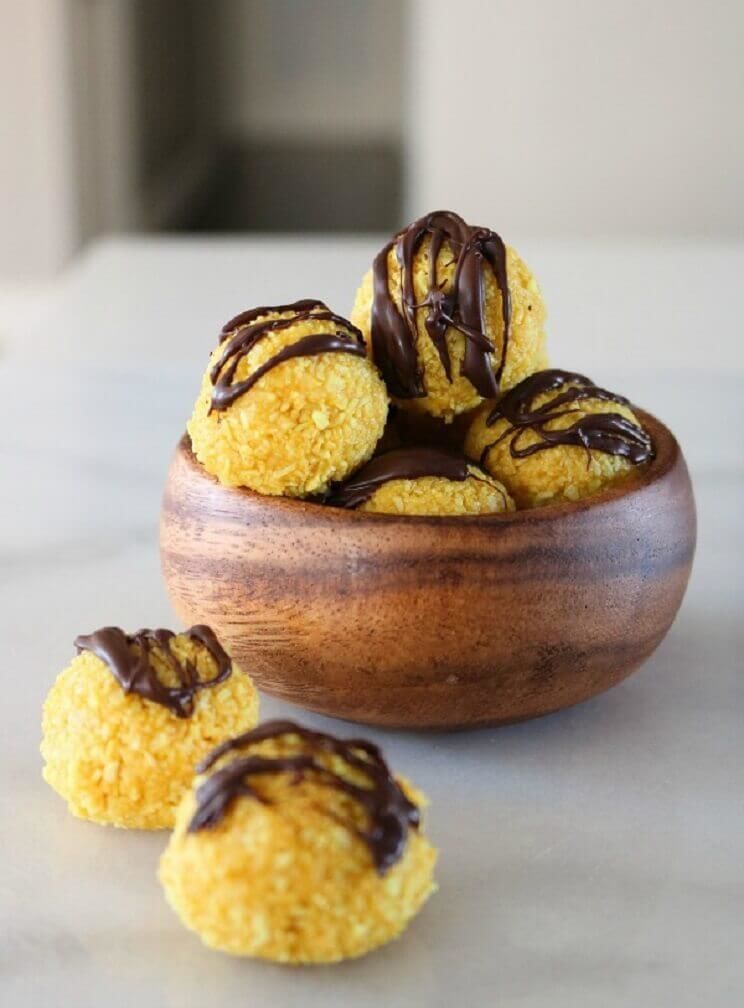 To the coconut, use a fork to combine turmeric and sea salt. Pour in the raw honey and melted coconut oil. The honey should be soft, but not completely melted. I found that if the honey was slightly softened, it was easier to form the truffles. Next, roll the mixture into balls and pop the truffles in the freezer to set.
When they're ready, drizzle each truffle with melted dark chocolate using a butter knife. I like to use a butter knife, as opposed to a fork or spoon, because it gives one thin stream of chocolate and gives you more control of the drizzle. Place truffles back into the refrigerator to set and take them out about 15 minutes before you plan to eat them.
Tips:
Store in an airtight container in the refrigerator.
Turmeric can stain light-colored surfaces, so make sure to wash your hands periodically and to cover any surfaces you don't wanted stained with parchment paper.
Remove the truffles from the fridge for 15 minutes before you eat them to let them soften.
Jennafer Ashley
Chocolate Turmeric Truffles with Coconut Oil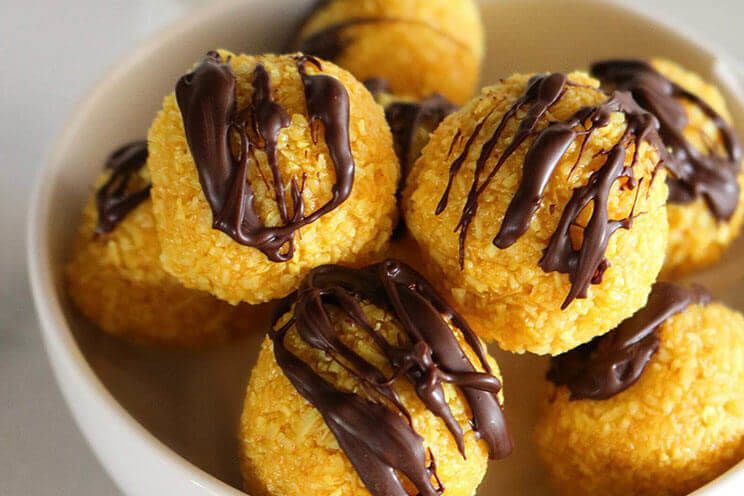 Cook Time:
5 mins
5 minutes
Prep Time:
25 mins
25 minutes
Chocolate Turmeric Truffles with Coconut Oil
Each decadent truffle houses anti-inflammatory turmeric and dark chocolate with a boost of coconut oil.
Ingredients
1 cup unsweetened shredded coconut

1/2 cup raw honey, softened

1 T coconut oil, melted

1 t ground turmeric

1/4 cup dark chocolate chips

1/4 t sea salt
Instructions
In a mixing bowl, combine coconut, sea salt and turmeric. Stir to combine and break up any lumps of coconut.

Pour in coconut oil and honey. Stir until completely mixed in.

Roll mixture into small balls and place on a small parchment paper-lined baking sheet. Place in freezer for 10 minutes to set.

Melt dark chocolate in a small saucepan over the stove using low heat. Stir until smooth.

Use a butter knife to dip into chocolate and drizzle over truffles. Set in refrigerator for 10 minutes.
Watch the Recipe Video Below!


(You'll Also Love: Paleo 'Peanut' Butter Truffles)