If you're looking for the perfect comfort food for a cozy evening THIS is it. Whip up this hearty Paleo Chicken Alfredo Recipe on a night in.
I know what you're saying… how, in any way, is Alfredo sauce Paleo? Well, once again we're using cauliflower — one of the most versatile Paleo foods out there.
Cauliflower is perfect for making "rice" for dishes like spicy curry, or as the perfect substitute for potatoes in shepherd's pie or tater tots. With all that it can do, cauliflower should be a staple in any Paleo kitchen.
Love slow cooker recipes?
Click here to get your FREE copy of our delicious Slow-Cooker Recipes!
For today's recipe we'll be using cauliflower to make a delicious Alfredo. Pureeing this all-purpose veggie with a few simple ingredients — think garlic and grass-fed butter — will yield a creamy sauce and takes only minutes to blend.
As for the Paleo pasta, we've used summer squash, but, really, any Paleo "spaghetti" will do. Feel free to try this recipe with spaghetti squash, zucchini, or even sweet potatoes! Just sauté your Paleo pasta of choice for a few minutes, and then drizzle with your Alfredo sauce.
The chicken is simple, seasoned with salt and pepper, then pan-seared for a crispy finish. Pair it with sautéed broccoli for an added serving of veggies. This combination is the ultimate weeknight dinner that everyone will enjoy.
In just 40 minutes, you'll have an impressive, paleo-friendly dish to serve to friends and family!
Deanna Dorman
Paleo Chicken Alfredo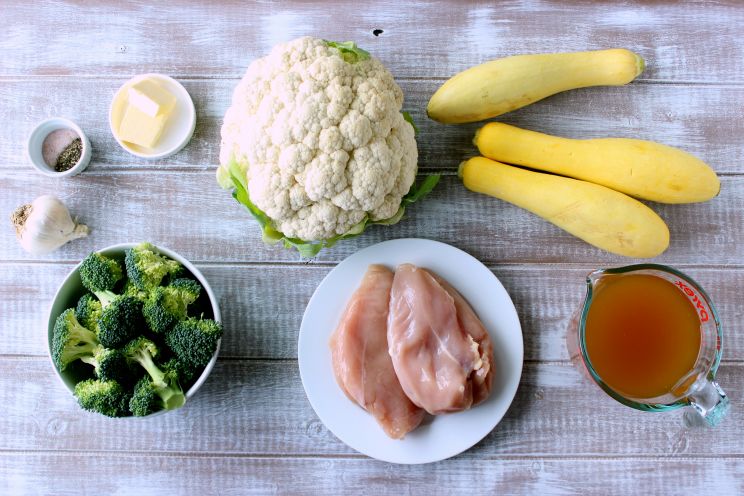 Cook Time:
30 mins
30 minutes
Prep Time:
10 mins
10 minutes
Paleo Chicken Alfredo
If you're looking for the perfect comfort food for a cozy evening, this chicken Alfredo is it.
Tools
Stockpot

Large oven-safe skillet

Small skillet

Food processor

Spiralizer
Ingredients
1 large head cauliflower, cut into florets

3 cups chicken broth or bone broth

1/2 t sea salt

1/4 t black pepper

1 T coconut oil

1 pound boneless, skinless chicken breast

2 T grass-fed butter

6 cloves garlic, roughly minced

1 small head broccoli, cut into florets

1 pound summer squash
Instructions
Preheat oven to 400°F.

In a stockpot, bring chicken broth to a boil. Add the cauliflower and allow it to cook for about 15 minutes or until fork tender.

While the cauliflower is cooking, begin the chicken. Season the chicken with salt and pepper, and heat 1 T coconut oil in an oven-safe skillet over a medium-high heat. Carefully place the chicken in the skillet and pan-sear for about 3 minutes per side, until golden brown. Transfer the skillet to the oven and allow the chicken to cook for 15-20 minutes, or until internal temperature reaches 160 degrees.

In a clean skillet, melt the butter over a medium heat. Saute the garlic for a minute or two, until fragrant. Transfer the butter and garlic to a food processor or high speed blender, and set aside.

In the same skillet saute the broccoli in the remaining melted butter for 6-8 minutes or bright green and crisp. Remove from heat and set aside.

Once the cauliflower is fork tender, reserve the broth as you spoon the florets into the food processor with the butter and garlic. Spoon 1 cup of the broth into the food processor. Add the salt and pepper and puree until smooth. Add more broth as needed until it becomes a smooth sauce.

Using a spiral slicer or julienne peeler, slice the summer squash into long thin noodles. In the skillet used to cook the broccoli, saute the spiralized squash ribbons for 2-3 minutes until cooked, but still crisp. Stir in the in the cauliflower sauce and cooked broccoli.

Slice the chicken and top the pasta. Serve and enjoy!


(You'll Also Love: 21 Alternative Noodle Recipes for Pasta Lovers)