Cook up this juicy chicken marsala topped with caramelized onions and sliced mushrooms!
If you've never cooked with marsala wine before, this is a great recipe to begin with. It adds a fragrant aroma to skillet-seared chicken breasts and transforms fresh veggies into mouth-watering toppings.
Restaurant Quality With Low-Fuss Technique
While it may sound fancy, chicken marsala is a simple and relatively painless meal to throw together – especially this one-pan version.
Trying to figure out exactly what to eat on Paleo? Look no further than our FREE 21 Day Paleo Meal Plan.
Grab Our FREE Paleo Meal Plan By Clicking Here!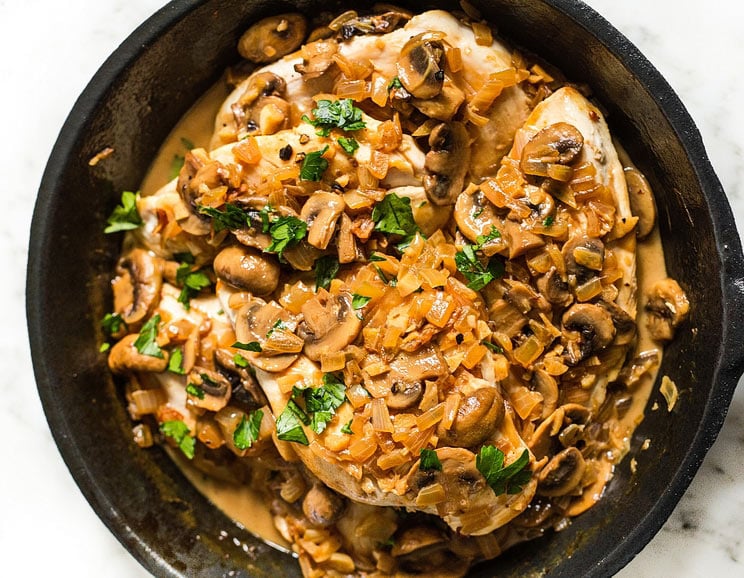 The key here is to use flavor-packed ingredients like garlic, onions, and mushrooms. Allowing them to simmer, before adding in the marsala, gives them a chance to tenderize and soak up the juicy drippings from the chicken.
A bit of coconut milk will also help to thicken the juices into a creamy sauce. Spoon it over your dish to give your meal an elegant flare. Then, top it off with a bit of chopped parsley to marry all the flavors together.
Helpful Tips To Get You Started:
Pound your chicken breasts. To ensure the chicken breasts are even in thickness, pound them after slicing. This will help tenderize the meat so that it doesn't dry out when cooking.
Avoid overcrowding the pan. When searing the chicken, it's important to have them cook evenly in a single layer. You may need to cook the chicken in batches.
Sub out the wine. While marsala wine lends a distinct flavor to this dish, balsamic vinegar can achieve a similar effect – if you're avoiding wine.
Felicia Lim
Creamy Chicken Marsala Recipe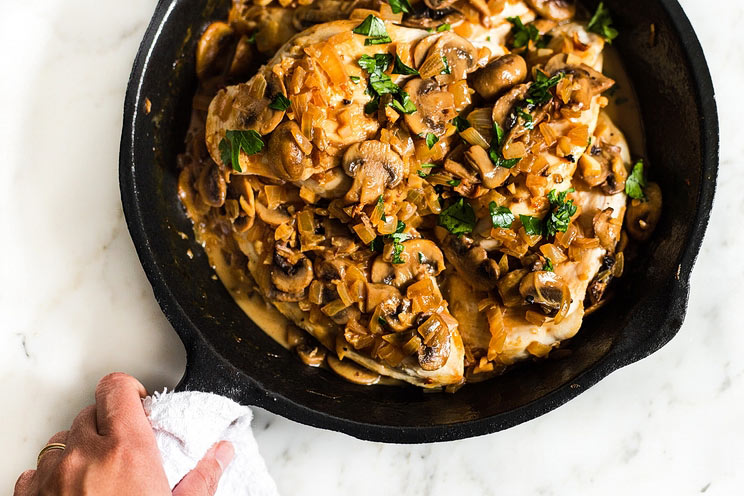 Cook Time:
40 mins
40 minutes
Prep Time:
10 mins
10 minutes
Nutrition facts:
50 grams of protein
8 grams of carbohydrates
24 grams of fat
Creamy Chicken Marsala Recipe
Cook up this juicy chicken marsala topped with caramelized onions and sliced mushrooms.
Ingredients
2 lbs boneless skinless chicken breasts, thinly sliced

2 T olive oil, divided

1 cup diced onions

1 T chopped garlic

1½ cups sliced button mushrooms

½ cup marsala wine

1 cup coconut milk

1 T fresh chopped parsley
Instructions
Heat a cast-iron skillet over medium heat and add 1 tablespoon of olive oil to the pan.

Place the chicken breasts into the pan, arranging in a single layer. Sear them for about 5 minutes on each side, then remove and set aside.

In the same skillet, add the remaining tablespoon of olive oil and sauté the onions, garlic, and sliced mushrooms. Cook for about 4 minutes, or until the onions are tender.

Pour in the marsala wine and let it heat for 2 minutes. Add in the coconut milk and mix well to combine. Continue simmering for an additional 10 minutes to thicken the sauce.

Return the chicken breasts back to the pan and continue cooking for 2 minutes.

Sprinkle with fresh chopped parsley, then serve and enjoy.
Looking for Paleo ingredients? Here are a few we'd recommend:
Olive oil (Sky Organics)
Coconut milk (Native Forest)
For more restaurant-worthy dishes, grab your copy of our gourmet cookbook, Paleo Plenty! All recipes are designed by a professional chef trained at the famous Le Cordon Bleu culinary school in Paris. Get started on your Paleo journey today with this FREE cookbook.