Want a simple and easy dinner recipe that looks fancy? This delicious Creamy Chicken Marsala tastes like it's from an upscale restaurant, but it calls for ingredients that you already have in your kitchen!
The combination of tender chicken with fragrant wine and herb sauce is heavenly, while the touch of coconut cream brings it to another level.
Heather Resler
Creamy Chicken Marsala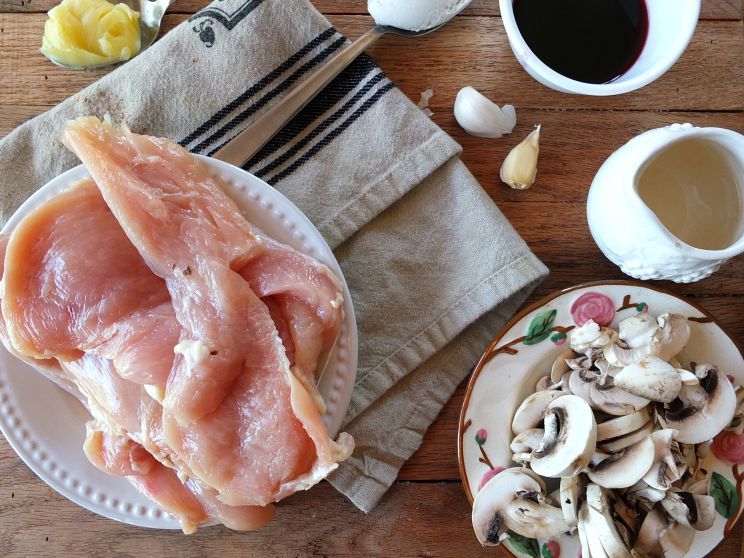 Cook Time:
30 mins
30 minutes
Prep Time:
30 mins
30 minutes
Creamy Chicken Marsala
Ingredients
2-1/2 pounds boneless skinless chicken breasts

Salt to taste

Freshly ground black pepper to taste

1-2 T ghee

12 oz. fresh mushrooms, sliced

1 small onion, chopped

4 garlic cloves, minced

2 t herbes de provence

Salt to taste

Freshly ground black pepper to taste

1/2 cup chicken bone broth

1/2 cup marsala or other dry red wine

1/4 cup coconut cream
How to Make It
1. Begin by carefully using a sharp knife to cut the chicken breasts widthwise into two thin halves. Pound each one to about 1/3″ thickness. Sprinkle the chicken with salt and pepper to taste.
Love slow cooker recipes?
Click here to get your FREE copy of our delicious Slow-Cooker Recipes!
2. In a large skillet over medium heat, melt 1-2 tablespoons of ghee. Add the chicken and cook a couple minutes per side, or until golden brown and cooked through. You'll have to do this in batches. Remove the chicken to the serving dish and keep warm.
3. Add another 1-2 tablespoons of ghee to the pan and add the mushrooms, onions, garlic, salt to taste, freshly ground black pepper to taste, and herbes de provence. Cook, stirring frequently, until the vegetables are tender.
4. Add the bone broth and wine to the pan, scraping to remove browned bits.
5. Simmer for a couple minutes, or until the wine has mellowed out a bit.
6. Add the coconut cream and simmer for a couple minutes more.
7. Pour the sauce over the chicken and serve.
(You'll Also Love: Paleo Crockpot Chicken Teriyaki)

Lose weight, fight inflammation, and soothe your digestion with delicious meals like juicy skirt steak with cucumber & radish salad, succulent pulled pork, and more!
FREE Cookbook:
80 Gourmet Paleo Recipes from
a Professional Chef trained at Le
Cordon Bleu in Paris
FREE Cookbook:
80 Gourmet Paleo Recipes
from a Professional Chef
trained at Le Cordon Bleu
in Paris