Looking for a quick and easy weeknight dinner? This simple Paleo Pesto Baked Chicken takes just minutes to prepare and is full of juicy flavor!
Pesto has long been one of my favorite condiments and marinades, but with cheese as one of the main ingredients, it isn't exactly Paleo-approved.
The simple solution? Make your own!
Love slow cooker recipes?
Click here to get your FREE copy of our delicious Slow-Cooker Recipes!
Pesto may be one of the easiest condiments out there to make, and the flavors of fresh pesto are out of this world.
All you need is a big bunch of fresh basil, some pine nuts (or if you want to get creative, try some walnuts, or even almonds), fresh garlic, and a little drizzle of olive oil.
Put all those ingredients into your food processor or blender, and puree away until you have a smooth, creamy, delicious pesto. Just be sure to scrape down the sides every few seconds to get everything nice and smooth.
Once the "hard" part is over, you simply have to spread the pesto over some chicken breasts, place each chicken breast in a greased baking dish, top each chicken breast with some sliced tomatoes, and bake those babies up!
Once the internal temperature reaches 160℉, take your chicken out and allow it to rest. The pesto will keep the chicken nice and moist, and those tomatoes will be roasted and slightly brown. Yum!
This recipe couldn't be any simpler. And the options you have for creating a meal with this dish are limitless.
Top a chicken breast on a bed of greens, or on your favorite veggie noodles with some homemade marinara sauce. Heck, why not top it on some Paleo cauliflower crust pizza? Or you can always just serve it with some fresh veggies like asparagus. You decide!
Deanna Dorman
Pesto Baked Chicken Recipe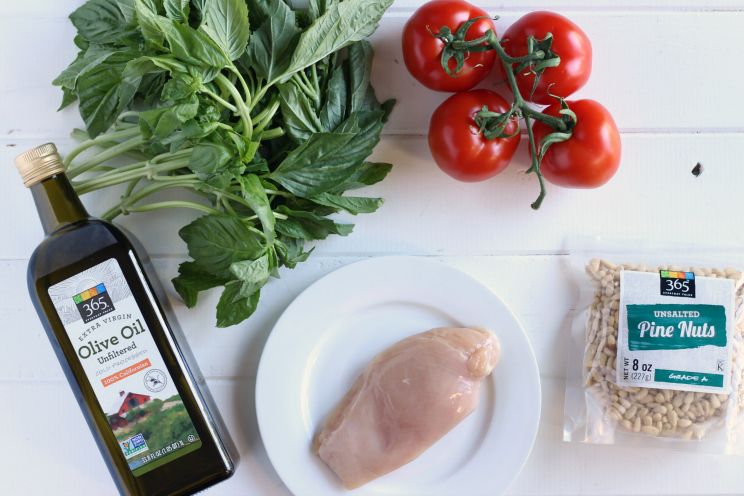 Cook Time:
30 mins
30 minutes
Prep Time:
5 mins
5 minutes
Pesto Baked Chicken Recipe
Ingredients
1 cup fresh basil leaves (tightly packed)

2 T pine nuts

2 T extra virgin olive oil

2 garlic cloves

1 pound chicken breasts

2 sliced tomaotes
How To Make It
1. Preheat oven to 400℉.
2. To prepare the Paleo Basil Pesto, place the basil, pine nuts, olive oil, and garlic in a blender or food processor, and puree on high until a smooth paste begins to form, scraping down the sides every minute or so.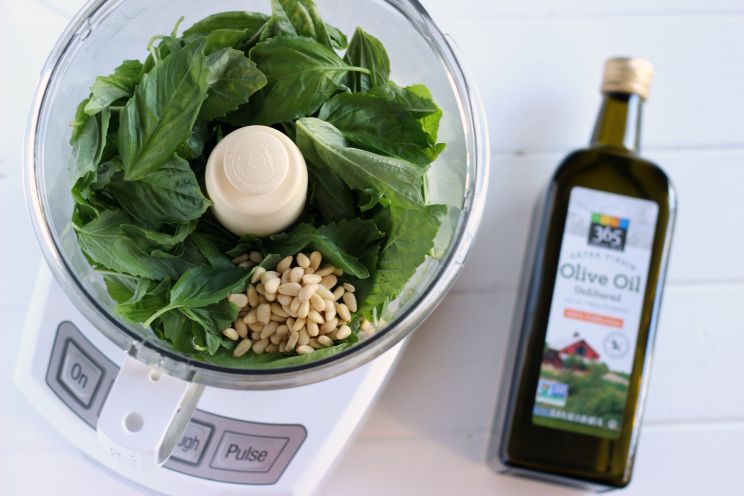 3. Place the chicken in a lightly greased baking dish, and coat the top of each chicken breast with the fresh pesto. Top each chicken breast with 2-3 slices of tomato. Bake for 25 to 30 minutes or until internal temperature reaches 160℉.


(You'll Also Love: Creamy Chicken Alfredo Recipe)