With fresh herbs, hearty mushrooms and grass-fed beef, this spaghetti squash recipe makes for a stunning meal that's easy to make!
This time of year, unique and versatile members of the squash family are displayed prominently in grocery stores and farmers markets. But don't just use them around your house as Autumn decorations, eat them as well!
Spaghetti squash is to Paleo eaters what angel hair pasta is to the rest of the world. Once cooked, the inside of the squash can be scraped, instantly forming thin "noodle" like strands. It serves as the perfect vessel for all of your pasta recipes – with a delicate yet slightly crunchy texture.
Trying to figure out exactly what to eat on Paleo? Look no further than our FREE 21 Day Paleo Meal Plan.
Grab Our FREE Paleo Meal Plan By Clicking Here!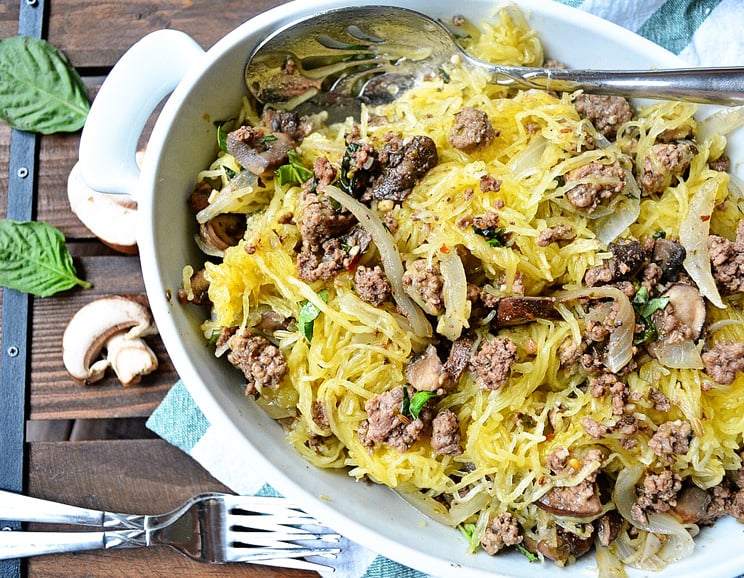 While standard pasta doesn't offer much nutritional bang for its calorie buck, this versatile squash packs incredible amounts of vitamin A, vitamin C, beta carotene, lutein, folate and potassium.
Today's recipe combines grass-fed ground beef with fresh and dried Italian herbs. No need for additional cooking oil, you can cook the mushrooms and onions right in the juices of the grass-fed beef. Once cooked, serve the mixture over spaghetti squash with fresh basil.
Jennafer Ashley
Spaghetti Squash with Grass-Fed Beef and Mushrooms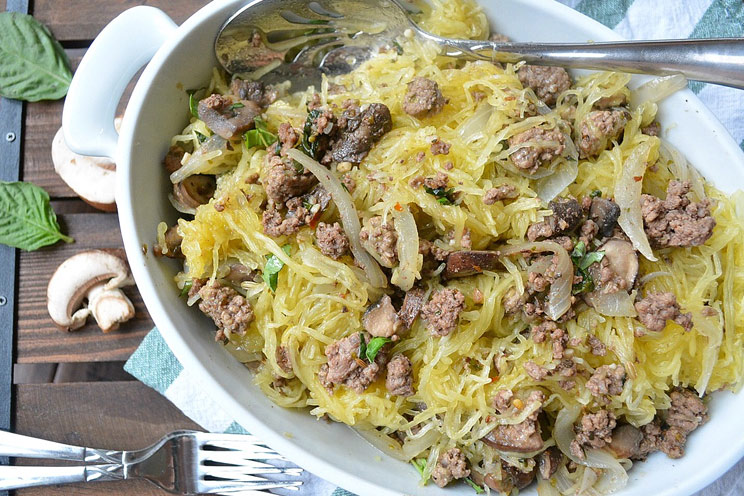 Cook Time:
40 mins
40 minutes
Prep Time:
10 mins
10 minutes
Spaghetti Squash with Grass-Fed Beef and Mushrooms
Hands-down, this recipe makes a satisfyingly delicious meal using spaghetti squash, mushrooms, and seasoned beef.
Tools
Large cutting knife

Baking Pan

Large skillet

Tong and fork for scraping
Ingredients
1 large spaghetti squash

2 T olive oil

1 small white onion, sliced into strips

8 oz portobello mushrooms, sliced

1 t fennel seed

1 t garlic, minced

4 T fresh basil, chopped + divided

1 T dried oregano

1/2 t red pepper flakes

1 t sea salt

1 lb grass-fed ground beef
Instructions
Preheat oven to 400°F. Slice spaghetti squash in half lengthwise and scoop out seeds with a large spoon.

Place spaghetti squash in a pan with enough water to cover the bottom of the pan. Transfer to oven. Bake 35-45 minutes depending on size of squash. Most squash will be ready around 40 minutes.

In the meantime, in a large skillet begin to brown the beef over medium heat, breaking it up in the pan.

Once beef starts to brown, add in mushrooms and onions. Continue to break up any large pieces of beef. Cook 10 minutes.

Stir in oregano, 1/2 of the basil, fennel seed, red pepper flakes, sea salt and garlic. Allow to cook until mushrooms and onions are tender and beef is cooked through, about 10 minutes.

Carefully remove from the oven and set squash on a separate plate using tongs.

Use tongs to hold squash and a fork to scrape out squash into a bowl forming the "spaghetti" noodles. Stir in olive oil to coat. Season with sea salt to taste.

Serve beef mixture over the top of noodles or stir to incorporate. Top with the rest of the fresh basil.

(You'll Also Love: Meatballs in Spaghetti Squash Nests)